Heartland Brewery
1285 Ave. of the Americas at 51st St.
New York
ph: 212-582-8244
This New York chain of brewpubs also has locations at 35 Union Square West, 127 West 43rd Street, and 93 South Street at Fulton. My favorite is the Avenue of the Americas location near Radio City Music Hall where Kelly Taylor is the brewer. Kelly cranks out some very clean craft brews like Cornhusker Lager (with midwestern malts and flaked maize), Harvest Wheat (mild and smooth American wheat beer), Red Rooster Ale (caramel malts), Indiana Pale Ale (resiny hop aroma and nice bitter flavor), Farmer John's Oatmeal Stout (GABF medal winner), and a rotating list list of three seasonals (including the powerful and tasty Full Moon Barleywine). Try the beer sampler that comes with five small pours of their house brews. The menu is outstanding brewpub fare with chicken, steaks, and seafood.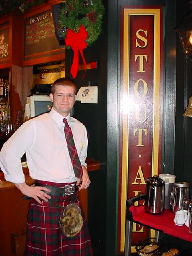 Saint Andrew's
120 West 44th Street
New York
ph: 212-840-8413

This Scottish pub is located near some of the Broadway theaters close to Times Square. The interior has lovely decor and the wait staff all wear kilts. There are 80 bottled beers to choose from and 18 taps with an emphasis on fine ales from the UK. There is a long side bar that runs the length of the pub with front and back dining areas. Aye, here you'll find a wee bit of the highlands in Manhattan!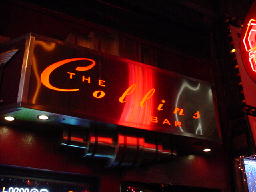 Collins Bar
735 8th Ave. (near W. 48th Street)
New York
ph: 212-721-2161

Collins Bar is a fantastic beer bar that is popular with the local crowd. It has a very interesting, unusual beer selection with a wide range of microbrews and Belgian ales. The staff seems to be very knowledgeable about their beer menu as well. You'll find ten taps here and many fine bottles. This is a small bar with tables to the right and dart boards in the back.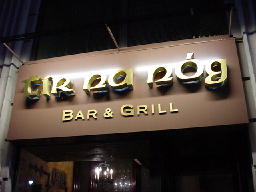 Tir Na Nog
5 Penn Plaza
New York
ph: 212-630-0249

Several blocks south of Times Square down 7th Avenue, you will find a delightful Irish Pub. Tir Na Nog has Chimay and Duvel in bottles and 22 draft handles with some fine wheat beers, Guinness, and their own Stout (made for them by Budweiser). There is a great pub menu available, and many sports fans eat here before or after games at Madison Square Garden located nearby.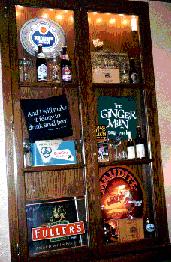 Gingerman
11 E. 36th St. at Madison
New York
ph: 212-532-3740

Just a few blocks walk from Tir Na Nog is one of Manhattan's very best beer bars -- the Gingerman pub has around 60 draft beers and over 120 bottled beers from which to choose. When I visited in December of 2003, their most awe-inspiring beers were: Victory Hop Devil, Arrogant Bastard, Bigfoot Barleywine, Celebrator, Young's Chocolate Stout, DeKonick Winter, Sierra Nevada Celebration Ale, De Dolle Mad Bitch, Rochefort 8, Saison Dupont Moinet, Westvleteren 8, Fuller's Vintage Ale, World Wide Stout, Weyerbacher Blithering Idiot, and Hair of the Dog Adam. Don't leave New York without a visit to the Gingerman!
More places to visit in this area if time permits
:


Typhoon Brewery,
22 E. 54th Street, New York, ph: 212-754-9006

A brewpub that serves Thai food? You'd only find this in New York! Typhoon opens for dinner only and has a selection of light, house made beers to accompany their spicy entrees.
Hallo Berlin,
626 10th Ave. at 44th Street, New York, ph: 212-977-1944

This small German cafe/restaurant is very casual and has the best wurst in New York. There are a dozen taps here and a pretty impressive selection of German beers in bottles (Einbecker, Celebrator Double Bock, Aventinus, Berliner Weisse, etc.). The place was very quiet the night we visited and the wait staff was not in a very good mood.
Maggie's Place,
21 E. 47th Street at Madison Ave., New York, ph: 212-753-5757

Maggie's is an Irish pub and restaurant. Dinner reservations are recommended.
Artisanal,
32nd Street between Madison and Park Ave., New York, ph: 212-725-8585

Artisanal is a restaurant not known for its beer (although it does serve Leffe Belgian ale), but I am including it here because of its incredible selection of around 200 cheeses from around the world. Call for a reservation and stop in for a Leffe with some cheese samplers and a meal. Nothing goes better with beer than cheese.
---
Chelsea - West Side Waterfront Piers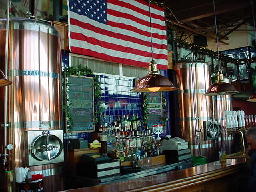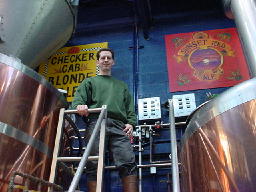 Chelsea Brewing Co.
Pier 59, Chelsea Piers
New York
ph: 212-336-6440

Chelsea brewpub is one of the very best beer destinations in Manhattan. This establishment is a really attractive brewpub and microbrewery located on the edge of downtown on the Hudson River with an enclosed golf driving range pointing out toward the water on a pier. It is part of a large entertainment and shopping complex that has been built on the old piers. Pictured above is head brewer Chris Sheehan who is very talented in turning out some flavorful beers that are served in their brewpub and distributed in kegs to many other bars in the area. Beers on tap in late 2003 included: Checker Cab Blonde (Kolsch style), Pier 59 Pale Ale (nice Cascade hop flavor), Sunset Red (Cascade and Centennial hops with four caramel malts), Tsar's Revenge (strong Imperial Stout), and Blackberry Wheat (wheat beer with a hint of blackberry extract).
---
South Central - East Side Manhattan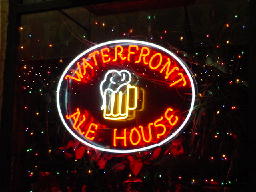 Waterfront Ale House
540 2nd Ave.
New York
ph: 212-696-4104

Waterfront is a respected beer bar with 18 interesting taps from Brooklyn, Anchor, Weyerbacher, Dogfish Head, etc., and almost 65 bottles with some flavorful strong ales and Belgian selections. There is a popcorn machine, and food specials are listed on a chalkboard behind the bar (if you are hungry for something more substantial).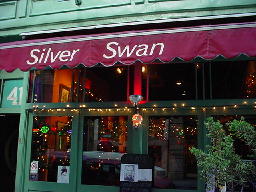 Silver Swan
41 East 20th Street (near Park Ave. South)
New York
ph: 212-254-3611

This German-American restaurant features a very impressive selection of German, Belgian, and beers from the UK. German beers from Schneider, Ayinger, Erdinger, Spaten, Hacker-Pschorr, and Weihenstephan round out their list. This is an attractive place with a dining room in the back.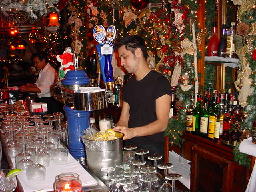 Rolf's
281 3rd Ave.
New York
ph: 212-473-8718

One of the most popular German restaurants in Manhattan is Rolf's. Call ahead to make a reservation, show up on time, and still be prepared for a wait. If you head to Rolf's around Christmas, be ready for a winter wonderland inside with every square foot decorated with lights and ornaments. The beer list includes some nice German lagers and wheat beers -- and be sure to try the potato pancakes (yummy). Food portions are huge.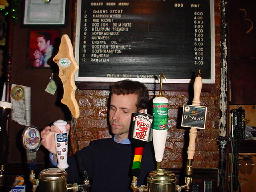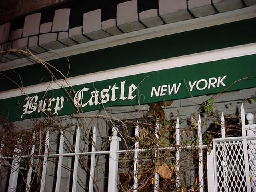 Brewsky's Beer Bar / Burp Castle
41 E. 7th Street
New York's East Village
ph: 212-420-0671

This is a pair of fantastic beer pubs that are next door to one another and owned by the same person. Brewsky's is the more typical bar that has some very atypical taps -- there are usually some really bold draft beer selections and a bottle list that goes on and on (with beers from Allagash, Chimay, Rochefort, J.W. Lees, Liefman's, Scaldis, Thomas Hardy, Corsendonk, and many more). Burp Castle is like an eccentric church shrine to great beer -- the walls are adorned with religious/historical murals and there is European choir music playing over the speakers. The bartenders at Burp Castle wear the garb of brewing monks from Belgium and pour beers from 12 taps that include some high end Belgian and European ales. The bottle list is the same for each pub. In reverence for the beer, loud conversation is not allowed in Burp Castle -- it is truly a religious experience for the beer lover!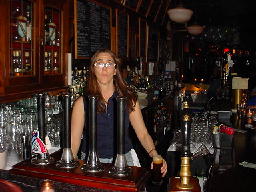 d.b.a.
41 1st Ave.
New York
ph: 212-475-5097

With locations in New York and
New Orleans
, d.b.a. is a name that is well known with beer aficionados. The New York location has some of the best maintained cask ales in the city (clean in flavor and served at the right temperature of 50 degrees F) and and a huge beer list on a series of chalkboards above the bar. The bartender was so busy on the night I arrived, I had to take a flash picture of her to get her attention (above). This is one of the greatest beer destinations in the city.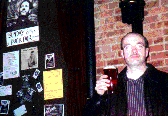 Swift's
34 East 4th St.
New York
ph: 212-227-9438

Swift's pub has very good draft choices including some fine beers from Brooklyn Brewing. This is an attractive Scottish/Irish pub with murals and a big, dark wooden back room.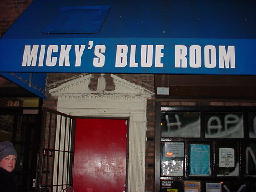 Micky's Blue Room
171 Ave. C (between 10th and 11th Streets)
New York
ph: 212-375-0723

Micky's is a small, friendly, neighborhood bar with baseball hats all over the blue walls. There are ten taps here that include Magic Hat, Sierra Nevada, Beamish, and others. Bottled beer standouts include: Aventinus, Corsendonk, Chimay, Achouffe, and Duvel. There are dart boards, pool tables, and a killer juke box in the side bar. Happy hour runs Monday through Saturday until 9 pm and Sunday until 10 pm.
More places to visit in this area if time permits
:


Pete's Tavern,
129 East 18th Street, New York, ph: 212-473-7676

This is the oldest original bar in New York city. Pete's has 16 standard beer taps, tasty menu items, and a load of history.
McSorley's Ale House,
15 East 7th Street, (212) 473-9148
Very famous old pub with their own dark and light contract brews on tap and sawdust all over the floor. The pub was founded around 1854.
Zum Schneider,
107 Ave. C (near 7th Street), (212) 598-1098
Great German restaurant and pub. Go early for dinner to avoid the crowds.
Croxley Ales,
28 Avenue B (between 2nd and 3rd Avenues), (212) 253-6140
Loreley,
17 Rivington St. (between Bowery and Chrystie Streets), (212) 253-7077
German beer garden and restaurant.
Prince Street Bar,
125 Prince Street, (212) 228-8130