---
Commercial Beers -- Blind Tasting Comments...
---
More beer destinations on our Brewtopia Events webpage...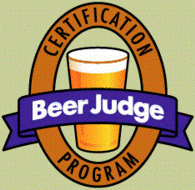 ---
| | |
| --- | --- |
| | Dean and Gail |
---
SPECIALTY, EXPERIMENTAL, HISTORICAL BEER

Any ale or lager beer brewed using unusual techniques (hot rocks, etc.), unique fermentables (such as maple syrup, honey, etc.), unique adjuncts (oats, rye, potatoes, etc.), low alcohol, combinations of fruits and spices/herbs/vegetables, or historical beers (Entire, IPA with Brettanomyces, Louvain Peeterman, etc.). Experimental beers that do not otherwise meet the other established style categories may be entered here.
SPICE/HERB/FRUIT/VEGETABLE BEER

Overall balance is the key to presenting a well-made spice, herb, fruit or vegetable (SHFV) beer. The SHFV should complement the original style and not overwhelm it. The brewer should recognize that some combinations of base beer styles and SHFVs work well together while others do not make for harmonious combinations. The best SHFV beers are made with real spices, herbs, fruit, and/or vegetables (not extracts or artificial flavorings), and these ingredients should be apparent in aroma, flavor, and sometimes in the appearance.
---

Mongozo Beer
African Palmnut Beer
Br. van Steenberge – Ertvelde, Belgium
FIRST PLACE
Aroma: Toasted pine nuts, pepper, sugar, honey, dates, figs, fruit -- very complex.
Appearance: Deep gold with a medium head of white foam.
Flavor: Earthy and mellow with hints of honey, toasted nuts, and herbs. This is a complex, yet mild, slightly sweet, fruity beer. Very interesting.



---
Melbourn Bros. Cherry
Barley and wheat beer with cherry juice
Melbourn Bros. Brewery – Stamford, Lincolnshire, UK
SECOND PLACE
Aroma: Intense cherry aromas with hints of woody cherry pits. Quite impressive.
Appearance: Very red with beautiful pink foam.
Flavor: Cherry liqueur-like. Flavors of rich cherries with a nice medium mouthfeel. This is a clean fruit beer that is not cloying and not overly sweet. Great use of fruit.



---
Burgerbrau Wolnzacher Roggenbier
60% rye with pilsner, dark Munich, and sour malt.
Burgerbrau AG – Wolnzach, Germany
THIRD PLACE
Aroma: Hints of phenols, wheat, and caramel.
Appearance: Slightly hazy with a deep golden color and a big head of white foam.
Flavor: Carbonation prickles the tongue. This beer is soft, slightly tart, bready, grainy, and reminiscent of rye. Very interesting and drinkable.



---
Two Druids Gruit Ale
Ancient ale with yarrow, sweet gale, and wild rosemary
Heavyweight Brewing Co. – Ocean Township, NJ , USA
HONORABLE MENTION
Aroma: Smells like mulling spices. Clove, honey, and cider notes.
Appearance: Very low foam. Clear and dark gold.
Flavor: Slightly tart with a mead/cider character. This beer is spicy, herbal, grassy, dry, and a bit thin. Rosemary is quite heavy in the flavor. Tastes like a trip through a herb garden -- has a big, spicy, herbal bite that is interesting, but somewhat astringent.

---
Casis Lambic
Black Currant Lambic
Brouwerij Lindemans – Vlezenbeek, Belgium
HONORABLE MENTION
Aroma: Spicy, cherry, currant aroma with notes of menthol, earth, and pepper.
Appearance: Pink/purple foam. Appearance is very clear and dark red.
Flavor: Slightly tart with hints of horse blanket (from Brettanomyces yeast). This beer has sweet and sour flavors, but the fruit is very intense. There are also notes of spice and pepper. This is a very rich, pleasant Lambic that has obviously been sweetened with sugar. Would be more complex and authentic if it had more acid.

---
Gose
Beer with coriander and salt
Gasthaus & Gosebrauerei – Bayerischer Bahnhof, Leipzig, Germany
Aroma: Phenolic, wheat beer character with floral notes of perfume and coriander spice.
Appearance: Clear and gold with a bright, white head.
Flavor: Mineral-like and dry with a somewhat flat aftertaste. This beer has wheat notes and a light mouthfeel. Salt is apparent in the flavor profile. This would be a great beer with a bratwurst or big pretzel.



---
Traquair Jacobite Ale
Scottish Ale with coriander
Traquair House – Innerleithen, Peeblesshire, Scotland, UK
Aroma: Chocolate, raisin, plum, floral, vanilla undertones. Also smells a bit solvent-like.
Appearance: Dark brown with very light head retention and large bubbles.
Flavor: Candy-like with notes of plums, coffee, pepper, spice, coriander, and fruit. This beer has a soft mouthfeel with a good malt/fruit/spice balance.
---
Blue Moon Pumpkin Ale
Beer with pumpkin, spices, and crystal malt
Blue Moon/Coors Brewing Co. – Denver, CO, USA
Aroma: Pumpkin pie, spice, and butter hints. Aromas are very mild.
Appearance: Very clear (looks filtered) with a dark gold / light amber color.
Flavor: Pumpkin flavors are too mild and spices are very much in the background. There are notes of butterscotch. This is a very tasty beer that could use a bit more malt, pumpkin, and spice character to really stand out. Medium/light body.

---

Sweetwater Festive Ale 2003
Christmas Ale
Sweetwater Brewing Co. – Atlanta, GA, USA
Aroma: Piney and spicy with coffee hints. There are also cherry and almond notes in the nose.
Appearance: Almost black with ruby hints and nice tan foam.
Flavor: Woody and slightly burnt/roasty in flavor. Mineral-like and malty with hints of complexity -- spice, juniper, chocolate. This tastes a bit like a regular, dry Porter. Would be better with more holiday spice character.


---
Fantome Printemps
Saison Ale with spices
Fantome Brewery – Soy, Belgium
Aroma: Delicate aromas of cedar, tobacco, and pepper.
Appearance: Clear with a dark gold color.
Flavor: Pepper, spice, citrus, and metallic flavors with a background that is musty and cellar-like. This is a dry and refreshing beer that is complex with a fruity, tannin-like finish and alcohol and candy sugar hints. Very complex and interesting.

---

Midas Touch
Ancient ale with barley, honey, white muscat grapes, and saffron.
Dogfish Head Craft Brewery – Milton, DE, USA
Aroma: Mild aromas of muscat grapes and honey.
Appearance: Clear and golden in color -- quite beautiful.
Flavor: Honey, flowers, sugar -- a bit cloying. This tastes quite strong in alcohol and is full-bodied. Not very complex or spicy in flavor. This beer is very mead-like with a thick mouthfeel. Could use more dryness and spice-like complexity.


---

Grant's Mandarin Hefeweizen
Beer with malted wheat, cascade hops, and mandarin orange
Yakima Brewing & Malting Co. – Yakima, WA, USA
Aroma: Mandarin oranges and wheat. Very appealing and unique aroma.
Appearance: Golden and quite clear.
Flavor: More thin than the aroma would lead one to believe. There is a wheaty flavor with hints of orange peel and grapefruit. The flavor starts out citrusy and ends dry and bitter. There is a light mouthfeel that is reminiscent of a Belgian Wit. Could use more wheat and more orange. A very drinkable, refreshing ale.