---
Brewtopia Events
---
Commercial Beers -- Blind Tasting Comments...
---
More beer destinations on our Brewtopia Events webpage...
---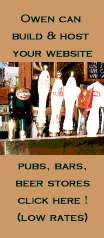 | | |
| --- | --- |
| Here are the bold beer tasters! (LtoR) Lari Cowgill, Pasha Sovourin, Lynn Gieger, Owen Ogletree, Don Beistle, and Dean Graves. We'd like to thank Burntstone Brewhouse for hosting us! | |
Each beer was ranked with an informal score of 1-10.
(10 - a fresh, perfect beer for its style / 1 - a beer that is completely not to style)
Style Description
India Pale Ale (IPA) -- India Pale Ales are characterized by intense hop bitterness with a higher alcohol content than other pale ales. A high hopping rate and use of water with high mineral content results in a crisp, somewhat dry beer. This pale gold to deep copper colored ale has a full, flowery hop aroma and may have a strong hop flavor (in addition to the hop bitterness). India Pale Ales possess medium maltiness and body. Fruity-ester flavors and aromas are moderate to very strong. Chill haze is allowable at cold temperatures.
---
Dogwood Breakdown IPA
Score: 8. Nice chill haze / carbonation is low (good) / aroma of floral hops / well balanced / fruity / mineral, sulfury aftertaste / complex / nice, flavorful, fits style well / a pleasant beer.

---

H.C. Berger Indego Pale Ale
Score: 2. Smells and looks like a Belgian Brown Ale / sour / infected and old / not unpleasant, but not an IPA / vanilla flavors, but no hops to speak of / earthy / does not fit style.

---

Oregon IPA
Score: 5. Aroma of american hops, nice / slight metallic hint to malt aroma / metallic flavor, could be old? / not very fruity in aroma / drinkable and refreshing / quaffable / bitter in flavor / not a remarkable example of IPA style.

---

Portland IPA
Score: 4. Low carbonation (nice) / stale aroma / a toasty, toffee-like flavor / earthy hops / medium bitterness / no hop flavor to speak of / mineral flavors / not a true IPA, but a good regular Bitter.

---

Snake Dog IPA
Score: 3. Corn-like, caramel aroma / no hops in aroma / metallic flavors / could be old / hops are low all around / fruity / water seems low in mineral content.

---

Sweetwater IPA
Score: 4. Slight chill haze / very light hop aroma / not much aroma at all / heavy on the flavoring hops / hops have a resin-like flavor / not extremely exciting for an IPA, but a pleasant beer.

---

Tuppers Hop Pocket
Score: 7. Slight chill haze / aroma is clean, perfumy, smells like noble hops / not very bitter in flavor / smooth / nice malt / well balanced / slightly fruity / some hop flavor / a nice beer.

---
Beers provided by ABC PACKAGE STORE, 2303 W. Broad St., Athens, GA, 706-549-1686.
ABC offers a fantastic selection of microbrews, import beers, and wines!