---
Brewtopia Events
---
More beer destinations on our Brewtopia Events webpage...
---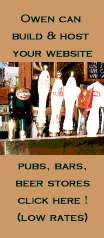 Le Bier Circus
89 Rue de l'Enseignement, Brussels

Although it is a fair walk from the Grand Place, Le Bier Circus is a "must-see" spot in Brussels. The beer menu goes on and on with some very rare selections. Opening hours are: Monday noon to 3 pm, Tuesday--Friday noon to 3 pm and 5 pm to midnight, and Saturday 6 pm to midnight. You could be here for hours just trying to sample all the small, regional Lambics they have to offer. Go with a group and share lots of different beers. For sheer variety, this is THE BEER BAR of Brussels.
---


Bridgeport Brewing Co.
Portland, OR

This fantastic brewpub exists in an old warehouse very near the Willamette River in downtown Portland. The place has brewery tours, wonderful cask conditioned ales, and pizza that is almost too tasty to be real! Patrons can sit inside near the bar or drink some real ales out on the ivy-covered patio. This is what beer in the Northwest is all about!
---


Cafe De Vrede
Westvleteren, Belgium

A short drive from Poperinge and Watou is the tiny abbey of Westvleteren that produces some of the finest ales in Belgium. There is a small drive-through area in the monastery where people can purchase the Westvleteren beers made by the monks. All the beer is sold in this way. The Cafe Vrede (in their attractive new building) across the street from the Abbey has all three of the phenomenal Westvleteren beers for sale at the bar and in the gift shop. The monk's smelly (but tasty) cheese is also available. For much more information on Westvleteren, see Owen's article elsewhere on this site.
---


Cantillon Brewery and 
Gueuze Museum
Brussels, Belgium

No beer lover should visit Brussels without a pilgrimage to Cantillon Lambic brewery. The brewery is also a museum with self-guided tours. This picture is of one of the brewers discussing his craft with some visitors. There is also a tasting room at the end of the tour where you can sample and purchase the absolute best Lambic and Gueuze beers made in the world. The Cantillon beers are intensely sour and complex with marvelous aromas and flavors. Lambics are all fermented with the wild yeasts of the region around Brussels, but many breweries are starting to sweeten these beers. We hope Cantillon continues to make their beers in the time-honored fashion.
---


Cooter Brown's
New Orleans, LA

Here's most of our Brewtopia Events New Orleans tour group ready to experience one of the best beer bars on the planet (and you folks who know Owen must realize this comment does not come lightly). Cooter Brown's has a phenomenal selection of beers from around the world including: Anchor Old Foghorn, Chimay, Duvel, Salvator, Thomas Hardy, Rogue Old Crustacean, and more!
---


The Globe
Athens, GA

This is Jennifer, manager of the most relaxing and social beer bar Owen has ever visited (and lucky for him, it is in his hometown). The Globe has sofas, large tables, and rocking chairs from which one can peer out of the spacious front windows at life in the rock and roll college town of Athens. There are twelve taps and over 100 bottled beers from around the world to choose from at the Globe, and free bread and cheese in the late afternoons.
---

Hofbrau Haus
Munich, Germany

Yes, I know it is really a tourist trap, but I really enjoy the Hofbrau House. Just one sight of a waitress carrying ten liter mugs of beer while the soothing sounds of an oompah bands plays in the background is enough to awe any beer fan. Kerri (pictured to the right) couldn't decide on which beer to order, so she got a liter of each. Each of the Hofbrau beers is very good, and you can't go wrong ordering a liter of any of them. Tourists pack into the noisy downstairs bar, as the upstairs bar is usually reserved for upscale parties or for functions involving important and notable people of Munich. The Hofbrau House is an amazing beer experience not to be missed on a visit to Bavaria.
---


The Lamb
London, UK

By far my favorite pub in all of England, The Lamb is serves almost all of the richly flavored ales produced by Young's Brewery. It has a cozy, yet elegant atmosphere like no other English Pub. There are beautiful rotating glass "snob screens" through which you order your beer and comfortable sofas and booths in which to consume your beer. Try the Young's Chocolate Stout and Old Nick Barleywines on draft. The Lamb is on Lamb's Conduit Street which is several tube stops from the center of town.
---


Schlenkerla Pub
Bamberg, Germany

Kegs of Rauchbier (smoked lager) are hauled upstairs to the serving area of the Schlenkerla every few minutes as the last ones are drained. Bamberg folk go through a great deal of this beer that is made from smoky malt that is dried over a beechwood fire! This enjoyable pub and restaurant is in the heart of gorgeous old town Bamberg -- a must for all fans of unique, rich beers. The place is full of old, dark wood, rich meaty dishes, and people from all over the world who come to enjoy the special beer.
---

Sierra Nevada Brewery Pub
Chico, CA

Kerri and I had just camped out in the mountains of northern California the night before we drove into the small college town of Chico. Our goal on this day trip was, of course, to visit the famous Sierra Nevada Brewing Company. When we ordered a sampler tray of their current beers at the pub/restaurant located at the brewery, we had no idea what was to come. Just look at this sampler -- thirteen, five ounce beers! These beers were all extremely fresh, rich, and well-hopped with aromatic northwestern hops. The entire brewery is clean and impressive. We loved it so much, we decided to spend the night in Chico so we could come back for more beer later that night!