---
Brewtopia Events
---
Chicago Beer Spots featured on this page...
Brewpubs
Goose Island
Goose Island Wrigleyville
Piece
Rock Bottom


Beer Bars
Clark Street Ale House
Chicago Brauhaus
Duke of Perth
Hopleaf Bar
Map Room
Resi's Bierstube
---
Brewtopia Events Beer Travel Pages...
---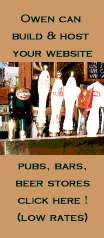 Goose Island Brewing Company
1800 North Clybourn Ave.
(312) 915-0071

Goose Island Wrigleyville
3535 N. Clark St.
(773) 832-9040
Beers: The main location on N. Clybourn had an impressive 12 house beers on tap when we visited. Our favorites were the flavorful Honkers Ale, Robert Burns Scottish Ale, Bourbon County Stout (10% alcohol and aged in bourbon barrels), Old Aberration Barley Wine (9.5%), India Pale Ale, and Doppelbock (9%). They also offer cask conditioned selections that are very good. The N. Clybourn brewpub gives $3 brewery tours on Sundays at 3 pm.

Comments: The atmosphere, beer, and food at Goose Island continues to be wonderful. Be sure to try their homemade potato chips and great sandwiches. The Wrigleyville location also displays fun baseball murals.

www.gooseisland.com


Lari and Thel marvel at the samples!


---



Grab a goose!
---
Piece Brewpub
1927 W. North Ave.
(773) 772-4422
Beers: Golden Arm Kolsch, West Side Wheat, Gentrification Ale (light bodied, unfiltered, great dry hopped aroma), IPA (big malty ale with lots of hops), Dolomite American Malt Liquor, Worrying Ale (English style ale - mild and fruity), and Flat Iron Stout (flavors of chocolate, roasted barley, and oatmeal).

Comments: These beers were rich, flavorful and right on style! This is an attractive new brewpub that also features ten guest drafts and nine bottled selections. The bottled beers had a Belgian emphasis. The head brewer is Jonathan Cutler (formerly of Goose Island and Sierra Nevada). If you are a true beer fan, head to Piece. Their unique, gourmet pizzas are quite good and unique to the Chicago area.


The waitress at Piece explains the sampler to Lari.


---



---
Chicago Brauhaus
4732 N. Lincoln Ave.
(773) 784-4444
Beers: Most of the beers here are lighter German Pilsners and other lagers -- all very fresh and flavorful. Be sure to try the rye bread sticks with your lager (yum!). Prosit!

Comments: What a huge, fun, German beer hall and restaurant. The German brothers who own the place, Gunter and Harry Kempf,
pride themselves on the Brauhaus' live music, bar with German lagers, and authentic cuisine. The restaurant has been in the neighborhood for 35 years. Food includes schnitzel, sauerkraut, sauerbraten, knackwurst, Westphalian ham, Sheboygan bratwurst, and smoked Thueringer sausage.




---



---
Clark Street Ale House
742 N. Clark St.
(312) 642-9253
Beers: Great high gravity selections including Bells, Anderson Valley, and Rogue. Clark Street has 25 draft beers and over 30 bottles.

Comments: Beautiful bar with dark wood is complimented by the murals at the back of the pub.
---
Duke of Perth
2913 N. Clark St.
(773) 477-1741
Beers: This nice Scottish pub features a good selection of beers imported from the UK. The most flavorful ales are from Young's in England.

Comments: A big selection of single malts is here along with a tasty English menu of fried items, fish and chips, and chicken wings. The bar up front and dining room in back can be quite crowded.
---
Rock Bottom Brewery
1 West Grand Ave.
(312) 755-9339
Beers: Standard list of fine Rock Bottom beers from around the country.

Comments: Very nice location in the center of downtown. Pale Ale and Stout were my favorites. The cask conditioned ales at this location have ranged from marvelous to a bit stale at times -- ask for a small taste before you order a pint of the cask beer.
---
Hopleaf Bar
5148 N. Clark St.
(773) 334-9851
Beers: This was one of our favorite beer bars we visited! What an incredible selection of Belgian beers! Try the Westvleteren, Oerbier, Affligem Noel, Fantome, Cantillon Lambics, Hanssen's Lambics, Rochefort ales, and the Tripel Karmelite.

Comments: Hopleaf is putting in a kitchen soon that will serve Belgian food and is expanding to 30 taps in July of 2002. The old cash register and jukebox are delightful. Be sure to visit Hopleaf.
---
Map Room
1949 N. Hoyne
(773) 252-7636
Beers: Map Room is famous for one of Chicago's best beer selections. Microbrews, English and Belgian Ales, and a cask selection can all be found here. We were surprised that the bartender would not give us a small sip of the cask beer to make sure it was fresh (quite odd).

Comments: Take the blue line "L" train to Damen stop and walk north up Damen to Armitage. Go left (west) on Armitage one block to Hoyne and the Map Room.
---
Resi's Bierstube
2034 W. Irving Park Rd.
(773) 472-1749
Beers: Resi's has an extensive selection of German and other imported beers (including some Belgian Trappist Ales). The German Adventinus Weizen Bock is rich and delicious.

Comments: This casual place has great (meaty) dishes, fantastic service, and is a favorite with the locals.
---
Other Notable Beer Bars:
Abbey Pub and Restaurant, 3420 W. Grace, (773) 463-5808. Nice Irish pub on the northside.
Four Farthings, 2060 N. Cleveland Ave. at Lincoln, (773) 935-2060. Very nice neighborhood bar with pool tables in the back.
J.T. Collins Pub, 3358 N. Paulina St., (773) 327-7467. Some good beers on draft -- can be smoky, crowded, and noisy during big sports games.
John Barleycorn, 658 W. Belden, (773) 348-8899. Large English-style pub with large bar and restaurant. 3-4 nice beers on draft, and a nice selection of bottles.
Sheffield's Wine and Beer, 3258 N. Sheffield, (773) 281-4989. Fantastic bar with an impressive list of beers! They have beer tastings, a beer society, and a nice house cat.