---
Brewtopia Events
---


Commercial Beers - Blind Tasting Results
---
More beer destinations on our Brewtopia Events webpage...
---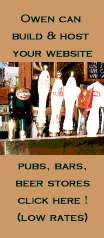 Bridget Foy's South Street Grill
200 South Street, ph: 215-922-1813.

In the middle of the wild crowds of South Street, Bridget Foy's is a quiet, cozy place to enjoy a beer from one of the twelve or so taps and dive into a meal of chicken, burgers, seafood, etc. This was a pleasant place with good beer and tasty food.
---
Dickens Inn
2nd St. Headhouse Square, ph: 215-928-9307.

This beautiful English pub is a maze of dining rooms and small bars on two floors. Dickens offers the standard pub taps with English Ales, American standards, and ciders. Around twenty taps are usually available along with above average pub fare. Dart fans will find several lanes upstairs in two different bar rooms.
---
Ludwig's Garten
1315 Sansom Street, ph: 215-985-1525.

This very enjoyable German pub and restaurant was an incredible find! We drank wonderful beers such as Bocks, Double Bocks, and Hefeweizens -- and the authentic German cuisine is extremely delicious and filling. This place is like a little slice of Bavaria in the heart of Philadelphia.
---
Monk's Cafe
264 South 16th Street, ph: 215-545-7005.

Monk's Cafe really lives up to its reputation as one of the best Belgian pubs and restaurants in the United States. There is an extensive list of hard-to-find Belgian ales here. The Belgian dishes made with beer are a treat as well -- be sure to sample the mussels steamed in Belgian White beer. Try to arrive early for dinner, as this place fills up quickly.
---
Moriarty's Pub
1116 Walnut Street, ph: 215-627-7676.

Moriarty's is an attractive English pub with a long wooden bar on the right. The walls are full of interested photos and memorabilia, and a really nice selection of bottled and draft beer is available. This pub always seems comfortable and quiet -- even if it is full of people. The beer prices are reasonable too.
---
O'Neal's Pub
611 South 3rd Street, ph:  215-574-9495.

This is a gritty pub that is full of regulars with lots of personality. The beer selection is impressive with 14 taps and too many bottled versions to count. There is also a cask beer engine (ask for a small taste before you order from the beer engine to be sure the selection is fresh). O'Neal's is right off popular South Street.
---
Sugar Mom's Church Street Lounge
225 Church Street, ph: 215-925-8219.

This is a funky, bohemian hangout that is located in what was once a sugar/candy factory. The beer selection includes many fun microbrews from the region and a nice array of quality imported beers. Ask for one of the strong bottled Belgian Ales. The bar is filled with couches, games, and weird posters.
---
Wichita Steaks and Brews
22 South 3rd Street, ph: 215-627-4825.

This is steakhouse/beer bar has a huge, wide open downstairs with some interesting paintings on the walls. There are 60 draft beer taps with a nice choice of regional ales. Be sure to ask for a tiny sample before you order a full glass of draft beer, because I hear that some are not as fresh as others. There is a lovely, large, wooden bar and a menu full of red meat dishes.
---
More Places in Philly for Good Beer...
Dock Street Brasserie, Two Logan Square, 18th and Cherry Streets, ph: 215-496-0413. Famous brewpub in the heart of downtown. Not open much on the weekends.
Poor Henry's American Street Brewery, 829-51 N. American St. between 2nd and 3rd, ph: 215-413-3500.
Yards Brewing Company (microbrewery), 5050 Umbria Street, ph: 215-482-9109.
Bridgid's Pub, 726 N. 24th St., ph: 215-232-3232. Yards Beers and a good Belgian selection.
City Tavern, 132 South 2nd St. and Walnut, ph: 215-413-1443. This old, colonial tavern has beautiful, authentic food recipes and a nice beer selection -- a must see! (See photo at the top of this page.)
John Patrick's Ale House, 208 Race Street, ph: 215-574-0296. Nice, small pub with sports TV's, burgers, sandwiches, and 35 draft beers. On the north side of downtown, easy to walk to.