---
Brewtopia Events
---
Commercial Beers -- Blind Tasting Comments...
---
More beer destinations on our Brewtopia Events webpage...
---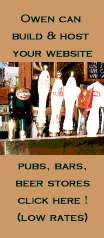 | | |
| --- | --- |
| Here are the lucky folks who got to taste the Pilseners! LtoR: Owen Ogletree, Martha DeHart, Jeff Rapp, Lari Cowgill, Samantha Purcell, and Christina Garrett. We'd like to thank Burntstone Brewhouse for hosting us! | |
Each beer was ranked with an informal score of 1-10.
(10 - a fresh, perfect beer for its style / 1 - a beer that is completely not to style)
AHA Style Descriptions
German Pilsener -- This lager is a very light straw/golden color and well hopped. Hop bitterness is high. Hop aroma and flavor are moderate and quite obvious. It is a well attenuated and medium bodied beer, but a malty accent can be perceived. Fruity esters and diacetyl (butterscotch) should not be perceived. There should be no chill haze. The head should be dense and rich.
Bohemian Pilsener -- Pilseners in this subcategory are similar to German Pilsners, however they are slightly more full bodied and can be as dark as light amber. This style balances moderate to high bitterness and "noble-type" (delicate/floral) hop aroma and flavor with a malty, slightly sweet, medium body. Diacetyl may be perceived in very low amounts. There should be no chill haze. The head should be dense and rich.
American Pilsener -- This classic and unique pre-Prohibition American-style Pilsener is straw to deep gold in color. Hop bitterness, flavor and aroma are medium to high, and use of floral "noble-type" hops for flavor and aroma is preferred. Up to 25 percent corn in the grist should be used, and some slight sweetness and flavor of corn are expected. A low level of DMS (cooked corn) is acceptable. Malt flavor and aroma are medium. This is a medium-bodied beer. Fruity esters and citrusy flavors or aromas should not be perceived. Slight diacetyl is acceptable. There should be no chill haze.
---
Miller Lite
Score: 2. Aroma: old, slightly fruity / watery flavor / not much malt / not any hops / nothing here / very little character.

---

Pilsner Urquell
Score: 8. This is Bohemian! / aroma is oaky, slightly butterscotch / high bitterness in flavor is good / clean, but complex / nice / malty / slight caramel flavor? / a great beer.

---

Sam Adams Golden Pilsner
Score: 7. Aroma of malt and floral hops / slight chill haze / a dark gold color / malty flavor / nice hops / a bit of caramel flavor and butterscotch / tastes Bohemian / one person said it tastes German / there are bittering hops, but not many flavoring hops.

---

Shiner Blond
Score: 6. Clear, light color / aroma is slightly floral, slightly fruity, light aroma / not skunky (lightstruck) / not bitter, slightly sweet / light in body / drinkable / clean / pleasant.

---

Staropramen
Score: 3. Aroma of skunk (light has gotten to the bottle) / light color / no chill haze / metallic aftertaste / not many hops / old bottle? / bland / unimpressive / corny / dry / not sweet.

---

Tuppers Hop Pocket Pils
Score: 2. Big chill haze / citrus, piney hop aroma / not noble hops / not appropriate for a Pilsner / hops are high in aroma and flavor / citrus flavor, fruity / not a true Pilsner / dry / more like a Pale Ale / a very tasty beer, but not a Pilsner.

---

Veltins
Score: 6. Skunky aroma, lightstruck / sweet aroma, no hops / hoppy, dry flavor / clean favors of hop and malt.

---

Warsteiner
Score: 3. Light color / aroma of corn / sweet flavor / thin body / not many hops / light in flavor and aroma / a bit citrusy? / somewhat bland / not much character.
---
Beers provided by ABC PACKAGE STORE, 2303 W. Broad St., Athens, GA, 706-549-1686.
ABC offers a fantastic selection of microbrews, import beers, and wines!