---
Brewtopia Events
---
Commercial Beers -- Blind Tasting Comments...
---
More beer destinations on our Brewtopia Events webpage...
---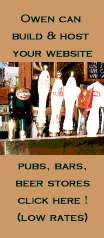 | | |
| --- | --- |
| Here are the tasters of the Belgian White Ales! (LtoR) Lari Cowgill, Mark Hall, Owen Ogletree, Kerri Allen, Pasha Sovourin, and Don Beistle. All are "homebrewers extraordinaire!" | |
Each beer was ranked with an informal score of 1-10.
(10 - a fresh, perfect beer for its style / 1 - a beer that is completely not to style)
Style Description
Belgian Style White (or Wit) -- These ales are brewed using unmalted and/or malted wheat and malted barley and can be spiced with coriander and orange peel (and other spices at rare times?). These are very pale beers that are typically cloudy (especially when cold). The style is further characterized by the use of floral "noble-type" hops to achieve a low to medium bitterness and hop flavor. This dry beer has low to medium body, no diacetyl (butterscotch character), and a notable fruity ester content.
---
Blue Moon Belgian White
Score: 6. Nice and cloudy / good head retention / coriander aroma; spicy, floral aroma; not much orange/citrus in aroma / medium bodied / big coriander flavor / not very tart / kind of a "soapy" finish / a pleasant beer.

---

Celis White
Score: 8. Aroma of citrus, lemon, coriander / nice and cloudy / somewhat sweet flavor / lemon like flavor / not much head retention / a bit lactic, but nice / not a great deal of coriander flavor / nice, noble hops / not very dry in the finish.

---

Dogwood Summer Beer
Score: 5. A very interesting beer, but not quite a Belgian White / not cloudy enough / aroma of hops, figs, sour apple, cloves / flavors of clove, cinnamon, blackberries, phenol / darker in color than most Belgian Whites / a complex, drinkable beer, but not really to style.

---

Hoegaarden
Score: 8. Aroma of citrus and bubble gum? / pleasantly phenolic / very nice beer / very pale / flavors of orange, coriander, clove / not very tart / slightly bitter / great aftertaste, very satisfying and refreshing / no soapy aftertaste.

---

Sam Adams White Beer
Score: 5. Cloudy / not much head / flavors that are tart, sour, somewhat metallic (old?) / not much spice in flavor / coriander is light / white pepper flavor / medium to light body / unremarkable in its present condition.

---

Vlas Kop
Score: 3. (NOTE: This beer is not brewed as a true Belgian White. It is somewhat similar and was included to test the judges.) Metallic, iron flavors / sweet and syrupy / not very cloudy / could be old / earthy flavors / not to style / a little citrus character with a slight bitterness / tastes like a spicy, perfumy French beer.

---
Beers provided by Five Points Bottle Shop, 1655 S. Lumpkin St., Athens, GA, 706-543-6989.
Five Points Bottle offers a wonderful selection of microbrews and imports!