---
Brewtopia Events
---

---
---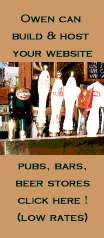 New Belgium Brewing Company
500 Linden Street, ph: 970-221-0524.

New Belgium is one of the most impressive microbreweries I have ever visited. The tasting room is beautiful, the beers are delicious and unique, and the brewery is state of the art. Here is a picture of "yours truly" having a great time sampling Fort Collins' most famous brews. New Belgium's many awards are proudly displayed in the background. The Abbey Ale was fruity and rich; the Sour Red Ale was sulfury but close to style; and the Fat Tire Ale was clean, malty, and quaffable. I enjoyed all of their products. Sampler trays of their beers and tours of the brewery are free -- be sure to call ahead for times.
---
H.C. Berger Brewing Company
1900 East Lincoln Ave, ph: 970-493-9044.

CLOSED
---
ODell's Brewery
800 East Lincoln Ave., ph: 970-498-9070.

Here's a photo of Kerri outside another microbrewery that is just down the road from H.C. Berger. ODell's has a small tasting room and retail shop that offer samples of their refreshing beers that are somewhat more light-bodied than those from H.C. Berger and New Belgium. We took the ODell's Cut-throat Porter with us when we camped in the Rocky Mountains later in the week, and it was quite enjoyable.
---
Coopersmith's Brewpub
5 Old Town Square, ph: 970-498-0483.

Coopersmith's is a big, busy brewpub with a food menu that shows a great deal of imagination and planning. The veggie selections were very tasty, and the service is admirable. However, the day we visited, the beers were a bit uninspired. There were several brews to choose from but most of them lacked body and character. On the other hand, the chili-beer (see the green chili tap handle to the right) was "three-alarm," and is definitely for persons with cast-iron tummies.
---
Old Chicago Beer Bar
147 South College Ave., ph: 970-482-8599.

For pub grub, pool, and a wide selection of local beers, microbrews, and imports, you can't do much better in Fort Collins than Old Chicago. This is a chain of pubs that are very popular in Colorado. If you want to be stuffed, try the yummy veggie stuffed pizza.
---
The Crown Pub
South College Ave.

Also on College Avenue (very near Old Chicago) is a pleasant bar with an Irish pub feel. The Crown Pub has a nice selection of microbrews (including many from New Belgium). They offer bar stools, tables, and sofas inside and patio dining on the sidewalk.
---
More Beer Places in Fort Collins to explore...