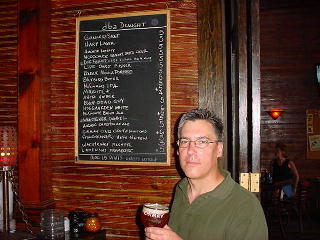 Don sips a Chimay at d.b.a. pub while waiting for the
Dogfish Head Brews to arrive.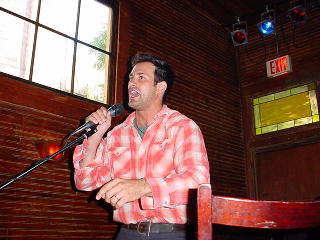 Sam Calagione of Dogfish Head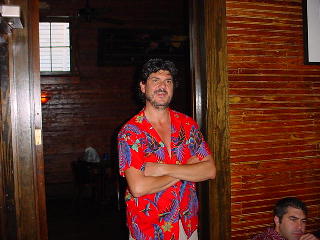 Ray Deter of d.b.a.

Dogfish Head Beer Dinner Notes
By Don Beistle

Dogfish Head Brewing produces some of America's strongest, tastiest, most exuberantly eccentric beers. So it's no surprise that when Dogfish Head founder Sam Calagione puts together a beer dinner, as he did at this year's A.O.B. Craft Brewer's Conference in New Orleans, the result is not your ordinary beer dinner. Rather than the usual modest samples of beer painstakingly paired to a half-dozen courses of chi-chi cuisine, Sam offered an audience of craft-brewing professionals full pints of his extraordinary brews accompanied by heaping servings of solid New Orleans fare. He even provided entertainment with dinner.

The event was hosted by Ray Deter's d.b.a. pub (618 Frenchmen St.), a comfortably funky old storefront near the French Market that's chock full of outstanding draft and bottled beers, and absolutely dripping with local color. A thirsty crowd of craft-brewers, easily recognized in their baggy cargo-shorts and beer t-shirts, began assembling an hour before dinner for drafts of Chimay and other gourmet brews rarely seen here in the South. A few disbelieving patrons were seen rubbing their eyes later when Sam Calagione took the stage looking like Woody from Disney's Toy Story. But Sam's no toy cowboy. He's a serious fan of Woody Guthrie, and he's notorious for "channeling" the spirit of the Depression-era bard in a one-man dinner show that resembles nothing so much as a beer-soaked version of James Whitmore's old Will Rogers shows. Between beer courses, Calagione sang Guthrie tunes that he had revamped to celebrate the joys and heartbreaks of making and drinking beer. The crowd at d.b.a. especially enjoyed his version of "Little Boxes," reworded to lament that pale, fizzy mega-brews "are all made out of ticky-tacky and they all taste just the same."

The inspiration for the Woody Guthrie Beer Dinners is an anecdote that Guthrie once told about the time he and some friends tried to make beer. The results were, to put it politely, less than satisfying. Yet, Calagione can't help wondering how different the world might be if Guthrie's first (and last) attempt at brewing had been a success. "Just think," he urges, "what might have happened had Woody Guthrie become the father of modern microbrewing." Even if Guthrie's beer had turned out, it's unlikely that he would have gone on to create anything like the obstinately one-of-a-kind brews produced by Dogfish Head.

For example, the first offering at the d.b.a. dinner was Pangaea, an experimental brew made with at least one ingredient from every continent but Antarctica. Golden hued, sweetish, and, at around 6% abv, a relatively light member of Calagione's stable, Pangaea proved an excellent introduction to the Dogfish Head line. The evening's most eagerly anticipated brew came next: the new 120-Minute IPA, a 21% abv monster hopped to a jaw-dropping 120 IBUs. Despite those intimidating numbers, the 120 IPA is exceptionally well balanced and easier-drinking than one would have any reason to expect. Next came Old School Barleywine, one of Dogfish Head's winter seasonals (15% abv). Rich, dark, and bursting with malt and hop flavors, Old School also is surprisingly smooth in spite of its high-gravity intensity. Finally, the evening's coup-de-grace was delivered by WorldWide Stout, Dogfish's other winter seasonal, which, at 23% abv, is a contender for the title of world's strongest beer. Full-bodied, intensely roasty, and swirling with complex flavors, WorldWide Stout is the ideal beer for sipping from a snifter while reading Kierkegaard on an icy winter night somewhere north of the Mason-Dixon line. But even on a sultry Spring evening in New Orleans its charms could not be ignored.