---
Commercial Beers -- Blind Tasting Comments...
---
More beer destinations on our Brewtopia Events webpage...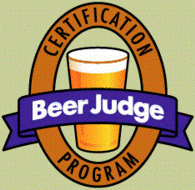 ---
Melton's App and Tap was gracious enough to host our evaluation of these beers.

This pub and restaurant is nestled off East Ponce De Leon Avenue in Decatur and features a fine beer selection and superb pub food (including pasta, sandwiches, salads, burgers and a brunch menu)

.

MELTON'S APP AND TAP
2500 N. Decatur Road, Decatur, GA
ph: 404-634-9112
---
St. Ambroise Vintage Ale
Brasserie McAuslan - Montreal, Quebec
English Barleywine (9.4% abv)
FIRST PLACE
Aroma: Malt, rum, plums, caramel, molasses, coconut.
Appearance: Ruby, garnet hints with good carbonation for a barleywine.
Flavor: Woody English hops, great malt content, smooth toffee flavors. Alcohol is there, but in the background. This beer is well-aged. There is a really nice malt-hop balance.
---
Ephemere (Beer with Apple Must)
Unibroue - Chambly, Quebec
Fruit Beer (5.5% abv)
SECOND PLACE
Aroma: Nice aroma of real apples. Apples dominate - there is very little beer aroma.
Appearance: Slight haze with a white head. Effervescent and champagne-like in appearance.
Flavor: Carbon dioxide balances the slight sweetness. Slight caramel apple finish with elegant flavors all around. This is a surprisingly good beer that tastes like real green apples.

---
1837
Unibroue - Chambly, Quebec
Belgian Specialty Ale (7% abv)
THIRD PLACE
Aroma: Nice phenols, alcohols and complex aromas. Spice, flowers, and honey are also present.
Appearance: White, nice head. Slight haze. Yellow color.
Flavor: Very drinkable. Flavor is deceiving - does not give away alcohol content. There are low levels of hops with a nice acid finish. Spicy phenol undertones are very subtle. This is a mildly complex ale that is smooth and soft.

---
X.O. (Beer with Cognac)
Benedictus, Quebec / L & L S.A.S., France
Specialty / Experimental Beer (8% abv)
1st HONORABLE MENTION
Aroma: Sherry, whisky, fruit, and malt. Berry/grape-like aromas are pleasant. The aroma is subtle and perfumy.
Appearance: Clear with a dark copper / reddish / mahogany color.
Flavor: Flavors improve as the beer warms to room temperature. This is a very different, unique beer. There are flavors of grape tannin with a slight astringency - oaky and very wine-like. There are also notes of sweet honey.

---
Calumet Double Porter Fume
Brewery Le Chaudron - Montreal, Quebec
Smoked Beer (6.4% abv)
2nd HONORABLE MENTION
Aroma: Nice balance of smoke and chocolate / burnt character.
Appearance: Jet black with a tan head - gorgeous.
Flavor: Dark grain astringency makes the beer a bit dry. Very roasty with good smoke qualities. There are also nice caramel notes and a big burnt grain character.

---
La Bolduc
Unibroue - Chambly, Quebec
Historical Beer (5% abv)
Aroma: Slight DMS (corn, butter) notes. Lightly hopped with an earthy, woody aroma.
Appearance: Golden and clear with an attractive, white head. Clear and bright.
Flavor: Slightly tart and lactic with a dry finish. This is a refreshing beer that is light in body and light in hops - not what one would expect from an "ancient ale." As it warms the flavor becomes more and more like a Canadian lager.

---
Bock de Joliette
Micro-Brasserie L'Alchimiste - Joliette, Quebec
Bock (6.1 % abv)
Aroma: Malt with apple hints (acetaldehyde?). Aroma also has butter, caramel, and toasted notes. Smells a bit like citrusy American hops as well (not right for style).
Appearance: Clear and dark gold / light copper in color.
Flavor: Malt, grain, toast, Munich malt, butter and a slight acidity.

---

Boreale Cuivree
Les Brasseurs du Nord - Blainville, Quebec
Belgian Specialty Ale (6.9% abv)
Aroma: Malty, buttery, and toffee-like.
Appearance: Clear, bright, medium gold in color.
Flavor: Dark grain hints with a raisin toast undertone. Sweet finish with some nice grain flavors and a mild spice character. Malts are a bit like a Scottish ale. This is malty, but not very Belgian in character. However, this is a delicious beer.


---
Sergeant's IPA
Old Yale Brewing Company - Chilliwack, British Columbia
India Pale Ale (5.5% abv)
Aroma: Butter and diacetyl is overwhelming. There are also some toffee / caramel undertones.
Appearance: Golden in color with some yeast particles (bottle conditioned).
Flavor: Paper, acid, butter. Problems cover up any nice malt and hop character. This is a slightly infected beer that is very dry. Should have more clean malt and spicy hop aroma and flavor.

---
Tord-vis (Maple Strong/Smoked Beer)
Brasserie Le Cheval Blanc - Montreal, Quebec
Specialty / Experimental Beer (6% abv)
Aroma: Malty, sweet aromas. There is also fruit, spice, clove, and mild tobacco hints.
Appearance: Medium gold with a beautiful clarity.
Flavor: Mild maple, medium body, mild sweetness, slight astringent smoke that is ash / cinder like. The smoke character is not very refined. Needs more malt, maple, and mellow smoke qualities.
---
Bonte Divine
Microbrasserie Charlevoix - Baie-Saint-Paul, Quebec
Spice Beer (7% abv)
Aroma: Mild clove, sweet orange peel, mild spice, fruit, apple, and caramel notes. Beer has a complex, yet light aroma (subtle).
Appearance: Slight haze with a copper color and good carbonation.
Flavor: Complex, light spices with medium malt and body. This coats the tongue and has a sweet start with a bit of a dry finish. This is an interesting beer. More malt might be nice.