---
Commercial Beers -- Blind Tasting Comments...
---
More beer destinations on our Brewtopia Events webpage...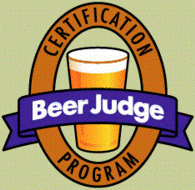 ---
Meads and Strong Ciders were evaluated as two separate flights.




Meads Included in this Tasting:


Traditional Mead (honey wine)
Pyment (Mead with grapes)
Melomel (Mead with fruit)

Metheglin (Mead with spice)




Ciders Included in this Tasting:


Specialty Ciders

Ice Ciders

Ice Ciders are special products from frigid Canada that use apples that have frozen over winter on the tree, or apple juice that has been pressed in winter and allowed to stay outside in the cold to concentrate and then ferment slowly.



(LtoR): John Gayer, Mark King and Joanne Maki.
Photos by Owen Ogletree



---



Kerri Allen and Larry Johnson

---
Pinnacle Ice Cider
Domaine Pinnacle - Frelighsburg, Quebec, Canada
Ice Cider (10.2% abv)
FIRST PLACE - Strong Cider
Aroma: Sweet aromas of caramel corn and apples. There are also hints of honey.
Appearance: Light gold with a sharp, brilliant clarity.
Flavor: Concentrated apples with hints of salt/mineral and acidity that are very well balanced with sweetness. Very mild alcohol warming. Sugar and baked apple flavors are pleasant. Very full-bodied with a big mouthfeel.


---
Empire Aperitif Cider
Les Blancs Coteaux Winery - Dunham, Quebec, Canada
Specialty Cider with apple brandy and 7 varieties of apples (16.5% abv)
SECOND PLACE - Strong Cider
Aroma: Alcohol, butter, rum hints. Notes of paper and wood.
Appearance: Light brown to dark amber. Looks like a nice brandy.
Flavor: Butterscotch, nuts, lightly caramelized sugar and pecan candy. Very complex with a great balance of sweetness and apple acidity.

---
Frimas Ice Cider
La Face Cachee De La Pomme - Hemmingford, Quebec, Canada
Ice Cider (11.5% abv)
THIRD PLACE - Strong Cider
Aroma: Herbal and resin-like with hints of hot alcohols. Smells a bit like hops and green apples.
Appearance: Amber/dark gold and very clear.
Flavor: Viscous - coats the tongue. Clean caramel, lemon/orange hints. A warming cider that would be pleasing on a cold night. Complex and satisfying.

---
Neige Ice Cider
La Face Cachee De La Pomme - Hemmingford, Quebec, Canada
Ice Cider (10% abv)
HONORABLE MENTION - Strong Cider
Aroma: Butter, phenols, mild apple peel/tannin aromas. Smells well-aged and mellow.
Appearance: Beautiful dark gold/light amber color.
Flavor: Very full-bodied and sweet. Caramel, silky mouthfeel is nice. Black currant aftertaste. There is a hint of bitterness for balance. Not extremely complex, but pleasant.

---
Life Force Raspberry Mead
Chateau Lorane - Lorane, OR, USA
Melomel (11% abv)
FIRST PLACE - Mead
Aroma: Real, rich fruit and honey. Complex aromas of fruit skins and seeds. Smells very rich.
Appearance: Clear with a deep red garnet color. Thick raspberry juice colors.
Flavor: Natural fruit flavors. Sour and honey components are balanced. Tastes like a honey-dipped raspberry. Complex flavors of raspberry seeds are in the background and add to a good finish. A wonderful example of a craft-made Mead.



---
Honey Wine with Juniper Berries
Redstone Meadery - Boulder, CO, USA
Metheglin (12% abv)
SECOND PLACE - Mead
Aroma: Nice honey aroma with hints of flowers, perfume and jasmine.
Appearance: Light gold/straw color - very attractive and clear.
Flavor: Semi-sweet with juniper berries that do a fine job of balancing the honey. Very clean with complex floral, herbal, honey notes. Alcohol is present and warming. This has a great blend of flavors and is not cloying.

---
Black Raspberry Nectar
Redstone Meadery - Boulder, CO, USA
Melomel (8% abv)
THIRD PLACE - Mead
Aroma: Honey and raspberries.
Appearance: Dark with a gorgeous appearance and ruby highlights.
Flavor: Slightly dry with a bit of prickly carbonation. Great honey and raspberry balance. There are also herbal, woody, spicy, fruity notes with hints of bitter citrus zest in the aftertaste. This is a complex mead with nice layers of flavor. Subtle and refreshing, but deep in character.



---
Sky River Semi-Sweet Mead
Sky River Meadery - Sultan, WA, USA
Traditional Mead (10.5% abv)
HONORABLE MENTION - Mead
Aroma: Neutral honey aroma with hints of herbal, musky, earthy notes.
Appearance: Very pale straw color.
Flavor: Sweetness is at a medium level. There are initial hints of wild grapes (musky, herbal) followed by some honey notes with a bit of tannin-like astringency. Would benefit from more honey character. Tastes a bit like muscadine wine. Interesting.

---
New Forest Vintage Kingston Black Cider
BJ & SD Topp - Burley, Ringwood, Hants, UK
Specialty Cider with Kingston Black Apples aged in Oak Rum Barrels (7.4% abv)
Aroma: Phenolic, tannin-like, woody, vegetal, and slightly medicinal.
Appearance: Clear with a medium gold color. Very attractive.
Flavor: Oaky, bitter tannins and wood flavors dominate. This needs a bit more apple character perhaps? There are smoke-like phenols and an unexpected dry, menthol aftertaste. Very complex and intriguing.

---
Idaho Raspberry Mead
Camas Winery - Moscow, Idaho, USA
Melomel (9% abv)
Aroma: Mild fruit candy aroma with nice honey in the background.
Appearance: Bright red, still and clear. Beautiful.
Flavor: Fruit tastes a bit two-dimensional. There are good honey notes and an pleasant alcohol sensation. The sugar/acid balance leans somewhat heavily on the sugar side. Hints of fruit syrup. Overall, a pleasant, refreshing Mead.

---

Kenco Blue Mead
Kenco Farms - Sutton, WV, USA
Melomel (11% abv)
Aroma: Smells old with chloro-phenols (band-aid).
Appearance: Medium pink like a blush wine.
Flavor: Light in body, flavor and alcohol. Hints of blueberry and spice (cinnamon). Fruit notes are mild. Aftertaste is a bit flat. This Mead needs more body and honey. A very rustic, farmhouse version of a Mead.


---
Kirkwood Royal Blush Mead
Kirkwood Winery - Summersville, WV, USA
Pyment (11% abv)
Aroma: Almond, perfume, grapes, and acetone.
Appearance: Pink blush appearance with signs of sediment.
Flavor: Chemical, plastic hints with some notes of honey. Tannins are apparent. Should be cleaner. Does have some appealing grape notes in the background.