---
---
Commercial Beers -- Blind Tasting Comments...
---
More beer destinations on our Brewtopia Events webpage...
---

EKU 28
Doppelbock - 11% alcohol by volume (abv)
Kulmbacher Brewery, Kulmbach, Germany
FIRST PLACE
Aroma: Toffee, alcohol, hints of fruit.
Appearance: Crystal clear and brilliant with a copper color of rum.
Flavor: Huge malt, huge mouthfeel, alcohol is warming. This is a beer for sipping by a fire on a cold night. There is a bready, German character with slight undertones of roast malt. Raisiny and delicious!
---
Christmas Mead 1999
Traditional Mead - 12.5% abv
Lurgashall Winery, Sussex, UK
SECOND PLACE
Aroma: Honey, flowers, fruit, orange blossoms, vanilla.
Appearance: Still, golden, clear.
Flavor: Not very sweet. Tart-hint on aftertaste, great balance, clear, not cloying, seems well-aged, hints of apple, rich honey flavors. This is a near-perfect, well-balanced mead.

---
Fullers Vintage Ale 1998
English Barleywine - 8.5% abv
Fullers/Griffin Brewery, Chiswick, UK
THIRD PLACE
Aroma: Fruity, mild, hints of English hops.
Appearance: Clear, amber, gorgeous color.
Flavor: Excellent and well-balanced. Hop/malt components work perfectly together. This is an extremely sophisticated and refined Barleywine with nice, fruity complexity. What an awesome beer!

---
Unibroue 10
Belgian Specialty Ale - 10% abv
Unibroue, Chambly, Quebec, Canada
HONORABLE MENTION (tie)
Aroma: Fruity, musty, cellar-like.
Appearance: Beautiful thick, white foam with good head retention. Color is bright golden and clear.
Flavor: Alcohol, spice, fruity esters, malt -- all work well together. Hints of pepper and spice. There are slight dry/metallic notes. This is a good Belgian ale -- coats the tongue with mouthfeel and flavor.

---
Aventinus Weizen-Eisbock
Weizen-Eisbock - 13% abv
G. Schneider and Sohn Brewery, Kelheim, Germany
HONORABLE MENTION (tie)
Aroma: Banana, clove, vanilla, smoke. There are also spicy, musty hints and lots of complex phenols.
Appearance: Dark brown and cloudy with a nice head for a 13% alcohol beer.
Flavor: Malt, alcohol, spice, phenols (clove, banana). Warming with notes of caramel. This beer was cooled until ice formed, then some of the ice was removed to concentrate the beer and alcohol. This process has complimented the rich flavors of this beer.

---
Kasteel Belgian Ale with Cherries
Belgian Specialty Ale - 8% abv
Brewery Van Honsebrouck, Ingelmunster, Belgium
HONORABLE MENTION (tie)
Aroma: Sour cherries, chocolate, cherry jubilee.
Appearance: Dark brown with ruby highlights. Clear and attractive.
Flavor: Cherry pie with crust and syrup. Cinnamon, almond, cherry pits, sweet and sour. This is a luscious dessert beer that has a remarkable tart/sweet balance. Sour cherries and malt are in harmony -- well done.

---
Gulden Draak
Belgian Strong Dark Ale - 10.5% abv
Brewery Van Steenberge, Ertvelde, Belgium
Aroma: Light phenols, vegetables, DMS.
Appearance: Nice head with foam lace on sides of cup. Reddish/brown in color.
Flavor: Chocolate, dark candi sugar, rum-like, cardamom, spice. A bit oxidized. Sweet and pepper notes.

---
Don De Dieu
Belgian Specialty Ale - 9% abv
Unibroue Brewery, Chambly, Quebec, Canada
Aroma: Cereal grains, citrus, fruit, spice, phenols, corn, vanilla.
Appearance: Nice white head with a cloudy haze. Dark golden in color.
Flavor: Alcohol is hidden in this beer. Orange/citrus, spices, vanilla, hints of butter. This is a pleasant, honey-like, flowery ale.

---
N'Ice Chouffe
Belgian Specialty Ale - 10% abv
Brasserie D'Achouffe, Achouffe, Belgium
Aroma: Plum, raisins, sherry, port.
Appearance: No head, medium brown in color, reddish, no carbonation to speak of.
Flavor: A touch thin, fruity, pleasant, caramel, plums, dark candi sugar, hints of sweet ripe cherries. Flavor falls short of aroma. Some carbonation would help.

---
Bobby Krusen's Barleywine 1999
English Barleywine - 13% abv
Buckhead Brewery and Grill, Tallahassee, FL, USA
Aroma: Caramel, chocolate, hops in background, balanced aroma.
Appearance: Hint of haze, nice dark brown with ruby hints.
Flavor: Dry for a Barleywine of 13%. Hops cut into malt profile a bit too much for an English Barleywine. Dark malt character. Mouthfeel is a bit light. A well-aged, rich, pleasant beer.
---
Big Ale 1999
English Style Barleywine - 13% abv
Brimstone/Frederick Brewing Co., Frederick, MD, USA
Aroma: Malt hints, fruity, light toffee, dry/bready.
Appearance: Good head retention, a bit hazy, nice dark amber color.
Flavor: Malt, alcohol, hints of cherry, vanilla and caramel. Very nice ale.
---
Hog Heaven Barleywine-Style Ale
American Style Barleywine - 9.2% abv
Avery Brewing Company, Boulder, CO, USA
Aroma: Fruity, smells of fresh hops like it was dry-hopped. Very nice aroma.
Appearance: Deep garnet red, clear, brilliant.
Flavor: Malt expression is good, and hops are balanced. Aftertaste fades too quickly. Needs more lingering hops. This Barleywine is perhaps a bit thin in body for style.
---
Prize Old Ale
Old Ale - 9% abv
George Gale & Co., Horndean, Hampshire, UK
Aroma: Oxidative quality is a bit much (even for an Old Ale). There is also treacle and fruit in aroma.
Appearance: Very dark and clear, but hard for light to penetrate at all. Very low in carbonation.
Flavor: Corky, very oxidized, thin, sour, metallic. This bottle was probably subjected to heat in transit. Flavor is flat with notes of port, sherry, and cardboard. This was probably a rich, flavorful ale before it degraded.
---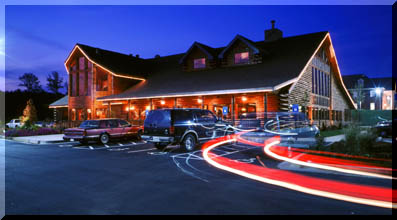 Buckhead Brewery and Grill!