Brewtopia Events
---
Commercial Beers
Blind Tasting Results
---
Brewtopia Events Beer Travel Pages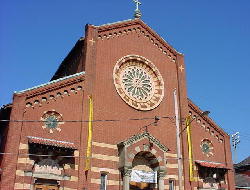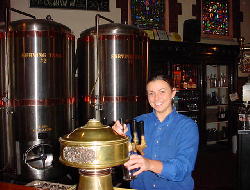 Church Brew Works
3525 Liberty Avenue
Pittsburgh (Lawrenceville)
ph: 412-688-8200


This brewpub is truly a religious experience. Church Brew Works is the first and only brewpub in the country that is located in a historic church (former St. John The Baptist Church). The old church is now a stunning brewpub with the brewing equipment located up front on the altar and the pews reworked into dining booths. Much of the old church as been preserved by the brewpub owners including the original Douglas Fir floors and stained glass windows. The hop garden offers beautiful outdoor seating in the church courtyard, and the bar and serving tank area is nestled to the left of the main sanctuary under a row of stained glass windows. Food items include excellent pizzas, steaks, salmon, and sandwiches. Celestial Gold, Pipe Organ Pale Ale, Pious Monk Dunkel, Bell Tower Brown Ale, and outstanding specialty beers round out the beer menu.
Church Brew Works
will celebrate the 100th anniversary of their church building in 2003 and is definitely one of the most unique and enjoyable brewpubs in the world -- don't miss it.
---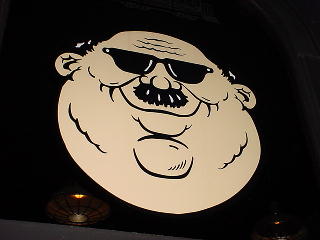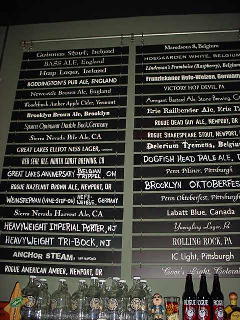 Fat Head's
1805 East Carson Street
Pittsburgh (South Side)
ph: 412-431-7433


East Carson is a funky party street on the south side of Pittsburgh, and Fat Head's is the place on Carson for great beer. There are around 40 draft taps at this great beer bar that include many outstanding high gravity and gourmet selections such as Arrogant Bastard, Delirium Tremens, and some of the best beers from Great Lakes Brewing, Brooklyn Brewing and Heavyweight (from NJ). See an interesting beer you've never tried? Just ask for a small sample! There are also pub food items available -- chicken wings, sandwiches, burgers, etc.
---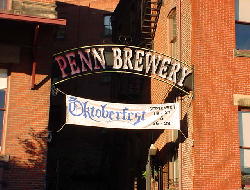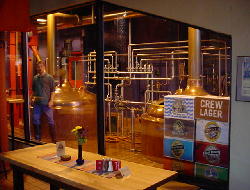 Pennsylvania Brewery
800 Vinial Street
Pittsburgh (North Side)
ph: 412-237-9400

Penn Brewing Company is a brewpub and microbrewery located near the big Heinz ketchup factory in downtown. This place is large, impressive, and beautiful with a main bar that looks into the brewing area, a beer cellar (or ratskeller) party room with views of the lagering tanks, and an outdoor biergarten patio. The food is hearty German fare, and the brews are clean, full-flavored German-style lagers such as: Pilsner, Gold (Helles), Dark (Dunkel), Weizen, Oktoberfest, Bock, and Maibock. Penn has won numerous awards from the Great American Beer Festival and World Beer Cup for their fine

Reinheitsgebot

beers, and beer critic Michael Jackson has heaped praise on them as well. If you are in Pittsburgh around the end of September, be sure to stop in for the brewery's famous Oktoberfest celebration.
---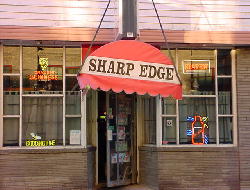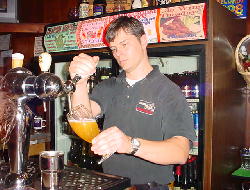 Sharp Edge Beer Emporium
302 S. Saint Clair Street
Pittsburgh (Friendship)
ph: 412-661-3537

If you love great beer, under no circumstances miss Sharp Edge. This place looks like a circa-1970 diner from the outside, but the interior boasts 53 taps (and two hand pumps) and over 400 bottled beers -- including some outstanding Belgian selections such as Bornem, Chimay, DeKoninck, Delirium Nocturnum, Kasteel, Petrus, and Kwak. This famous neighborhood beer bar is about an eight dollar taxi ride (in 2003) from the center of downtown Pittsburgh, and also offers a lunch and dinner menu with nachos, wings, humus, panini sandwiches, burgers, steaks, pasta, and gourmet pizzas. See the extensive beer menu on their website.
---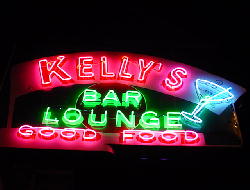 Kelly's Bar and Lounge
6012 Penn Circle South
Pittsburgh (East Liberty)
ph: 412-363-6012

Just a short walk from Sharp Edge (listed above), Kelly's is a cool art deco pub with 12 good beer taps (including the rich beers from Heavyweight Brewing in New Jersey). Kelly's is a fantastic place to enjoy a fine brew along with some conversation and menu items such as Tilapia tacos, calamari, pot stickers, crab dumplings, shrimp po-boys, chicken satay, or BLT with pancetta.

---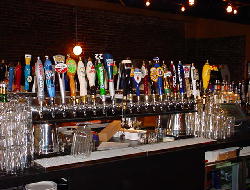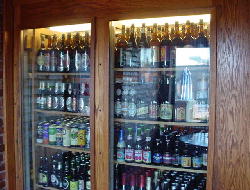 Roland's Seafood Grill
1904 Penn Avenue
Pittsburgh (Strip District)
ph: 412-261-3401

Located in the heart of the popular Strip District, Ronald's is a huge seafood restaurant and beer bar with two floors filled with delicious food and beer. Tap handles the likes of Chimay and Great Lakes Brewing are among the 30 or so you'll see behind the bar, but the upstairs' glass-fronted beer coolers are the most impressive sight in the joint with a jaw-dropping 600 bottled beers on display! Grab and plate of shrimp and pick a beer or two from their Pennsylvania microbrew list.
---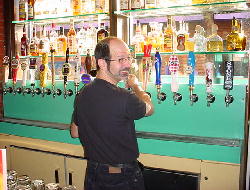 Kaya
2000 Smallman Street
Pittsburgh (Strip District)
ph: 412-261-6565


Kaya is a worthwhile, trendy little bistro right around the corner from Roland's Seafood Grill (listed above). The food is delicious and upscale, and there are 18 nice taps with some very interesting local micros and imports. There are also 28 bottled beers including examples from Chimay, Brooklyn Brewing, and Stone Brewing in San Diego. Pick any four of their outstanding appetizers (Tropas) for a mouth-watering sampler. Choose from selections such as alligator ribs, foie gras, conch fritters, crawfish tartlets, mussels, lamb chops, Spanish olives, spicy lentil beignets, or habanero scented crab cakes. Many outstanding entrees are offered (including yummy vegetarian dishes).
---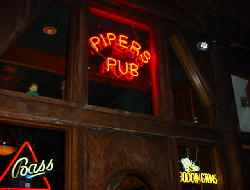 Piper's Pub
1828 East Carson Street
Pittsburgh (Southside)
ph: 412-381-3977


Who would expect a pub of this caliber on the East Carson party street? Piper's is an extremely impressive bar and restaurant with 22 intelligently chosen draft beers including Spaten Optimator, Ayinger lagers, and Young's ales. The food consists of huge portions of well prepared steaks, seafood, and vegetables. Try the salmon and mashed potatoes with a pint of beer from Young's brewery in London.
---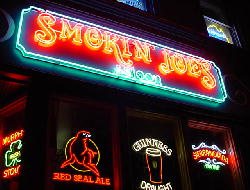 Smokin' Joe's
2001 East Carson Street
Pittsburgh (Southside)
ph: 412-431-6757


This pub is also on East Carson and is very near Piper's Pub. It features a big draft and bottled beer selection served behind a long bar that runs almost the entire length of the pub. If you are tobacco shy, stay out of Smokin' Joes -- smoking is actually encouraged here.
---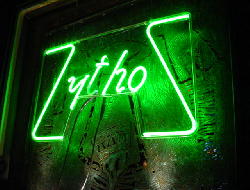 Zythos
2108 East Carson Street
Pittsburgh (Southside)
ph: 412-481-2234


Zythos is a very hip bar on East Carson. The beer selection is respectable and the clientele is very young and trendy. The interior of the bar is attractive, and the live music shows are diverse and entertaining.
---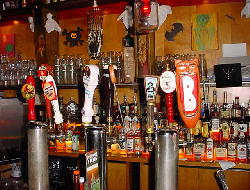 Mad Mex
Several locations in Pittsburgh


This cool chain of California/Mexican style restaurants in Pittsburgh is to be commended for their spicy, tasty food and fine selection of tequilas and microbrewed beers. The draft and bottled selections have some fine examples of world-class brews, and the menu is loaded with gourmet tacos, burritos, enchiladas, and appetizers. As I snapped a picture of the bar, a waitress asked, "Wow, are we that impressive?" I'd have to say "yes."
---
Other beer spots of note...
D's Six Packs and Dogs,

1118 S. Braddock Ave., Pittsburgh (Swissvale), ph: 412-241-4666. This retail beer store and hot dog diner stocks an amazing array of bottled beers to enjoy on premises or take home.

Sharp Edge Creekhouse,

288 West Steuben Street, Pittsburgh (Crafton), ph: 412-922-3118. This other Sharp Edge (see the main review above) is located a bit away from downtown, but still has an incredible beer selection.


Mellinger Beer Distributor,

402 Semple Street, Pittsburgh, ph: 412-682-4396. This beer retail store is one block away from the Mad Mex at Atwood and Bates and sells a large selection of micros, imports, and Belgian beers by the

case

. Many exceptional strong beers are available.