---
Commercial Beers -- Blind Tasting Comments...
---
More beer destinations on our Brewtopia Events webpage...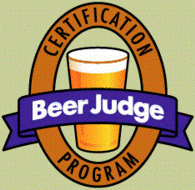 ---
Rogue Imperial Stout
Rogue Ales - Newport, OR, USA
Russian Imperial Stout (11% abv)
FIRST PLACE
Aroma: Coffee grounds, espresso aromas, alcohol.
Appearance: Very black and viscous.
Flavor: Roasty with a great espresso-like finish. Not very acidic. Hop content is substantial and the finish is bitter-sweet. Malt, roasted barley, and hops all work together extremely well to make this a rich, luscious dark ale. This is an impressive beer with a warming, dark chocolate note.


---
Victory Old Horizontal
Victory Brewing Company - Downingtown, PA, USA
American-style Barleywine (11% abv)
SECOND PLACE
Aroma: Lots of resiny, spicy American hops.
Appearance: Clear with light carbonation and a bright amber color.
Flavor: American hop flavor and bitterness are floral and pleasant. This is a malty beer with a terrific hop/malt balance. Smooth yet assertive - hops resonate on the tongue. A splendid Barleywine that is very delicious.


---
Millennium Ale
King and Barnes Brewery - Horsham, W. Sussex, UK
English Barleywine (9.5% abv)
THIRD PLACE
Aroma: Plums, raisins, perfume and passion fruit.
Appearance: Mahogany with a slight haze and very low carbonation.
Flavor: Viscous with a mild, pleasant sourness and heavy mouthfeel. There are undertones of herbs, plum, and maple syrup. The mouthfeel coats the tongue and flavors of caramel appear in the finish. This beer has a good balance between bitterness and sweetness.


---
Dogfish Head World Wide Stout
Dogfish Head Craft Brewery - Lewes, DE, USA
Imperial Stout (18% abv)
HONORABLE MENTION
Aroma: Winey and cordial-like with notes of whiskey and rum.
Appearance: Jet black with a very light head.
Flavor: This is more like a liqueur than an Imperial Stout. This beer is very high in alcohol warmth and alcohol flavor, and has notes of strong plum, syrup, maple, and port. It has a big mouthfeel and is outrageous and impressive. Very high end of this style and goes overboard on many parameters of an Imperial Stout. This is a sipping beer with roast/coffee character in the background. Quite an experience.

---
Benchmark Old Ale
Portland Brewing Company - Portland, OR, USA
Old Ale (9.9% abv)
HONORABLE MENTION
Aroma: Mild alcohol, hops, light malt and caramel.
Appearance: Dark copper in color -- clear with a mild white foam.
Flavor: Beautiful floral hop flavor with good malt for balance. Not a very bitter ale and lacks any sherry-like, oxidative character. May be better with some age. Extremely pleasant and drinkable.

---
MacQueen's Nessie
Castle Brewery Eggenberg - Vorchdorf, Austria
Red Ale with whiskey malt (7.3% abv)
Aroma: Honey and fruit with a touch of alcohol and sourness in the aroma.
Appearance: Golden with a clear, white head of foam.
Flavor: Malt and honey with a very restrained hop bitterness. This exhibits a fine malt flavor, but is not sweet. There is a bit of butterscotch, smoke, and dark toast in the flavor.

---
Scotch Silly
Brasserie De Silly - Silly, Belgium
Strong Scotch Ale (8% abv)
Aroma: Raisins, candy, fruit, caramel, and toffee.
Appearance: Dark amber with light beige foam.
Flavor: Butterscotch notes. Sweet, fruity, candy-like with hints of cherry. Malt character is a bit too sweet for this style. There is no hint of roast or smoke. Too fruity and not "Scottish" enough. However, this is a very delicious ale.



---
Hair of the Dog Adam
Hair of the Dog Brewing Company - Portland, OR, USA
Historical Dortmunder Altbier with smoked malts (10% abv)
Aroma: Earthy, horsey, Brettanomyces notes. Aroma also is sour and fruity with hints of smoke.
Appearance: Dark brown and hazy with a tan head.
Flavor: Sour, salty, citrusy, earthy, and cellar-like with a bitter finish. This is a very complex and unusual beer with a unique, rustic character. Slight infection could be present. Not for everyone's taste.

---
Ruination IPA
Stone Brewing Company - San Marcos, San Diego, CA, USA
India Pale Ale (7.7% abv)
Aroma: American hops, butter, pine, and wood resin.
Appearance: Very slight haze with a deep golden color.
Flavor: Hop/malt balance is commendable, but the hop choice is a bit harsh and medicinal. Malt character includes delicious toasty and buttery notes..



---
Weyerbacher Raspberry Imperial Stout
Weyerbacher Brewing Company - Easton, PA, USA
Imperial Stout with Fruit (8% abv)
Aroma: Fruit, wood-like hops, roast, flowers, tannins, and raspberries. The aroma is complex, yet mild.
Appearance: Thick foam with hints of red and amber color. The beer is very black.
Flavor: There is a great raspberry flavor and finish blended with chocolate and an alcohol presence. There is a dry, medium/full mouthfeel and body. This beer could perhaps use a bit more malt sweetness to backup the fruit. A very pleasant, pleasing beer that is light in roasted grain character (so the raspberries come through more).