Brewtopia Events
---
Commercial Beers
Blind Tasting Results
---
Brewtopia Events Beer Travel Pages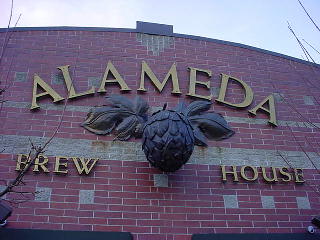 ALAMEDA BREWING COMPANY
4765 NE Fremont
ph: (503) 460-9025


Alameda is an attractive brewpub located in what looks like a remodeled warehouse. It is a bit stark and industrial looking on the inside, but very clean and friendly. Head brewer John Eaton got his start at Lagunitas Brewing Company in Petaluma, CA and is a graduate of the UC Davis Master Brewer's program. His well-crafted and flavorful beers include: Siskiyou Golden Ale, Wilshire Wheat Ale, Klickitat Pale Ale, Wasco Indian Summer Ale, Turk's Head ESB, Irvington Juniper Porter, and Black Bear XX Stout. Sandwiches and interesting seafood dishes highlight the menu.
---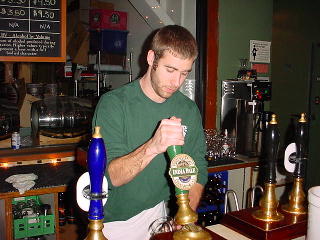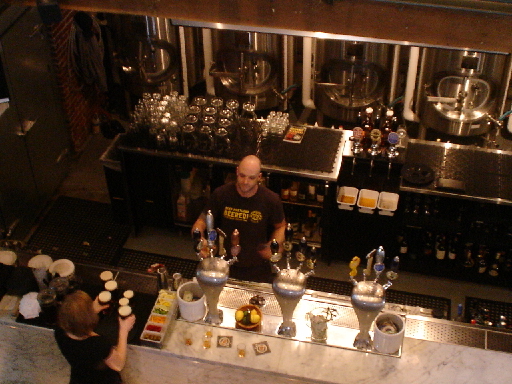 BRIDGEPORT BREWING COMPANY
1313 NW Marshall Street
ph: (503) 241-7179


The photo to the left illustrates the old bar and handpumps that used to grace the Bridgeport brewpub in 2004, and on the right is the sparkling, new bar in 2008. Bridgeport was once full of soul and great pizza and beer - the quintessential northwestern brewpub, but after its sale to the Gambrinus corporation, the glitzy, remodeled brewpub seems somewhat sterile and cold. The brewpub is located in an old warehouse district of Portland (the Pearl District), and the microbrewing facility is just next door. The lineup of Bridgeport ales looked like this in 2004: India Pale Ale, Porter, Stout, Old Knucklehead Barleywine, Blue Heron Pale Ale, and ESB. Be sure to sample all of the cask ales (unfiltered beers matured and naturally carbonated in small kegs). Bridgeport was started in 1984 and is one of Oregon's oldest craft breweries.
---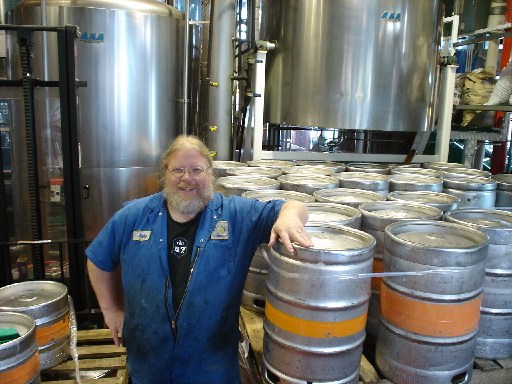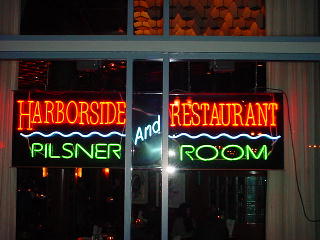 FULL SAIL BREWERY / PILSNER ROOM
307 SW Montgomery Street
ph: (503) 220-1865

Full Sail has a small brewery in Portland's Riverfront mall area attached to McCormik and Schmicks seafood restaurant. To taste the excellent Full Sail beers you will have to visit the Harborside Restaurant / Pilsner Room bar (next door to the brewery) which stocks the full line of Full Sail products -- including some selections on cask. Thel, Lari, and I made it to the Pilsner Room around midnight after our plane landed in Portland, and even though our bodies were still on east coast time, we still managed to close the bar. Try the happy hour appetizer plates or raw oysters at the bar for some nice accompaniments to the beer. Pictured above is our buddy John Harris - the head brewer at this Full Sail location in 2008. The extensive beer list at our last visit in 2008 included Amber Ale, IPA, Imperial IPA, Imperial Stout, Nut Brown Ale, Doppelbock, Session Pre-prohibition Lager (bottle only), and many seasonals.
---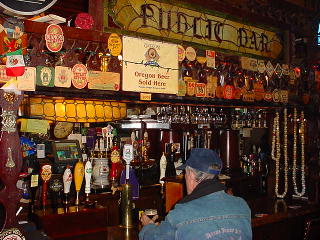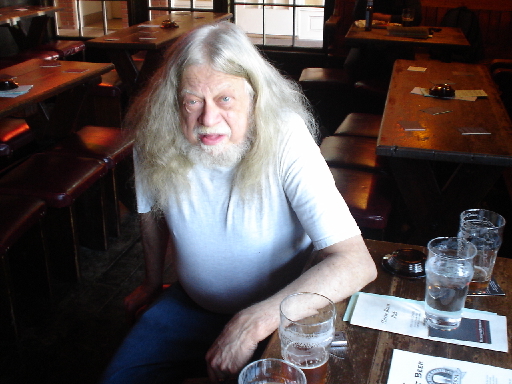 HORSE BRASS PUB
4534 SE Belmont Street
ph: (503) 223-2202

Horse Brass is a beer bar that is loaded with personality -- not polished glitz. It looks like a standard English pub from the outside, but be sure to venture inside for a great selection of fine imports and regional microbrews (try the amazing cask ales). Play a game of darts, enjoy a delightful pint, and then head next door to Belmont Station retail beer store for an amazing selection of beers to take home. Pictured above is Don Younger from 2008, the legendary owner of Horse Brass.
---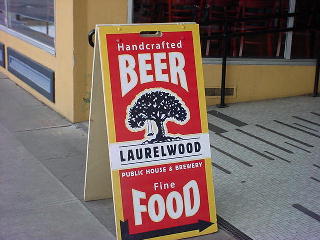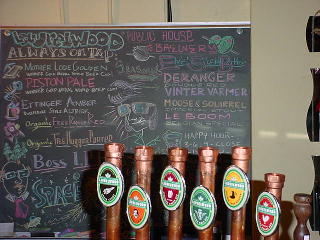 LAURELWOOD PUBLIC HOUSE & BREWERY
1728 NE 40th Ave.
ph: 503-282-0622

This brewpub is located in a quiet, suburban area of Portland and seems to be very popular with families (there is even a kid's play area tucked away in a corner). The food at Laurelwood is tasty, substantial pub fare; and the beers are all clean, flavorful, and pleasant. When we visited, the beer menu included: Belgian Specialty Ale (malty and spicy), Imperial Stout (rich, full-bodied and roasty), Barleywine (intense with good malt/hop balance), ESB, Winter Warmer, Alt (true to style), Red Ale, IPA, Porter, and Stout.

---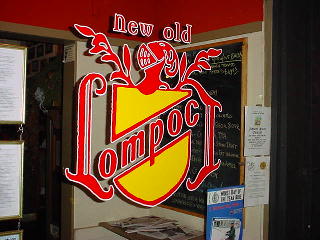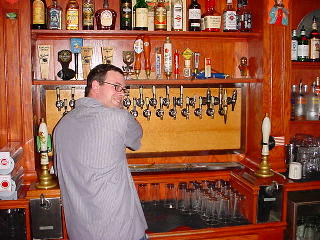 NEW OLD LOMPOC
1616 NW 23rd Ave.
ph: (503) 225-1855

Housed in what looks like an old house on NW 23rd Avenue, New Old Lompoc brewpub has tons of personality and character. There is a very casual, relaxed atmosphere here at this very small establishment. The menu has a plethora of interesting food items, and the beer list shines with nice brews such as C-Note Imperial Pale (full of NW hops), John Outhouse Special Bitter (named after Portland's first school teacher), Bald Guy Brown (with spicy American hops), Centennial India Pale Ale, Lompoc Strong Draft (also known as LSD), Sockeye Cream Stout, and Old Tavern Rat Barleywine.

---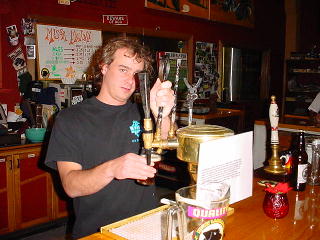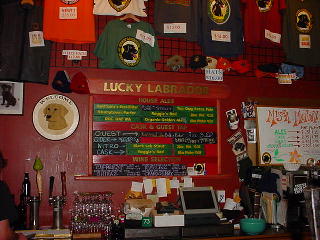 LUCKY LABRADOR BREWING COMPANY
915 SE Hawthorne Blvd.
ph: (503) 236-3555

This friendly brewpub is adorned with dog paraphernalia and photos of patrons from all over the world wearing their Lucky Lab garb. This brewpub is located near the Horse Brass Pub (see review above) a bit outside of downtown a features an open beer garden feel with an inviting deck out back. Beers included a Best Bitter (our favorite of the litter), Extra Pale Ale, Porter, IPA, Organic Golden Ale, and Stout - many with a touch of buttery diacetyl notes. Lucky Lab usually has one beer on cask most days and one guest tap. Head over and fetch a pint. There is also a Lucky Lab location at 7675 SW Capitol Hwy.

---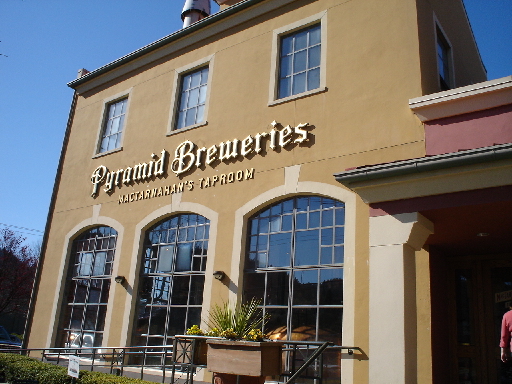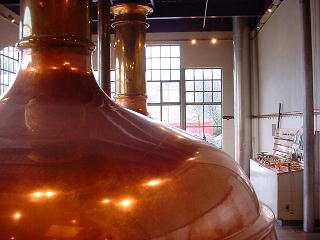 PYRAMID BREWERIES (name change from Portland Brewing)
2730 NW 31st Avenue
ph: (503) 226-7623

This beautiful brewpub features two shiny copper vessels shipped to Portland from Bavaria where they were originally used at the Sixenbrau brewery. It would be hard to imagine a more charming and pleasant brewpub than this one -- Portland Brewing is known for their delicious menu and line of MacTarnahan's ales. In January of 2004, their house beers included: Highlander Pale Ale (with a touch of heather), Mac's Amber Ale, Blackwatch Cream Porter, ZigZag River Lager, Woodstock India Pale Ale, Oregon Honey Beer, Mac Frost Winter Ale, Uncle Otto's Weiss Beer (a true Bavarian wheat beer with complex yeast character), Nor'Wester Hefeweizen (American style wheat), and Saxer Bock (in bottles). Highlights of the outstanding food menu were garlic rosemary fries, dungeness crab dip, Scotch eggs, rotisserie smoked pot roast and pork loin, Scottish pie, schnitzel, salmon, and fish tacos. Plan to spend a few hours here enjoying the fine beers and food.

---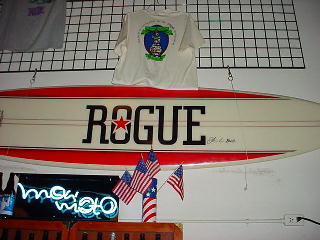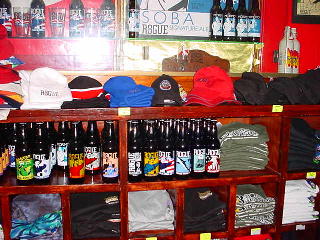 ROGUE ALES PUBLIC HOUSE
1339 NW Flanders
ph: (503) 222-5910

The Rogue brewery is located in Newport, OR, but you can still enjoy a little piece of Rogue in Portland at their beer bar and pubic house. This place features a gift shop, bar area, distillery (yeah, that's right), and dining area. Many of the hard-to-find new Rogue beers and experimentals are here along with some very tasty pub grub and cool conversation with the locals.

---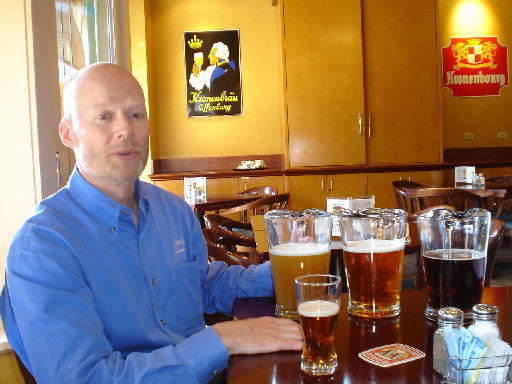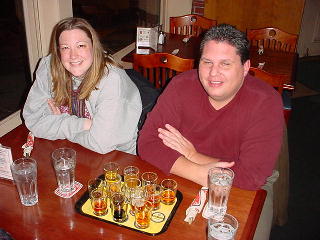 WIDMER BREWING COMPANY & GASTHAUS
929 N. Russell Street
ph: (503) 281-2437

Widmer makes one of the most popular American wheat beers produced today, and the microbrewery was started by two homebrewing brothers who decided to take their love of beer to the next level. The guest house restaurant is located next door to the microbrewery just across the river in the northside of downtown. The photo to the left is of Rob Widmer in 2008 discussing the current house beers at the brewpub, and the image on the right shows Kerri and Thel in 2004 enjoying the Widmer sampler tray that boasted 12 fine house brews: Blonde Ale, Hefeweizen, Altbier, Amber Ale, IPA, Widberry (with black raspberries), Doppelbock, Milk Stout, KGB (roasty Russian Imperial Stout), nitro tap selection, seasonal, and a brewer's special. If you are a fan of well-prepared German food, you will absolutely love the menu at the Gasthaus. Brewery tours are offered on Fridays at 3 pm and Saturdays at 1 and 2 pm. A tour of the sparkling new Widmer brewery across the street from the brewpub is a must.

---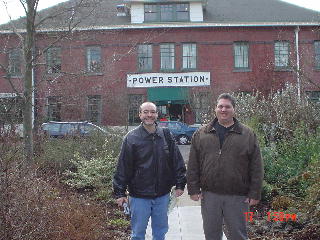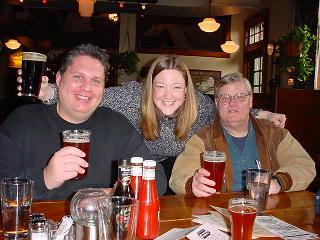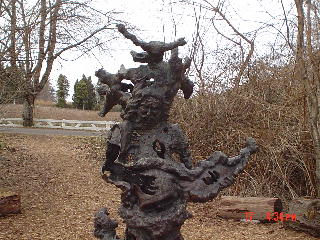 Jerry Garcia statue at McMenamins Edgefield



McMENAMINS EDGEFIELD
(McMenamins also has multiple locations in downtown Portland - all serving a similar range of their brews.)
2126 SW Halsey Street
Troutdale, OR
ph: (503) 669-8610

You'll find it hard to walk a couple of blocks in Portland without running across one of the brewpubs in the McMenamins chain. McMenamins is known for purchasing old buildings that are close to being condemned and transforming them into outstanding pubs and restaurants. McMenamins Edgefield can be found in Troutdale (about a 20 minute drive from downtown Portland) and is very much worth the trip. Edgefield is housed on a 38 acre facility that used to be the Multnomah County Poor Farm in 1911, but now houses a brewpub, winery, distillery, golf course, gardens, and a gorgeous European-style hotel. Every shed and old building has been converted into a bar or gift shop, and the old Power Station is now home to an inviting brewpub and theater. When you are done with your meal of sandwiches, burgers, pasta, or fish and chips at the Power Station Pub, grab an IPA, Hammerhead Ale, or Terminator Stout in a plastic cup and stroll the grounds of Edgefield. The McMenamins chain is a big part of the beer scene in the Northwest, and any McMenamins pub will have pamphlets with information about all their locations.
---
Our 2008 Portland, OR Beer & Pub Additions...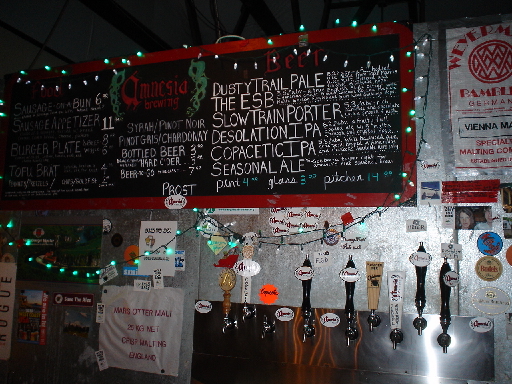 AMNESIA BREWING
832 N. Beach Street
ph: (503) 281-7708

Amnesia is a funky brewpub and bar that offers very interesting house beers and cool conversation with hip locals. The bartenders are camera shy.

---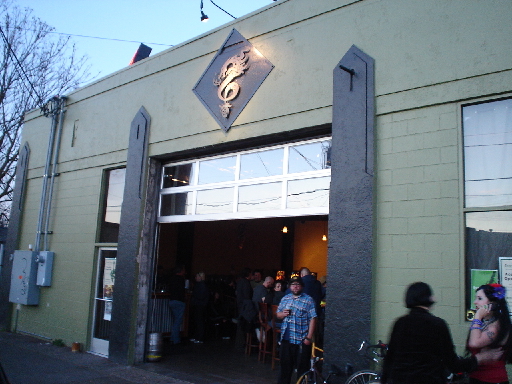 GREEN DRAGON
928 SE 9th Street
ph: (503) 517-0660

Green Dragon is an energetic, vibrant beer bar packed with young locals. It offers lots of live music, many amazing beer taps, and even had a belly dancing show the night we visited. Their own brewery and house beers started up in summer of 2008.

---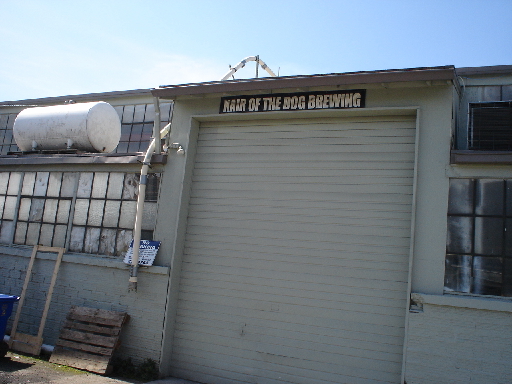 HAIR OF THE DOG
4509 SE 29rd Ave.
ph: (503) 232-6585

This is a rustic microbrewery located in an industrial area just outside central Portland that produces some extraordinarily flavorful craft beers packed with personality and alcohol. Tours are rare - call ahead.

---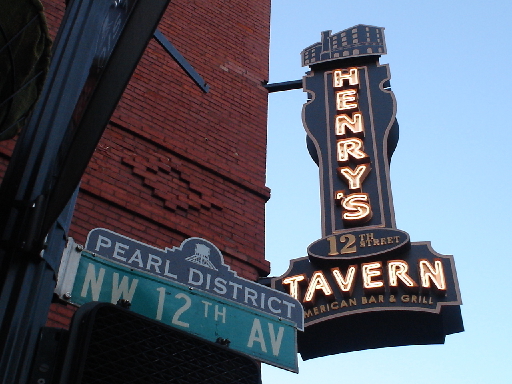 HENRY'S 12th STREET TAVERN
10 NW 12th Ave.
ph: (503) 227-5320

Henry's is a big, sprawling beer hall and restaurant loaded with great beer. The place is very attractive, and the food selections are quite appealing.

---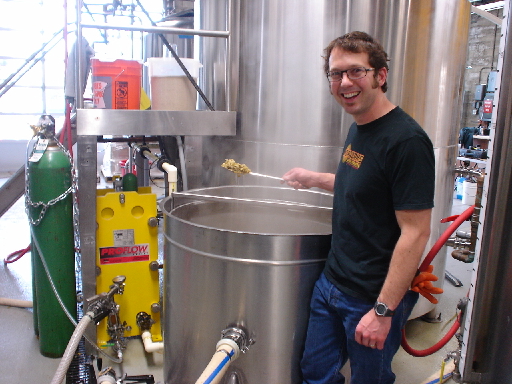 HOPWORKS URBAN BREWERY
2994 SE Powell Blvd.
ph: (503) 201-8957

This fun brewpub and micro had just opened when we visited in early 2008. The upstairs brewpub offers a nice range of house beers and tasty food items. Pictured above is the HUB brewermaster/owner, Christian Ettinger, stirring a dry-hop kettle in the basement brewhouse.

---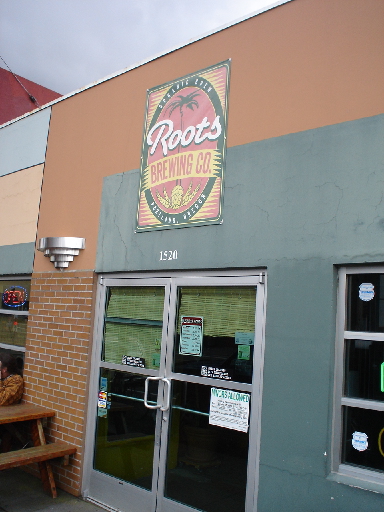 ROOTS ORGANIC BREWING
1520 SE 7th Ave.
ph: (503) 235-7668

Roots is one of the most cozy, casual and relaxing brewpubs in Portland. The beers are all organic, and the Woody IPA has a beautiful northwestern hop aroma and flavor. We also sampled Roots' Burghead Heather Ale, Never Mined Pale Ale, Island Red, and EXXXcalibur Imperial Stout. Jerk rubbed pork wrap, burritos, fresh deli sandwiches and garden burgers highlight the food menu. This is a must-see beer stop in the city.

---