---
Commercial Beers -- Blind Tasting Comments...
---
More beer destinations on our Brewtopia Events webpage...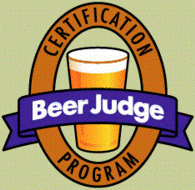 ---
Copper Creek is Athens' own brewpub, and they were gracious enough to host our evaluation of these beers. Visit the pub soon for a fine selection of house beers and delicious menu items.

Copper Creek Brewing Co.
140 E. Washington St.
Athens, GA
phone: 706-546-1102



Thel Melton and Jeff Rapp

---

Het Kapittel Abt
Belgian Specialty Ale


N.V. Van Eecke Brewery – Watou, Belgium


FIRST PLACE
Aroma: Fruity and spicy with an earthy,

Brettanomyces

yeast character. Sherry-like with a hint of banana bread in the aroma.
Appearance: Creamy white head - clear and medium gold in color.
Flavor: Thick and viscous with alcohol notes and a big mouthfeel. This is a delicious ale with a great depth of rich, fruity complexity.


---
Terrible
Belgian Strong Dark Ale




Unibroue – Chambly, Quebec, Canada


SECOND PLACE
Aroma: Subtle aromas of alcohol, fruit, spice, honey, cinnamon, and vanilla.
Appearance: Dark brown with ruby highlights and a tan head.
Flavor: Wood, toffee, sassafras. Mouthfeel has almost an oily viscosity. Flavors include figs, sweet malt, caramel apples, and blackstrap molasses. A rich, dark ale with layers of flavors.



---
Stoudt's Abbey Double
Dubbel




Stoudt Brewing Co. – Adamstown, PA, USA


THIRD PLACE tie
Aroma: Raisin, plum, honey, clove and other spices.
Appearance: Dark amber with ruby highlights.
Flavor: Malty with undertones of caramel, clove, plum, and raisin. There is almost no hop flavor or bitterness. Mouthfeel is full and viscous. There is also a slightly vinous/cloying sweetness.



---
Saxo Belgian Blond Ale
Belgian Strong Golden Ale
Brewery Caracole – Falmignoul, Belgium
THIRD PLACE tie
Aroma: Honey, slight fruit, alcohol and phenolic hints.
Appearance: Great head retention. Golden in color with a slight haze.
Flavor: Mineral-like dryness, slightly bitter and spicy. Starts out dry but ends with a mild, sweet finish. Nice balance of flavors.

---
Achel 8
Tripel
Brouwerij De Achelse Kluis – Hamont-Achel, Belgium
HONORABLE MENTION
Aroma: Cellar-like and slightly musty with a spicy, cheesy note.
Appearance: Lacy white head with a light gold color and a touch of haze.
Flavor: Dry, slightly metallic, and mineraly with fruity, sweaty, yeasty, notes. Tastes bready and wheaty. A crisp beer with a dry profile.

---
Koningshoeven Tripel
Tripel


Bierbrouwerij de Koningshoeven – Tilburg, Netherlands
HONORABLE MENTION
Aroma: Banana, fruit, and apple notes. There is also a cream pudding aroma.
Appearance: Golden/orange in color with a small chill haze.
Flavor: Very fruity with a candy-like, sweet finish. There are also hints of tannins and mild spices. May be too sweet for a Tripel.



---
Copper Creek Belgian Blonde Ale
Belgian Strong Golden Ale
Copper Creek Brewery – Athens, GA, USA
Aroma: Perfume, coriander, fruit, and banana. Very nice aroma.
Appearance: Clear with a sparkling golden color.
Flavor: Mild flavors of coriander, clove, and other spices. Malt profile is creamy and nice, but almost dry in the finish. Hops are subdued. A very pleasant ale.
---
Floreffe Abbaye Double
Dubbel
Brasserie Lefebvre – Quenast, Belgium
Aroma: Molasses, anise, brown sugar, spice, sassafras, and birch aromas.
Appearance: Dark brown with red hints and a thick, brown head.
Flavor: Rum, raisins, caramel, and clove. A bit metallic - could be old. Dry and a touch thin for style. Somewhat cola-like.

---



Chimay Red


Dubbel


Scourmont Abbey – Chimay, Belgium
Aroma: Malty, yet not very complex. Slightly burnt smell.
Appearance: Nice light head and amber color. Color is light end of style range for a Dubbel.
Flavor: Malt, toast and other mild flavors from malt. Slight paper, starchy flavor. Could use more fruity complexity.


---
Dogwood Winter Ale 2003
Dubbel
Dogwood Brewing Company – Atlanta, GA, USA
Aroma: Malty and yeasty with hints of ginger and roasted grains.
Appearance: Very light carbonation. A dark brown color with haze.
Flavor: Roasty hints. Malty with a thick mouthfeel. A bit worty. Fruit, caramel, and spice character is nice.

---
Helleketelbier
Belgian Specialty Ale


Brouwerij de Bie – Watou, Belgium
Aroma: Butterscotch, malt, and honey.
Appearance: Clear and golden.
Flavor: Honey, candy-like sweetness with caramel and toffee notes. Malty with a bit of an oxidative quality (sherry-like). Alcohol notes are present with a nutty background.


---
Artevelde Grand Cru
Belgian Strong Dark Ale


Huyghe Brewery – Melle/Ghent, Belgium
Aroma: Raisin, malt, and clove complexity with some medicinal, solvent hints.
Appearance: Dark amber / reddish / light brown color with nice carbonation.
Flavor: Dryish with hints of wood, tannin, soap, fruit, caramel, and slight resin.