Beer Guides to Cities
Around the World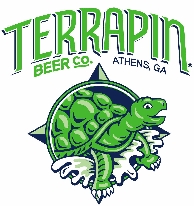 The Saga Begins...

Terrapin / Left Hand Depth Charge Collaboration Beer Dinner Tour

October 26-29, 2009


The Beer Wench and Owen Ogletree are tagging along on next week's Terrapin / Left Hand Depth Charge collaboration beer tour dinners from Atlanta to Philadelphia! We begin on Monday at Taco Mac Lindbergh Atlanta, head to Tyler's in Durham NC on Tuesday, make our way to MeKong in Richmond VA on Wednesday, and end the tour at a special dinner at Monk's Cafe in Philadelphia on Thursday.

The postings begin on Tuesday, October 27 and will appear below. Scroll down for new postings as the journey progresses...


---
Pre-show:

Before the tour begins, I thought that I might lay down some background for those of you who may not know it. Depth Charge debuts as the second Midnight Project collaboration between Terrapin and Left Hand. At some bar, that the parties involved can not agree upon, around midnight the idea was born to brew a special series of beers together. In honor of that late night of drinking, the midnight brewing project line was born. Last year's brew was birthed at Left Hand in Longmont, Colorado and, as many of you know and enjoyed, called Terra-Ry'Zd. This year's brew came into being at Terr
apin in Athens, Georgia and has been christened Depth Charge. As I ponder the long beer road ahead and wonder if I can make it through, I am strengthened by the thought that I am doing my duty as The Beer Wench and my fans and fellow beer lovers/foodies will be enlightened and entertained by the endeavor. I leave you with two oldies but goodies, "It's a tough job, but someone has to do it. The liver is evil and must be punished." I hope you guys enjoy our journey and gain vicarious thrills though it. Whether at home or on the road remember to eat well and drink good beer."
---

Day One: October 26, 2009:
Welcome to the Terrapin-Left Hand dinner at Taco Mac Lindberg. We have a lovely crowd turning up. The first beers of the evening are Left Hand's Polestar Pilsner and Terrapin Golden Ale paired with a smoked duck pate, country bread, cornichons, and grainy mustard. I'm not a big pate person but the combination of the flavors on the bread was tasty and paired well with both beers. Chris Lennert of Left Hand blesses the evening by saying, "This is a celebration of craft beer and friends."

We are on to the first course, post-reception. It is tuna poke (pronounced pokie) which takes me back to Hawaii. It consists of raw, sushi-grade tuna, sesame oil, ponzu, avocado, and habanero. The flavors mingle well with Left Hand's Haystack Wheat. Owen read the first toast and off we go. Bob Townsend of Southern Brew News and AJC fame says," I loved it (the poke) when I hit the habanero."

The crowd here is loud and boisterous even before the beer truly began to flow. The second course was a cabbage and chorizo stew with turnips and sourdough croutons grilled with aged Manchego. The beer was Left Hand Starfish other wise known as the chocolate starfish (google it)! Needless to say, it caused a few giggles.By the way, Starfish is a big brown ale with a chocolatey finish. Jason of Left Hand leaves his impression by saying, " For such a controversial name... Chef Matt from Taco Mac really came up with a phenomenal pairing to match the big flavors and outlandishness of the name chocolate starfish."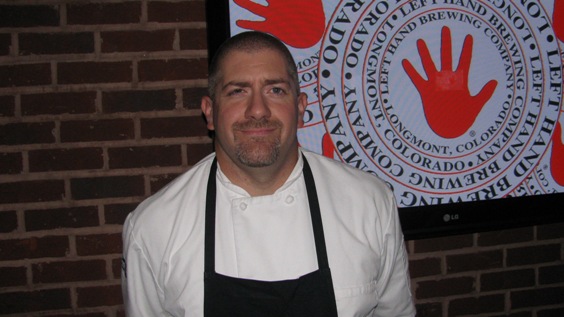 Chef Matt - Corporate Chef for Taco Mac's Tappan Street Restaurant Group

Okay, this is a continuation of day one - apologies for the delay in updates from day one's dinner. The beer started flowing, and the Beer Wench was enjoying herself way too much. Third course was paired with Terrapin Pumpkin Fest (part Pumpkin beer, part Oktoberfest style). Owen and I had a goat cheese portobello mushroom with smashed autumn squash which went really well with the beer, but all the meat lovers at the dinner enjoyed sweet onion and goat cheese stuffed meatloaf. The meatloaf was made with White Oak Pastures Beef from Love is Love farms with which Whole Foods provided a donation to help with Georgia flood relief. The beef dishes also came with autumn squash, and the fest sauce was made by reducing down two pitchers of the Terrapin beer.

On to the fourth course paired with Terrapin's Hopsecutioner IPA - hot off the executioner's block. Brewer Spike just pulled this keg off the secondary fermenter, and it is available no where else at this time. You can't get beer fresher than this, unless you drink it from the fermenter itself. Apty paired with this was seared black bass with a Szechwan broth, broccolini and curry pineapple. This was my favorite course of the evening - all the ingredients blended together well and paired beautifully with the spicy IPA from Terrapin.

Dessert was, of course, paired with the Midnight Project Depth Charge - which is pretty much dessert in itself. However, Taco Mac made it perfect by pairing it with a peanut butter cup made with chocolate ganache formed into a bowl filled with peanut butter "fluff" and espresso ice cream.

Day two's dinner will commence shortly. Stay tuned...

Video from Taco Mac's Dinner #1


---



Day Two: October 27, 2009:

Tyler's Taproom, Durham, NC.
OMG! Well, where to begin? Owen and I picked up Dustin and Chris around ten a.m. to head to beer dinner number 2. The normal five hour drive to Durham, NC turned into a ten hour journey of Odysseus proportions. Although the rain was constant throughout the drive, the first leg of the journey began without a hitch. We were cheerful as we stopped for lunch with Josh at Barley's Greenville, SC. Our stomachs sated we headed back on the road to Durham and our meeting with the fine folks at Tyler's. "The weather started getting rough. Our tiny ship was tossed...." Oh, sorry, lapse into a waking nightmare. A few miles down the road, we hit our first wet weather road incident where it took us an hour to go a mile and a half to a detour. We hurdled that obstacle with our humors intact. It's getting dark and still raining, but we were making good time when the road incident fairy reared her sardonic little head again. It involved several miles of backup, an overturned transport truck, haz-mat team, firetrucks, and possibly chipmunks.

We missed the first three courses, but they looked delicious and the folks at our table said the pairings were divine. The reception beer was Left Hand's Juju Ginger paired with Lemongrass Scallop Shumai. Truly, a pair made in whatever works for paradise. Also in this portion were forks of sesame noodles with chili oil paired with Terrapin's Sunray Wheat. Now, they brought some of the noodles out at the end for us, and I must say they were yummy.

The first "sit down" course was a smoked mozzarella and provolone rarebit with breadzle crostini paired with Terrapin RoggenRauchbier that from last year. The beer had time to mellow and soften around the edges but by no means lost its sparkle- a wonderful taste treat.

Okay, I'm going to take a bit of a break here because the beer and the trip are going to my head, but I'll finish the commentary on dinner two on the road tomorrow. The computer battery as well as mine are winding down.

"Brinkman's back on the air." It is in the a.m. after dinner number two. Still doing okay. Back is a bit sore from yesterday's drive, but all are in good spirits. As promised, here is the rest of the story...

The second course, which we were able to partake in, was a Gulashsuppe with breadzle croutons. This was basically a beef goulash paired with Terrapin PumpkinFest. From the satisfied faces around me and all of the empty dishes, I would say that this pairing was a royal success. Owen and I had a delicious roasted pumpkin salad with goat cheese and apples for those of you who know we don't eat of the cow.

The third course consisted of crispy molasses over pork belly served over cheesy stone ground grits and braised mustard greens served with Left Hand's Blackjack Porter...mmm, mmm good. Okay, I didn't eat the pork bellly, but it looked great and everything else was perfect.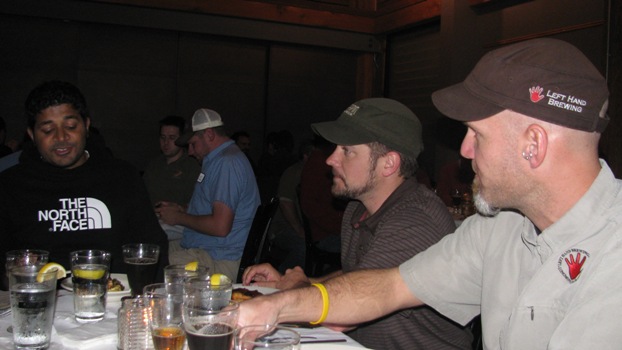 Dustin and Chris enjoying the Tyler's repast with happy dinner participants.

The fourth course included black pepper crusted venison loin with potato gratin, tangy savoy cabbage and "au poivre" sauce lovingingly paired with Left Hand Oak Aged Imperial Stout. The stout...okay...amazing. There was not a scrap of food left to be found on the plates leaving the table.

The last course was, of course, dessert. Vanilla bean pot de Creme and warm cinnamon doughnuts paired with Depth Charge ended the evening with a home run. the Durham Bulls themselves could not have planned a better lineup. This night is definitely a success. Thank you to the guys and gals at Tyler's!!!


Slightly dark video from Tyler's beer dinner #2.


---

Day 3: October 28, 2009: Richmond, VA at Mekong's: You have to see it to believe it!


Vietnamese family dining meets craft beer and turns into the most unique beer dinner experience so far in this Beer Wench's beer experience. I don't know if I can give a description that will do it justice or even explain the dishes, but I'm going to give it a go.

It all started with Terrapin Sunray Wheat and Left hand Haystack Wheat paired with Cha Gio, Tom Hoa Tien and Muc R. Muoi.
Yeah, me too. Basically it was rocket shrimp, spring rolls, and fried squid with hot peppers and onions with, of course, hot chili sauce and sweet sauce to dip. Both of the wheat beers although similar in style but very different in delivery went well with this course with the spiciness of the wheat profile accenting the spice in the sauces but light enough to pair well with the seafood.

Did I mention that this was family style? I mean large plates of food were placed on tables with a lazy susan. You spin the food around to reach. I do mean large plates of food!!!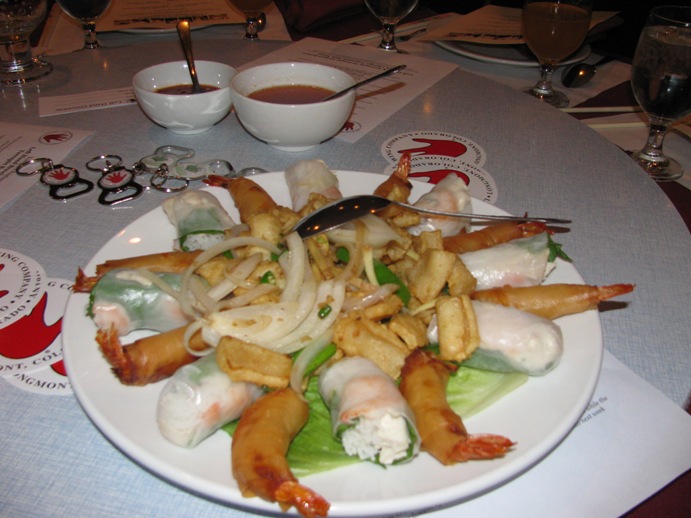 This kind of speaks for itself.

There were two plates with the next course. The first Pho xao Bo paired with Left Hand's 400lb Monkey was, let me just say, one of the best flavor pairings that I have ever had. It was like a tango in your mouth. The dish consisted of shrimp, snow peas, water chestnuts and wide noodles in a sweet, spicy, garlic sauce with celery and bokchoy. Between the beer and the food, the flavors intermixed like the intricate steps of that most passionate and complex dance. Every mouthful brought a new flavor, a new combination. I could go on forevery about that dish and the pairing. It was perfect!

The second plate with that course paired with Terrapin Golden Ale and also quite delicious was Tofu ruo rau Que which I am not sure how that translates, but it was tofu and mushrooms with a sweet soysauce like flavor. It was tasty and delicate and its flavors were highlighted by the soft maltiness of the beer.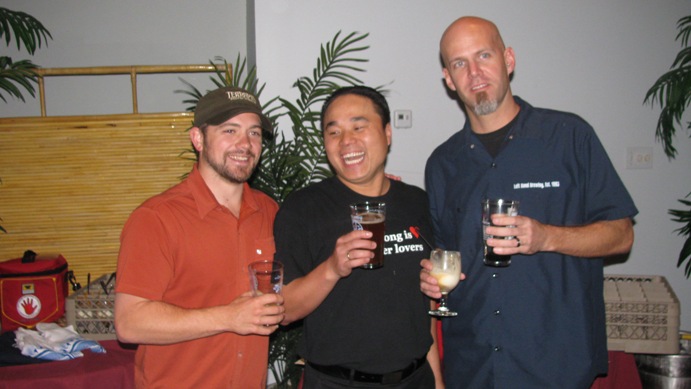 Dustin, An (owner), and Chris at Mekong's

After that second course things were a bit of blur. The dishes came out hot and heavy as did the beers, and it all became a bit confusing but everything was good and fun was had by all. There was a delcious soup with mussels paired with Left Hand's St Vrain Triple. A chicken dish and a quail dish came out around the same time as Terrapin's Gamma Ray and Big Hoppy Monster, I believe. Of course, there was dessert. An told me that they did a "collaboration" with the dessert to go with the collaboration beer "Depth Charge." The dessert was vanilla ice cream with coconut and Vietnamese coffee poured over it...very tasty.

After the dinner was over, An's halloween party, complete with costumes, began. The party truly revved up. We enjoyed the festivities for a while but knew that we had one more leg of our journey to complete; we headed back to the hotel our bellies full of food and beer and our hearts full of fun and life.


Hear from An and the crew at Mekong - dinner #3.


---
Day 3: October 29, 2009: Monk's Cafe in Philadelphia, PA.


We travel from Richmond, VA through D.C. and make our final stop in Philly. By the way, the Phillies won the first game in the World Series the night before and game two was on the horizon. Fergus and Tom of Monk's greeted us warmly and made everyone feel quite at home. We were told that the dinner would run quickly and smoothly because the game started at 7:56. By the time the the dinner was over, the Phillies were ahead at the bottom of the second inning.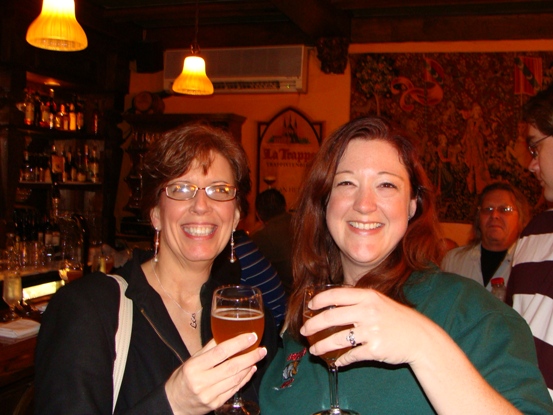 The Beer Fox and The Beer Wench enjoy the reception beer at Monk's Cafe. Girl Power!
The dinner started with Left Hand's Haystack Wheat as everyone wandered in and took their seats. The Terrapin Rye made a great complement to the earthiness of our first course which was grilled baby octopus garnshed with sprouts and lemon. The second course was shrimp with organce gastrique paired with Left Hand's St. Vrain Triple the fruity spiciness of the beer went well with the essence of the shrimp and was brought out by the citrus sweetness of the reduction.
Well on its way, the dinner, at this point, could already be deemed a success. The chef regailed us once again on the third course which consisted of maple glazed acorn squash stuffed with wild rice, walnuts, and craisins. Paired with Left Hand's JuJu Ginger, the flavors waltzed on your tongue in perfect step. The ginger spiciness from the beer brought out and accented the sweetness of the squash and all of its glorious accompaniments.

As if that was not enough, Terrapin's Substance Abused (2006), which is Wake n Bake aged in Jack Daniel's Barrels, and Left Hand's Imperial Stout were paired with a smoked seafood and bleu cheese savory tart. That kind of speaks for itself. The tart was a taste sensation and held its own very well with the beers chosen to go with it.

The fifth course was pork loin with apples and juniper paired with another special beer of the night, Terrapin's Big Sloppy Monster also from 2006 which is Big Hoppy Monster aged in Jack barrels. I did not try the pork, but everyone at the table agreed that is was amazing and the pairing hit the spot.

The dessert course paired with the collaboration beer, Depth Charge was a Cappuccino Creme Caramel- a perfect pairing for coffee which of course Depth Charge delivers with a bang. It was a sweet ending to a wonderful meal and the delightful hospitality of the folks at Monk's.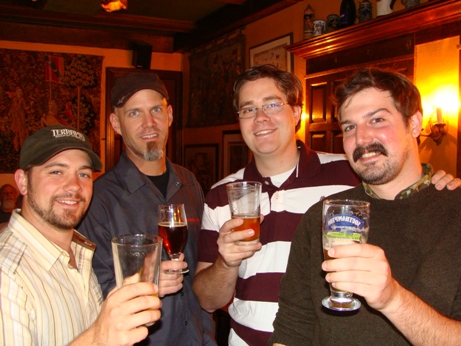 Dustin, Chris, Cameron (local distributor rep for both beers), and
Dan "the Man" Conway (Left Hand rep for the area) all take time
to pose for Owen behind the camera.


The last beer dinner of the journey - Monk's Cafe.
---

Conclusion: October 30, 2009: The Hotel


As I wrap up the last bit of crumbs of this piece, I look back over the last four days in awe and wonder. Four beer dinners, Four days, Four states....yet it was more than that. Dustin Watts and Chris Lennert were looking for a way to promote their midnight project and educate people a bit about food and beer. To Dustin and Chris I say, "Keep up the good work. You did a good thing. It was fun, and I would do it again in a heartbeat." I give kudos to the chefs, managers, wait staffs and all involved at the dinners at Taco Mac, Tyler's, Mekong's, and Monk's. I also give kudos to those of you who came to these dinners. Some of you knew what to expect and others did not. Beer brings people together, and together we are more than the sum of our parts. As the beer and the food bring out what is the best in each of them, we bring out the best in each other.
The liver may be sore, but the soul is sated. I raise my glass and look you in the eye as I say, "Remember to eat well and drink good beer."



---
---
Memoirs of a Beer Roadie
Tagging Along on the Terrapin / Left Hand Dinner Trip

By Owen Ogletree
(This article appeared originally in
All About Beer Magazine
.)
With sheets of rain blanketing our SUV, windshield wipers pounding out a mind-numbing rhythm, a stream of crimson brake lights ahead to the horizon, and two stressed-out beer reps in the back seat on their blackberries, all I could think was "Man, I really need a beer."
Four beer dinners in four states in four days? This sounded like an intriguing, if not demented, concept back when Terrapin Beer Company's Dustin Watts and Chris Lennert of Left Hand Brewing invited me along as official press "beer roadie." Our soaking on I-85 from Atlanta to Durham, aggravated by major traffic accidents in our path (one even involving a haz-mat squad), put second thoughts in all our heads.
The story of this epic journey really began after a beer festival three years ago, around midnight in some forgotten beer bar, when Dustin and Chris cooked up the idea of an annual, collaborative Terrapin/Left Hand brew - known ever since as the "Midnight Brewing Project." Dustin explained, "Chris and I have been friends for years and really wanted to do something together with the two breweries. To me, our Midnight Project collaboration is all about friendship. Just as friendships evolve with time, so will this collaboration."
Co-owner/brewer Brian "Spike" Buckowski of Terrapin in Athens, Georgia journeyed to the Left Hand brewery in Longmont, Colorado in 2008 to work with Left Hand's Ro Guenzel in the creation of a creamy, black rye lager called Terra-Rye'zd. Labeled and released by Left Hand during this first collaborative year, this beer with hints of chocolate and spicy rye was greeted with rave reviews by beer lovers in Colorado and Georgia.
Chris Lennert added, "This collaboration is all about fun and friends. Terrapin and Left Hand have similar philosophies about brewing and enjoying ourselves while we run our businesses, so it makes sense for us to get together and throw some ideas into a collaborative kettle."
In July of 2009, Guenzel paid a visit to Terrapin in Athens for round two of the Midnight brews. Amazingly, when Guenzel and Buckowski compared their independent notes for the proposed beer, the two recipes looked almost identical. The result, known as Depth Charge Espresso Milk Stout, weighs in as a rich, full-bodied dark ale with impressive notes of caramel, chocolate, roasted grains, lactose sugar and a smooth blend of espresso from Athens coffee roaster Jittery Joe's.
Dustin Watts and Chris Lennert, looking for a grand way to celebrate their collaborative Depth Charge in key markets, brainstormed a liver-wrenching series of four beer dinners up the East Coast. Our epicurean beer adventures took place October 26-29, 2009 in Atlanta, Durham (NC), Richmond (VA) and Philadelphia. The idea of a "beer roadie" sounded like a splendid adventure, so I agreed to come along and document the events.
Day 1 - Atlanta
Dustin, Chris, Kerri Allen (my "Beer Wench" wife) and I began by making our way from Athens to Atlanta for dinner number one at Taco Mac Lindbergh near downtown. Taco Mac, very popular among Atlanta-area beer aficionados, comprises a chain of close to 30 locations featuring ever-expanding selections of craft beers, an extensive menu of tasty pub fare, and a casual, fun, welcoming atmosphere.
After Chris, Dustin, Kerri and I set up the dining tables with brewery promotional materials and loaded a rotating set of photos featuring the collaborative brewing process and Depth Charge label on the dining room televisions, the excited crowd of beer lovers began to trickle in.
With the noise level rising to the official decibel level of "rowdy" before the end of the reception courses and beers, Dustin and Chris realized quickly that this could be a challenging evening to carry on beer discussion and promotion. But our pair of brewery heroes carried on with superb bravado—rotating through the room between courses speaking to each table, making each attendee feel special and welcome.
Matt Decker, Taco Mac's corporate chef, consistently rises to the challenge of creating unique, flavorful, upscale menu items for special beer dinners. For the Terrapin / Left Hand dinner, chef Matt provided scrumptious food items during the beer tasting reception, four courses and dessert. Each culinary creation such as smoked duck pate, tuna poke, chorizo stew and goat cheese stuffed meatloaf accompanied a Left Hand or Terrapin beer, with a chocolate/peanut butter dessert providing a sublime match to the rich sweetness of the Depth Charge.
Fred Crudder, Taco Mac's Beverage Manager, remarked that the Terrapin / Left Hand event ranked as one of the best dinners ever held at his restaurants. "The really special element of this collaborative dinner was the excitement generated among the customers," said Crudder. "The dinners we've done with each of these two breweries separately were successes, but this particular one had the added element of collaboration, which strikes a chord with craft beer drinkers who like to see camaraderie between two of their favorite breweries."
Day 2 - Durham
After an early morning of being a dutiful roadie helping load t-shirts, pint glasses and boxes of Terrapin and Left Hand stickers into our SUV, we enjoyed a cup of espresso and took off up I-85 toward our next collaborative feast to be held that evening at Tyler's Restaurant & Taproom in Durham, North Carolina. We had no idea what lay ahead.
After hours of torrential precipitation and long, painful delays through two major accidents, a drive that should have taken us a little over five hours turned into an almost ten hour, torturous crawl into Durham.
Just outside Durham, our two beer celebrities, over one hour late to the Durham dinner, began to brainstorm ways to "make it up" to the crowd. We decided to burn through our entire stash of pint glasses and give everyone at the Tyler's dinner a Terrapin glass and Left Hand bottle opener. Gifts and bribes sometimes can be useful.
Luckily, Jason Ingram from Left Hand decided at the last minute to fly to Durham for the dinner. Jason arrived at Tyler's on time and saved our butts as he discussed both the Terrapin and Left Hand beers for the first and second courses. The dinner crowd erupted into thunderous applause when our rain-soaked and exhausted group of beer trekkers finally entered the room.
Our two beer celebs pulled it together as they addressed the crowd, apologized for our tardiness and quickly transitioned into a focus on the beer and food. The Tyler's five course event featured lemongrass scallops paired with Left Hand Juju Ginger, smoked mozzarella rarebit alongside Terrapin RoggenRauchbier, molasses pork belly and Left Hand Blackjack Porter, a pepper crusted venison loin next to Left Hand Oak Aged Imperial Stout and a dessert of vanilla cream doughnuts washed down by Depth Charge.
Chris polled the crowd, and the results proved surprising. "Only about half of the people here have been to a beer dinner before tonight," remarked Chris. "For me, that's great news. I absolutely love introducing people to craft beer and food pairings."
After the dinner we enjoyed a few pints with Tyler and Daniel, the two cornerstone personalities of Tyler's. We discussed plans for future events and reminiscenced about the evening. One of the main duties of any good beer trip roadie is to keep your beer superstars from going over the edge and ending up in hang-over territory, so around midnight I gathered our group and headed to our hotel for a well deserved night's sleep. We kept our fingers crossed for a dry and problem-free "day three."
Day Three - Richmond
Our group of liver-weary beer travelers awoke to clear skies dry roads. Colorful fall foliage and light traffic highlighted our drive from Durham to Richmond, and I suggest quick stops at Legends and Richbrau brewpubs before checking into our hotel.
Always the responsible roadie, my eye stayed on the clock as I coaxed Dustin, Chris and The Beer Wench toward our hotel and the setup for our next beer dinner at Richmond's Mekong restaurant. As we walked toward this unassuming Asian eatery located in a drab, suburban strip mall across from a neon-lit adult novelty store, I was thinking, "Whose bizarre idea was it to have a craft beer dinner at a Vietnamese restaurant?"
Trust me; Mekong was the perfect choice for this collaborative event. Owner An Mekong, a maniac for craft beer (especially Belgian-style ales), jumped all over the opportunity to host this dinner. With draft beer stations set up all around the dining room, ten spicy and flavorful Vietnamese dishes each served alongside a Terrapin or Left Hand beer, and a free Halloween costume party with live music after dinner, this proved the most unique and eclectic beer dinner in my recent experience.
Colorful food items with names I cannot begin to pronounce appeared at a rapid-fire pace, while patrons spinned their table's Lazy Susans, shared each dish family-style and discussed every bite and sip. An ran around the event with a huge grin as he discussed each special dish.
Perhaps ethnic cuisine might provide a new frontier for beer dinners. "Many people don't realize just how well craft beers go with Asian food," explained An. "I've been carrying great beer since 1998, and now we have a huge following of beer lovers. We rotate beers quite often, and people come in all the time to see what new beers we have on and taste how each beer pairs with different dishes."
When Dustin began buying Chris shots at the bar around midnight, I realized the time had come to pry everyone out of Mekong's blur of flowing beer taps, saucy Halloween costumes and live classic rock to walk down the street to our hotel beds. We had to get an early start the next morning toward Philadelphia and our last beer dinner of the journey.
Day Four - Philadelphia
Our Terrapin/Left Hand crew hit the road for Philly around 8:00 AM. Not surprisingly, we hit traffic while trying to maneuver through D.C., and everyone's bladders began to scream while we were sitting on the highway. In an act of pure desperation, I exited toward Ronald Reagan airport, and the gang jumped out at the passenger-loading zone to run inside for the restrooms. Upon his return, Chris proudly announced, "Wow, I've never peed at Reagan airport before."
We cleared D.C. traffic about an hour later with the goal of lunch and beer samplers with our buddy Brian Finn, head brewer at Iron Hill Brewery & Restaurant in Wilmington, Delaware. Brian's malty Oktoberfest, cask IPA and sour blueberry lambic did wonders in firming up our constitutions for the final push into Philly.
Upon parking our SUV and checking into our hotel in the city of brotherly love, I attempted to motivate the group toward a quick warm-up beer. They were not having it; a quick nap seemed their only motivation at this point. The Beer Wench and I left the sleepy pair and enjoyed our first beer in Philly at Brauhaus Schmidt - a new German tavern near our hotel.
After rousing Dustin and Chris and gathering our beer dinner materials and giveaways, we walked to the classic Monk's Café around 5:00 PM for the 6:00 PM beer dinner. Monk's owners Tom and Fergie quickly let us know that the entire restaurant was sold out for this event, but the impending World Series game that night forced about half the attendees to cancel. Tom and Fergie don't usually allow cancellations for their popular beer dinners, but hey, we are taking about the Phillies in the World Series here. This night's dinner consisted of about 20 die-hard beer aficionados seated in Monk's back bar.
Dustin and Chris encountered no trouble in mingling and discussing their beers with the intimate crowd. An imaginative range of menu items from grilled baby octopus to smoked seafood & bleu cheese tarts was followed up by a creamy cappuccino caramel flan paired with the star of the beer dinner tour – the Depth Charge stout. As always, everyone seemed quite impressed and pleased with the warm atmosphere and experience at Monk's.
The Beer Wench and I were driving for a visit to Victory Brewing in Downingtown the next day, while Dustin and Chris flew back to Georgia and Colorado. We bid our fond farewells and reflected on the challenges and joys of our pilgrimage.
"Going on this beer dinner tour really felt like we were in a band together," said Dustin Watts. "It was really great to be a part of four magnificent dinners in a row - each night being special and different. It was a traveling celebration of beer, food, and friends. Chris and I already have new ideas and twists and turns planned for next year, and we'll just have to wait and see what happens."
One thing seems certain: This spirit of collaboration between two personable craft breweries sets the standard for demonstrating how small, artisanal businesses can allow creativity and a love for their products to drive fun, unique marketing strategies. Collaborative beers make up a popular new trend among modern day craft breweries - where cooperation and camaraderie seem more valuable and productive than cut-throat competition and self-seeking rivalry.
---