Beer Guides to Cities
Around the World

Amidst the raging heat wave and while the fires were burning, my sweetie and I took wing to re-visit some of our favorite craft beer spots outside of Denver, and to try out a few new ones along the way. As in many parts of the country, the craft beer industry in Colorado is growing. Many new breweries and brewpubs are being established, but the pioneers in the scene are busting at the seams. Among these include Left Hand, Oskar Blues, Avery, and New Belgium.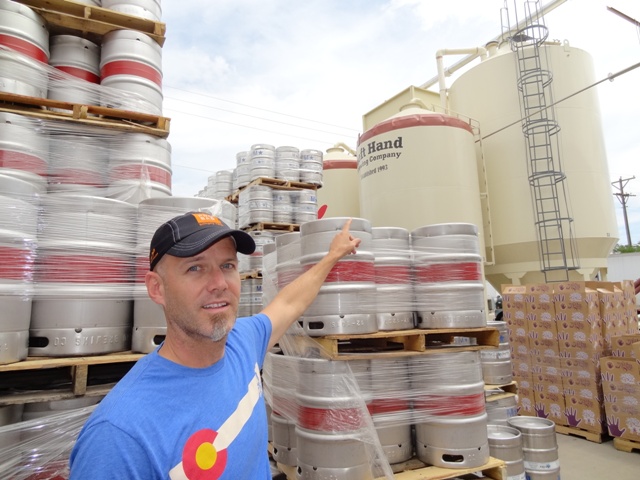 Left Hand Brewing Company, Longmont, Colorado
Since opening in 1994 with their Sawtooth Ale, Left Hand has grown by leaps and bounds. They have recently expanded their brew house and at the time of our visit, were working on a larger cold room storage where pickups of products take place. Evidence of growth was everywhere in the brewery. They currently brew around 19 beers and more are always in the works - from the ever famous Milk Stout to one of my favorites, Fade to Black, which is a seasonal that changes every time it's brewed. While we were hanging with Chris Lennert, who heads up the marketing/sales department of Left Hand, we were lucky enough to try a cask version of Stranger Pale Ale. Two casks are regularly on tap at the tasting room next to the brewery. Not only does Left Hand make great beer, but they do it with a conscience by using green practices at the brewery. They have a flash steam recovery system which captures steam energy that can be used to heat water for brewing and cleaning. They recycle much of the waste materials from cardboard to spent grains. Employees are also encouraged to bike to work if possible; bike racks were installed at the brewery for just this purpose. This is just a small sampling of what a great brewery can do both for their products and the community.
Oskar Blues Brewery, Longmont and Lyons, Colorado
The first thing that most people think about when the name Oskar Blues is mentioned happens to be canned beer. Although many breweries have started canning beer, OB was the pioneer. It took a leap of faith due to the stigma attached to beer in a can, but I think that OB has proven that not only do cans protect beer, they are very portable for outdoor adventures. Being one of their first out of state sales reps a few years ago, I have trouble not being a bit biased when it comes to this beer, but their success shows that I'm not the only fan. Dale Katechis (along with mom, YaYa, and brother, Chris) is the driving force behind Oskar Blues, and boy have they grown. They started with a small brewery and restaurant in Lyons, Colorado - the flagship beer being Dale's Pale Ale. They still have the brewpub which brews beer for the Lyons location as well as pilot batches of new beers. Their portfolio also includes Old Chub, G'Knight (formerly Gordon), Gubna, Ten Fidy, Mama's Lil' Yella Pils, and my current favorite Deviant Dale's. (I always knew you were deviant, dude.) In addition to the brewpub, OB now has a hop-mongous brewery in Longmont with a tasting room (The Tasty Weasel), and fantastic restaurant, Homemade Liquids and Solids. Like many craft breweries, OB also uses green practices - one of these being their own farm, Hops and Heifers. They currently are beginning a crop of hops still in the young stages, and raising cows and goats. There are plans to add pigs to that list as well as a garden. The meat served in their restaurants comes from their cows, and spent grain from the brewery feeds the cows as well as other local livestock. Farm to table-you can't beat that! Oskar Blues is also one of three breweries to be building brew houses on the east coast which will ease the brewing burden of the current location as well as cut down, greatly, on shipping costs for beer traveling along the East Coast.
TIP: Two nice hotels within easy walking distance of Oskar Blues' Homemade Liquids & Solids are the Holiday Inn Express and Marriott Courtyard.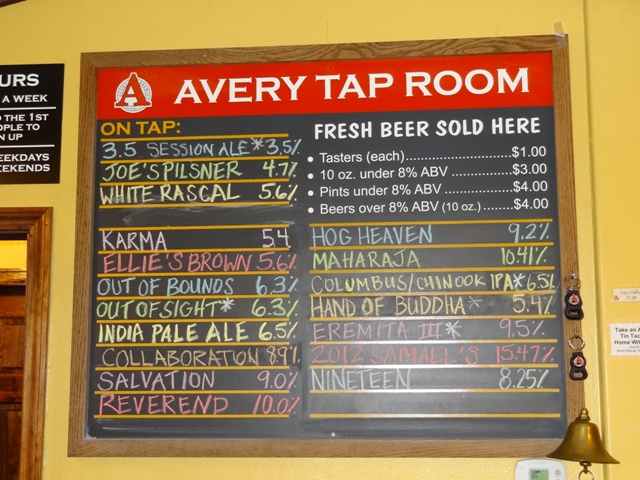 Avery Brewing Company, Boulder, Colorado
Named for owner/founder Adam Avery, Avery Brewing Company has made its niche by brewing beers for beer geeks. When starting out, they began by producing more mainstream beers but almost did not make it. Adam, in a last ditch effort to save the brewery or bust, made a beer he wanted to drink, Hog Heaven. The rest is…well…legend. From Avery IPA to White Rascal to Samael's, Avery Brewing Company has continued to make amazing world class beers that blast the palate. What some of you may not know is that Avery is also making some very session-able ales that are currently available at the tap room. Like Left Hand and Oskar Blues, Avery is busting at the seams. We found the brewery at the back of a business park on the east side of Boulder. They have taken over every possible space they can in order to expand the brewery and are currently at capacity - which in any industry is not a bad place to be. At the tap room, you can try or buy many of the available brews and grab a bite to eat as well. If you make it there, plan to stay awhile. There are quite a few beers to try.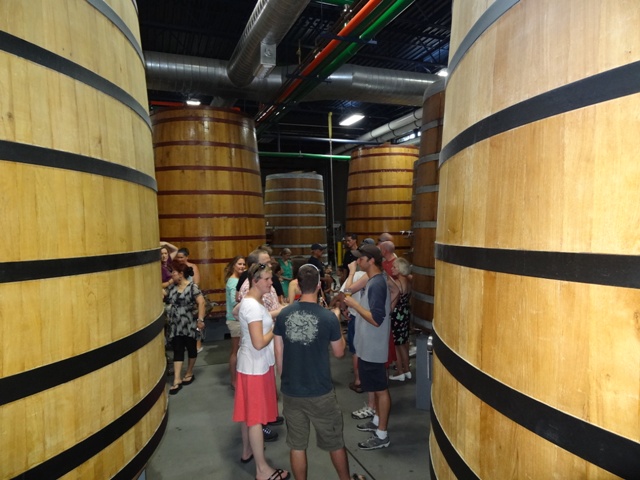 New Belgium, Fort Collins, Colorado
Made famous by their Fat Tire Amber Ale, New Belgium has been brewing beer commercially since 1991. The basic tenants running New Belgium (this is the short version) are to make high quality beer, be environmentally and socially responsible, and have fun. Since this is the only brewery, that I know of, which has a ping pong table in the canning line room and a climbing wall in the barrel room, the fun part is in the bag, but so are the other two goals. New Belgium makes exceptional craft beer and brews in a way that helps the environment. It is also an employee "owned" company. As an employee you earn a share in the company at the end of your first year as well as your own "fat tire" bike, which means that employees of New Belgium have a true vested interest in making sure the products are top of the line. Other craft breweries also do the same thing. Among their green practices, New Belgium uses wind power from a nearby wind farm as well as some solar energy. They strongly encourage their employees to bike to work, and for those who drive a car, parking spaces are allotted based on the energy efficiency of your car. The better your gas mileage the closer to the door you park. Bike racks are, of course, right at the door. We took their 90 minute (yes, an hour and a half) tour with Tyler. Thinking we might be a bit bored due to all the brewery tours we have been on, we weren't sure about this; however, it was an amazing tour which works for the newbies as well as the seasoned beer geeks. The fact that you receive a refreshing New Belgium beer at each information stop doesn't hurt either. The tasting room serves many of the beers available in the national market as well as a few that are not. New Belgium is also expanding by building a brewing facility in North Carolina.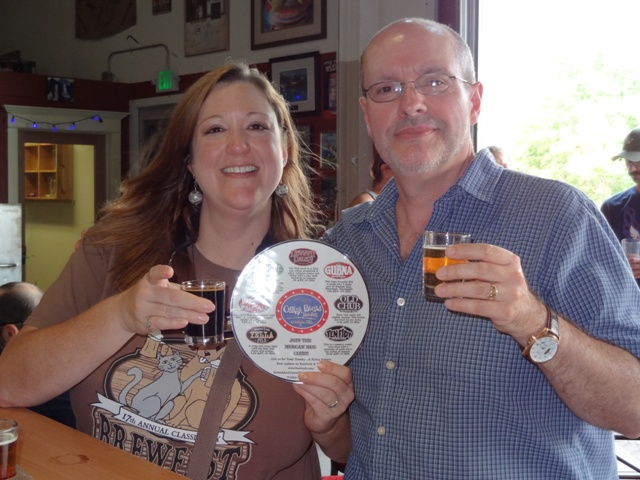 There is no shortage of good craft beer in Colorado. We visited many wonderful breweries and brewpubs. These four breweries are a good representation of all the tasty brews the Colorado craft beer industry can produce. I want to thank all of the great people who helped set up our tours, spent time talking about their beers, and generally welcomed us with open arms and beers. The best trait of all of these companies is their dedication to the community in which they built by the way they treat their customers, employees, and the environment. Other big businesses could do well by taking a few notes and following their example. Cheers! Remember to eat well and drink good beer!