Beer Guides to Cities
Around the World

---



Here's a Recipe from the Annabel Inn in Cottonwood, AZ. Enjoy it with a Belgian White ale or Hefeweizen...

Garden Eggs - Des Oeufs de Jardin

For this recipe, anything fresh out of your garden can be used, short of radish and cucumber. Shredded carrot in the egg mix even works. This recipe serves 2 people.



Ingredients:



4 eggs
1/2 cup cream
salt & pepper
Herbs de Provence
EVOO
one large shallot, sliced
1 c fresh herbs, cleaned and chopped
(fresh herbs suggested: French tarragon, chives, oregano, thyme, sage, parsley, basil)
1/4 c soft cheese (such as cream cheese)
1/4 c shredded hard cheese (such as parmesan)
2 dollops sour cream
2 edible flowers
Directions:
Whisk eggs
Mix in cream (can substitute with vanilla yogurt or creme fresh)
Add pinches of salt & pepper, and a good teaspoon of Herbs de Provence
Heat EVOO in skillet and cook shallots
Add half of the fresh herbs
Pour on egg mixture, sprinkle with another quarter of the fresh herbs
Add cheese
Once eggs are just slightly liquid on top with browned edge, flip in half, add one dollop of soft cheese or sour cream, sprinkle remaining herbs and add one edible flower.
---
Arizona: Desert Hop-ping with The Beer Wench
Owen and I usually head across the pond somewhere for the holidays, but occasionally we do explore locations in our own backyard. Several years ago, we took a road trip from Georgia to Nevada making various stops along the way. We have wanted to get back to the desert and decided winter would be a great time and allow us more hiking time (i.e. cooler weather). Little did we know that Arizona is having crazy weather just like Georgia.
We almost did not make it out of Atlanta before the first snow hit that gave Georgia its first white Christmas in a long while. Delta canceled our original flight but granted us seats on an earlier flight that took us through Salt Lake City. It was close, but the plane took to the air before the airport shut down. We made our connection in Utah and touched down in Phoenix to a balmy high fifties temperature.
Phoenix, Arizona
We spent the first couple of days in Phoenix with daytime highs in the high sixties and low seventies-no jacket needed. When we returned for our last night in Arizona before our flight , it was a bit cooler. Phoenix, as most places in Arizona, is spread out. Greater Phoenix burbs include Tempe, Scottsdale, Mesa, and Glendale. There are walking areas within the downtowns of each city, but a car is needed to get from one area to another. That being said, the beer and food scene in Phoenix is awesome, and there is plenty to do that does not involve calorie intake as well.
This is your Beer Wench, so let's talk beer and food. We found several locations (brewpubs and bars) that are worthy of a visit. My favorites are Four Peaks Brewing Company (which has two locations), Sunup Brewing Company and Papago Brewing Company. The Four Peaks brewery is located at the brewpub in Tempe, and the beer and food are available at the pub in Scottsdale. All of the Four Peaks' beers were good, but my favorite is the Hop Knot IPA. Kiltlifter is their popular seller. The food is delicious. We did not eat at Sunup Brewing, but the food looked and smelled good, and the beer is quite tasty. The special when we were there was the Cherry Bomb - a cherry juice laden imperial stout - yum! The pizza at Papago was tasty. There house brews were okay, but they have other micros on draft and a huge cooler of bottles from which to choose. You can also take home food or beer (growler or bottles). Yardhouse, Rock Bottom, Oggie's Pizza and Brewing also have locations in the Phoenix area. I have to say that I was not fond of Oggie's beer. It was a bit infected - lots of DMS. In downtown Glendale, we found a great German restaurant called Haus Murphy's. They have a good selection of German beers and wine as well as terrific food. They were featured on the Food Network as well. This is a very good walking area with an adorable square which was lit with holiday lights when we were there. There are also many cute shops and other eateries in the general vicinity.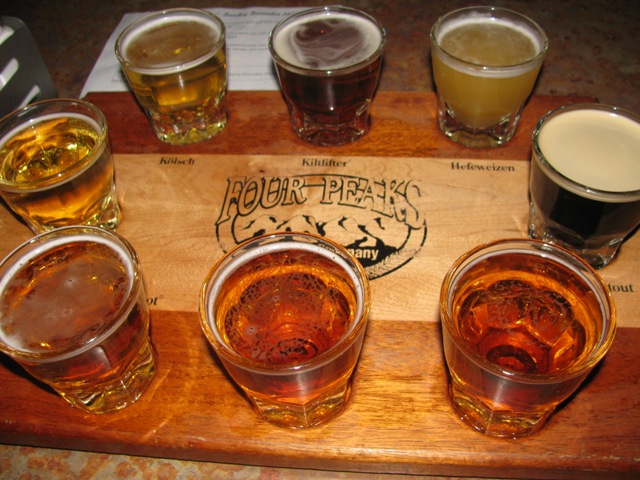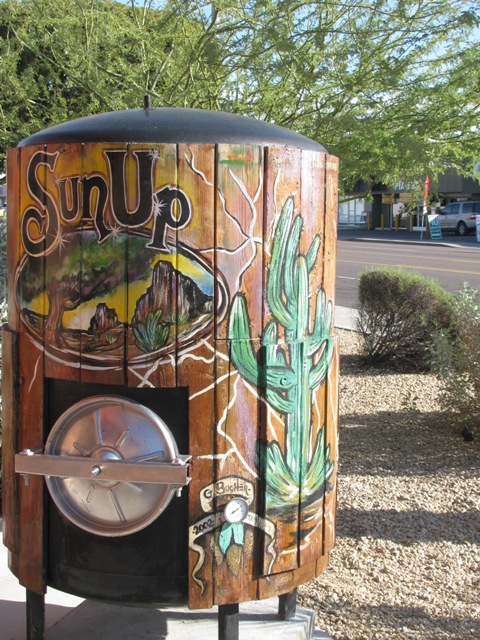 What can you do that does not involve eating or drinking? For a great scenic drive to initiate yourself to the desert, I would suggest a drive up Hwy 88. It is a beautiful, winding road, but before you get to the winding part you will go through Apache Junction. At the start of your drive you can stop at a ghost town and take a horse back ride or walk around Lost Dutchman State Park and get some good views of Superstition Mountain.
The Heard Museum in Phoenix is awesome. Dedicated to Native American culture and art, the museum has live demonstrations and awesome exhibits. We saw the Duncan family (they are Native American) perform different dances that were fabulous. Also, a must see is the Desert Botanical Gardens. We saw many different types of desert flora as well as a ton of birds and bunnies. I would love to go back in the spring when the hummingbird garden and butterfly garden is in bloom.
Flagstaff, Arizona
We decided to spend an evening in Flagstaff, which is north of Sedona. This is a ski resort area, but on our drive up the weather was beautiful and clear (see photo). The temperature did drop the farther north we went, but the weather was still gorgeous. Flagstaff is a great walking town, if you like to walk - it is also on part of the old route 66. Mainly we walked around town, ate good food, drank beer, and enjoyed the scenery and the locals.
Beaver Street Brewing / Whistle Stop Cafe was a highlight - great beer and food. Owen and I ate lunch there when we first arrived and had a sampler along with a pizza and salmon salad. We went back that night for apple cobbler and more beer before retiring for the evening. Their sister company is Lumberyard Brewing. Flagstaff Brewing's beers were a disappointment. It was a cute place, but their brewer needs to fix a few problems. We had an awesome dinner at Karma which is a sushi restaurant. Absolutely fabulous! A couple of other places of note are Mia's Lounge and Pay and Take. Mia's Lounge is a great bar with pool table and tvs that has a good microbrew draft selection. Sam Elliot's drinking twin sat next to me enjoying mini pitchers of Gordon from Oskar Blues. The Pay and Take is part convenience store and part bar. You can pay and drink on premise or buy it and take it home - quite cool. Now although the day and evening were cold and clear, warnings were eminent for a major snow storm for early in the morning. They had already had a bit of snow, as some was piled on the side of the roads, but the locals told us not to worry. They were used to situations like this, and the road into and out of town would be fine. We woke the next morning to a blizzard and got out of town quickly. Despite the general lack of concern, within a hour of leaving, they had started closing portions of the road. We heard, once landing in Cottonwood, that the road into and out of Flagstaff was now impassable and closed.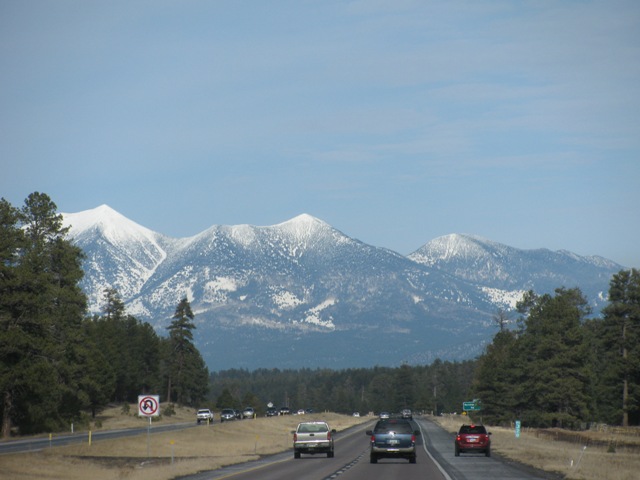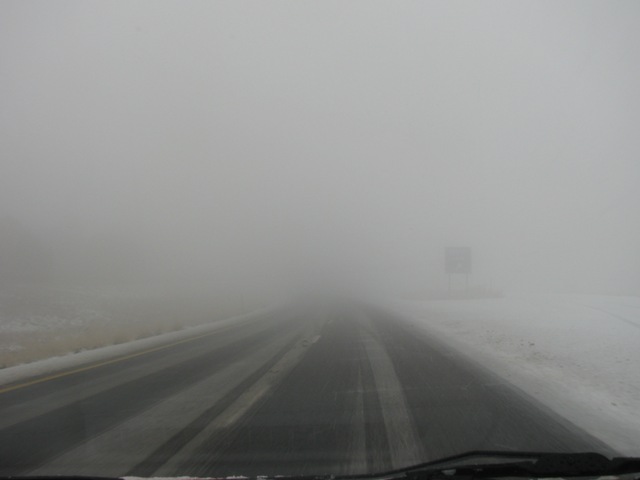 Cottonwood, Sedona, Jerome, Prescott
Our main reason for going to the Sedona area was to hike. Which we did a couple of days into our trip after the snow subsided. Yes, I said more snow. I have mixed feelings about this portion of the trip. I will say up front that most of those feelings are positive and would do it again with a better idea of how to plan and what to do.
Our center of operation was Cottonwood which stands right in the middle of the action but has a few wonderful things to offer all on its own. First highlight and definite two pints up would be The Annabel Inn. Situated on the edge of historic Cottonwood, The Annabel Inn is a warm, cozy, and very homey European style bed and breakfast. What truly makes this place great is Annabel herself. A true force of nature and kindred spirit, Annabel serves positive energy and terrific breakfasts. Her ingredients are either homegrown, hand-made by herself or from local sources. She also runs a green B & B. She has a small cookbook published from which your Beer Wench is going to give you a sample recipe. Look for it in the sidebar to this article. I consider it fate or good karma that brought us together. She, at one time, lived and worked in Lyons, Colorado - as some of you know is the home of Oskar Blues Brewing Company (for whom your Beer Wench worked for little while). It is a small world.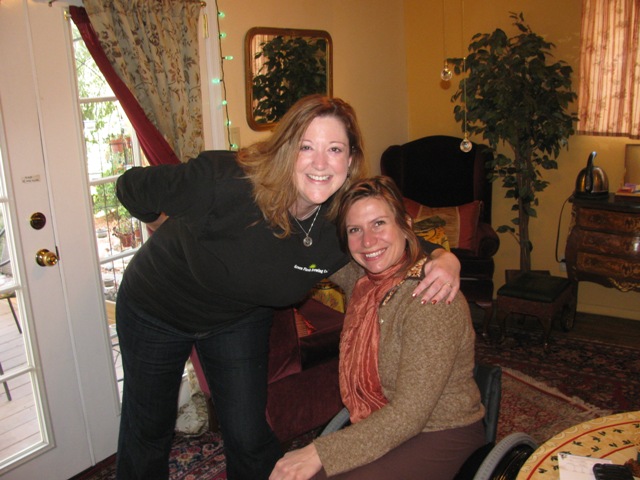 The Beer Wench and Annabel
You can't spend your entire time at the B&B, so take a stroll (or drive if you must) to historic Cottonwood. You can spend your time looking in the shops and taking in the architecture. Once you are bored of that, warm your spirits with a wine tasting at the two tasting rooms (Arizona Stronghold and Pilsbury - yes, Arizona makes wine. They grow grapes. They make good wine, and they grow grapes. Blimey!). Also a must see is the olive oil and balsamic vinegar tasting room. The Verde Valley Olive Oil Traders offers free tastings of flavor infused and aged balsamic vinegars and olive oils. Find something you like? You can purchase it there, have it shipped, or order online. We were warmly welcomed by Dawn and Mike and had a great time. I have also been reliving the experience by cooking with the oil and vinegar I purchased. If my beery fans are good, which of course you are, I'll be sharing a recipe or two with you soon. We also tried out two restaurants in historic Cottonwood. Both are owned by the same people but are different in atmosphere and food. The Tavern Grille is casual with, I believe, four drafts which were pulling craft beer. The food varied from pub grub to more fusion American fare. I had a seared tuna salad that was wonderful. Owen munched on chicken lettuce wraps. Nic's is the other restaurant. It boasts delicious Italian food. The craft beer selection is not notable, but the wine list and fru-fru martini list rocked. We went there on New Year's Eve and enjoyed eggplant parmesan and a Tuscan seafood soup among other tasty treats. I sampled a bit of wine while Owen enjoyed a Sierra Nevada Pale Ale (one of the highlights on the beer menu).
If you are into ghosts and heights, you must drive up Mingus Mountain to Jerome. Founded as a mining town, Jerome is quite literally perched on switchbacks on the edge of the mountain. A bit treacherous when we were there due to ice, it is a great place to walk around and enjoy some views and brews. We were not able to enjoy all that Jerome had to offer due to weather and time, but a few highlights would be The Haunted Hamburger, Paul and Jerry's Saloon, and the Spirit Room. A famous restaurant and hotel in town is The Asylum. We didn't make it there, but it is said to be haunted. Currently the hotel is shut down for mysterious reasons, but the restaurant is doing otherworldly business. Another place we missed but heard great things about was Belgian Jennie's Bordello and Pizzeria-named after one of the original bordello's from Jerome's wilder past.
If you keep going up the mountain and around, and around, and around, you will eventually hit Prescott Valley. Prescott, AZ has a great downtown area with many cute shops and eateries. Unfortunately, we were on our way back to Phoenix when we drove through and could not do it justice. It is on our "go back and do again" list. We did hit Prescott Brewing Company which was well worth the stop. Food was really good. We split an order of jalapeno hummus and a spicy black bean burger. The house beer was awesome including a good IPA - which many of you know is my test of a good brew pub. We also made it in time to sample the local seasonal favorite - the Raven Maniac Stout - an imperial stout that makes a rich impression. The locals know what they are talking about.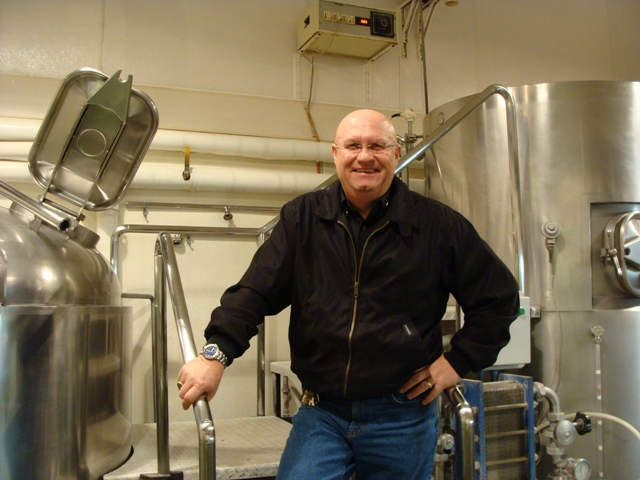 Prescott Brewing's Head Brewer & President - John Nielsen


You may be thinking that so far the emotions have not been mixed. The Beer Wench seems to have fully enjoyed her time in Verde Valley. You may have also noticed that I have not mentioned Sedona yet. I am. I will preface by saying that we had a great time, and my mixed feelings come from pre-conceived ideas.

As you drive up 89-A to Sedona, you will, as on any drive in Arizona, get the feeling of open space and wild country. In my mind, I had always visualized Sedona as a haven for hippies and healers, psychics and shamans, hikers and ….okay you get the picture. When you first drive in to Sedona the feeling is of strip malls then you hit Disneyworld type resorts, shops, and restaurants. There is an uppity feel, a touristy feel, but don't get discouraged. It is worth the trip. Old Sedona is there. You just have to look around.

First, you can't look anywhere without getting a view of the red rocks, and when I say rocks, I mean mountains. They are stunning, and the home of the famous vortices. No matter where you are, your eye goes to them constantly. I couldn't wait to get on our first hiking trail; however, our first day in Sedona was rainy. We went to lunch. Oak Creek Brewery and Grill in Tlaquepaque Village. The village is made up of adobe style architecture, galleries, shops, and restaurants. It's a bit polished. Oak Creek was packed, but we were able to grab seats at the bar. We had a sampler and some lunch (the tallest chicken salad sandwich I have ever eaten). The beer is good but on the mainstream side; however there were some gems-a vanilla porter, an IPA made with sorachi hops, and an orange blossom (light but tasty). The restaurant was tasty and all, but where you want to go is Oak Creek Brewery. This is actually the brewery itself with a bar tucked inside. No nonsense, no frills-just a low key bar which happens to be in the middle of the brewery itself. We were lucky enough, on our second visit, to meet head brewer Jim Strelau who, after finding out how much we loved his sorachi ipa, treated us to tastes of the same ipa brewed with simcoe. Although young and not yet being served, the simcoe version was delicious as well. The sorachi hop is a hybrid of around 10 different hop varietals and has a unique flavor.

The evening of our first day and our second day in Sedona, it snowed. That's okay. We found great food and more drinks. At this point, I must give a shout out to Mooney's Irish Pub - great Guinness and whiskey, real dart boards, and half of the brother team which owns it, Michael Mooney. We ended up there three times. Hello - it snowed! We also took in a couple's massage at A Spa For You. Hot rocks done the right way! I totally recommend these gals. Ladies, we truly enjoyed the hour spent at your capable hands. We also discovered two more great eateries - The Barking Frog and The Chocolate Tree (old Sedona lives here). The Chocolate Tree would make a vegan hippie stand up and shout. The food is vegan, organic, and much of it on the raw food premise as well - did I mention yummy! They have hot chocolate made with coconut milk. Loved it!

I did mention that we went to Sedona to hike, and we did. We used Dennis Andres's book Sedona's Top 10 Hikes which proved to be a good source. Our first hike was long, beautiful, and treacherous. We dealt with ice and snow, but the scenery was breathtaking and words will never do it justice. My knees weren't happy, but my soul soared. We also visited Cathedral Rock, Bell Rock, and Courthouse Butte. One day I will write a poem that might help people understand the ethereal beauty, but right now, all I can say is , you have to see it in person. Our last hike and the most passable was the Huckabee Trail. It had some urban views but also very varied wild scenery including a babbling creek and a boulder beach. Is this the most beautiful scenery I have seen? We have traveled to some amazing places, and Mother Earth never disappoints. I usually feel connected when I am outdoors, but this is high on the list of places where even the oblivious have to feel something. I am not oblivious. You can sense the rocks, the trees, the very valuable water, and if you close your eyes and stretch your senses, you can hear the sounds of the people who lived on the land long before Europeans ever arrived. Their energy, voices, and the beat of their music echoes off the rock, and they are telling us that if we want to continue to enjoy good beer, good food, good music, and the great outdoors, we need to take of our Mother.

This piece is turning into a dissertation which is not my intention. It also got suddenly serious. Insert whole body shake here. If you find yourself in Arizona, check out the places I mentioned. If you are living vicariously through your Beer Wench, I hope I did it some justice. To all of the people we met along the way briefly "Thank you for sharing a part of our journey." To Annabel, "I hope our paths cross again. You are a joy and inspiration. Thank you sharing some of your stories. Tell that Silver Fox of yours that I like to hear him play sometime. Cheers to the ladies of 1970!" This story has droned on long enough. Remember my friends when life gives you barley - make beer and whiskey. Eat well and drink good beer! Slainte!