T
he allure of flavorful craft brewed beer is finally casting its seductive influence on a large contingent of suitors in the southeastern states. New breweries, brewpubs and beer-focused bars and restaurants are dotting the landscape in cities that 10 to 15 years ago only offered standard American lagers. It's finally cool in the South to come out of the closet and admit undying love and devotion to craft beer.
Grassroots efforts of beer devotees have led to legalization of brewpubs and microbreweries in every state of the Deep South from Louisiana to North Carolina. Restrictive alcohol limits on beer, usually at 6% A.B.V. (alcohol by volume), have been lifted in all but Alabama and Mississippi. It took almost seven years of effort by beer connoisseurs to raise the permitted alcohol limit on beer in Georgia back in 2004. North Carolina's Pop the Cap organization pushed the change through in 2005, a similar campaign followed successfully in South Carolina in 2007 while the Free the Hops movement is still struggling to make headway on the issue in Alabama.
World-class imports and locally produced microbrews have achieved unprecedented popularity in the region. Beer is no longer confined to sports bars and college football tailgating parties; southerners are realizing that beer can be a varied, vibrant and personable part of meals, social gatherings and life as a whole.
The South's blossoming love affair with robust, old-world beer styles is a relatively new trend that trails other portions of the country. The bad old days of beer were pretty bad. The spattering of southern breweries in the 1800s did not begin to compare to the hundreds that could be found in the northern areas of the country. German immigrants who started the early breweries of the Northeast and Midwest never positioned themselves in the South in any great numbers, and the oppressive heat of the lower states made beer production extremely difficult. The modest group of southeastern breweries that existed in the early part of the twentieth century was completely squashed by Prohibition and the Great Depression, and grain rationing during World War II drove many post-prohibition, restart breweries out of business. The total of 700 U.S. brewers in 1934 dropped to less than 500 by 1943.
Religion has also exerted a restraining influence on beer in the south. In his book, Liquor in the Land of the Lost Cause: Southern White Evangelicals and the Prohibition Movement, Samford University professor John L. Coker explains that prohibition sentiment was not popular in the South before the Civil War because the temperance movement was associated with northern anti-slavery sentiment. After the Civil War, however, southern Protestant leaders reinterpreted the ideals of temperance and prohibition to be compatible with southern culture, and by 1915 alcohol had been officially forbidden by most southern churches.
This Protestant holy war against alcohol never occurred in the Catholic state of Louisiana, and this explains many of the state's liberal alcohol laws. Prohibition was a different matter. Wolfram Koehler, owner/brewmaster of New Orleans' Crescent City Brewhouse, reflects, "New Orleans, with 22 operating breweries at the turn of the 20th century, was truly a brewing capitol of the South, but almost all were lost due to prohibition. When I arrived here in the 1980s, Dixie was the only surviving brewery in the 'Big Easy.' When we began Crescent City Brewhouse in January of 1991, this was the city's first brewery opening in over 70 years."
Besides the sultry climate and the oppressive church, what other factors held beer back in the bad old days? State laws did not help matters at all. Microbreweries and brewpubs were illegal in most southern states from prohibition right up until ten to twenty years ago. These laws probably stemmed from efforts of legislators to protect the interests of the national breweries and wholesalers. Also, a lack of any engrained brewing tradition in the South allowed the big national brands to completely dominate the region after Prohibition.
Ironically, even though most southern states outlawed higher alcohol beers in the past, spirits have always been a staple of many imbibing southerners. Whereas barley and hops were scarce in the South, corn and other grains used in the production of distilled spirits have always been readily available. The flavors of whiskey and clear spirits such as gin and corn liquor (moonshine) appealed to many southerners and were in stark contrast to the bold flavors of older beer styles. Locally produced, illegal moonshine was in wide, albeit covert, production over the past 150 years -- especially during prohibition. It was much easier to hide a still than a brewery, and a small volume of spirits was easier to produce and transport than a much larger volume of beer. Spirits weren't filling in the heat of the summer and were easier to carry in small flasks to conceal from religious folk. Locally distilled beverages reigned supreme in those days, and the South simply lost whatever taste it had for beer.
The southern beer scene in the 1960s and '70s was extraordinarily bland. Beer drinkers had their choice of a few light American lagers from larger breweries and a handful of imported continental lagers. Other than some of the returning soldiers who were stationed in Europe during World War II, few southerners even knew of the existence of anything other than American standard lagers. Interest in world beer styles was almost nonexistent.
Another reason the South might be trailing behind other parts of the United States in terms of beer appreciation may have something to do with its early population. Affluent intellectuals landed in the Northeast, European immigrants with strong beer backgrounds gathered in the Midwest, and adventurous risk-takers made their way to the Northwest. Conservative farmers and laborers populated the old South.
Low incomes, long hours of hard work, and a conservative, stubbornly traditional nature seemed to help solidify the cheaper light lager preferences of many "old school" southerners. Scott Maitland of the Top of the Hill Restaurant & Brewery in Chapel Hill, North Carolina adds, "Craft beer is more of a white collar thing, at least in the beginning, and the South has only recently started a transformation from an agriculture based economy to an informational one."
Suddenly, southern beer culture began to experience progress in the early 1990s. An economic boom in the region provided disposable income for people to travel and experience new beers from Europe and other regions of the United States. Many larger cities in the South experienced construction and business booms that brought new jobs and an influx of people from other areas of the country. People were experiencing exciting, new flavors in wine, coffee and cuisine. This atmosphere provided a natural progression toward interest in craft beers.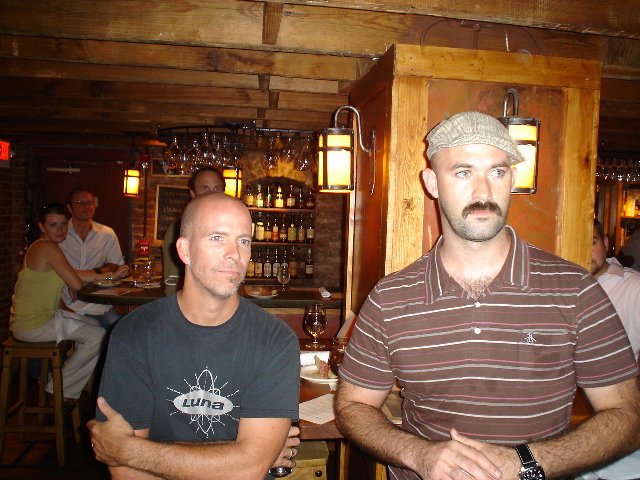 Dave Blanchard and Mike Gallagher of the Brick Store Pub in Decatur, GA
Glen Sprouse, brewer for 5 Seasons brewpub in Atlanta, sees three main categories of southern beer drinkers. "I mainly see a combination of three beer subcultures in the South: rigid individuals who stick to the old southern drinking traditions of very light beers, another diverse group who wants to broaden horizons and move on to craft products, and people from outside the south who live here now and have brought beer preferences with them from other areas. The latter two groups have really driven the beer revolution in the South."
Southern "beer geeks" also emerged to lead the charge for changes in laws that would allow for a greater selection of gourmet beers to be sold and produced in the South. These obsessive beer aficionados spread the gospel of great beer to anyone who would listen. Homebrewing was made legal in several southern states in the 1990s, and the hobby nurtured many of the region's current commercial brewers. Glen Sprouse adds, "I think that most beer geeks will eventually mature into someone who appreciates balance, subtleties and variety a bit more and not be so militant in regard to beer. Don't get me wrong, I love these guys, but they are only about 2-3 percent the clientele of most Southeastern brewpubs."
There were many southern brewing pioneers in the late '80s and early '90s. Uli Bennewitz emigrated from Germany to Manteo, North Carolina (in a roundabout fashion) in 1980. He began to miss the rich German lagers of his homeland and decided to try his hand at opening a German-style brewery and restaurant. When the government of North Carolina told Uli that this would be illegal, he immediately began lobbying efforts to change the laws in the state. His campaign succeeded in 1985, and he opened the Weeping Radish brewpub in Manteo in 1986. Uli is extremely proud of bringing German beer traditions to the region. "In 21 years we've never served any other beers but our own, and this has worked well for us. We can't emulate the big boys -- we must stick to a local marking and keep our company's personality," says Uli. In keeping with this line of thinking, Weeping Radish has recently opened a new farm brewery on 24 acres of land in Currituck County about 30 miles from Manteo. Unfiltered beers for both locations will be produced here along with homegrown veggies. The farm also boasts a 5,000 square feet butcher shop and smokehouse where a master butcher from Germany crafts artisan sausages and meats.
Abita Brewing Company just celebrated 20 years of beer production at their microbrewery in Louisiana. In the '90s, the company even added a separate brewpub restaurant just down in road. Abita president, David Blossman, says, "Anybody who thinks the South doesn't appreciate craft beer needs to come and take a tour of the Abita Brewery. We're running at full capacity and starting a five million dollar construction project to expand the brewery. As the number one craft brewer in the Southeast, we feel very appreciated."
Nashville, Tennessee saw the opening of two of the country's most respected brewpubs. Chuck Skypeck's Boscos and Dave Miller's Blackstone Restaurant & Brewery have been extraordinarily innovative in terms of their house beers and menu items. Cask-conditioned ales and special beer tastings are a staple at each brewpub, and Skypeck even produces a Flaming Stone Beer made with hot rocks from Boscos' pizza oven.
Atlanta's first post-prohibition microbrewery was known as "Marthasville" (also the original name for the city). Marthasville lasted for only a few years, but was successful in showing the metropolitan area that a small company could produce flavorful and distinctive beers. Atlanta Brewing Company started producing Red Brick Ale in 1993 and quickly filled the niche vacated by Marthasville. Atlanta Brewing's Director of Marketing, Grey Martin, says, "Atlanta Brewing made a conscious decision to eschew the hippie aesthetic, so popular on labels out west, and give our packaging kind of an old school breweriana look. You don't need to belong to a particular demographic to drink and enjoy our beer."
Highland Brewing Company is noteworthy as the first commercial brewery in Asheville, North Carolina. The company is named in honor of the Scottish and Irish immigrants who initially settled this area of the state, and its ales have helped foster a taste for UK-style beers in the region. "Highland has nurtured the local market with as much community presence as possible. Our Gaelic Ale, Kashmir IPA, Oatmeal Porter and other brews have made believers of a previously skeptical public," says owner Oscar Wong.
Northern Florida had its craft beer indoctrination in 1987 when McGuire's Irish Pub of Pensacola installed a brewhouse and began cranking out its line of five regular ales and a rotating seasonal. Despite being told that dark ales and hoppy beers would not be appreciated in Florida, the brewers pushed on with true English and Irish-style beers that have ended up being a hit. "We are rocking at McGuire's -- packed all the time and selling all the beer we can make. We have a good clientele of regulars and beer tourists who seek us out, so we are proof that brewing good beer in the Southeast works," says Gary Essex, brewer at the Destin location.
Unfortunately, several southern craft breweries of the early '90s were perhaps a bit head of their time and not able to survive. New Orleans' Acadian Brewing (closed in 2002) produced a crisp, hoppy pilsner for a time and offered a pleasant beer garden for visitors. A delightful brewpub that featured live jazz, Port City Brewery in Mobile Alabama gave up the ghost in 2001. Birmingham Brewing started making their line of tasty Red Mountain beers back in 1992 but soon experienced financial troubles and folded in 2001. Blind Man Ales was an extremely small craft brewery that produced flavorful, bottle-conditioned beers like India Brown Ale and Espresso Stout in Athens, Georgia from 1996 to 2001. Dogwood was among the first Atlanta micros in the early '90s, but distributor issues forced the closure in 2004 of this much-loved brewery that was the first to produce high-gravity beers in Georgia.
The new players of the southeastern beer culture include a variety of energetic brewer evangelists spreading the love of craft beer throughout the region. Most of these companies got their start after the nationwide decline of craft beer sales in the late '90s, and are now helping to spur on current, healthy sales trends. The individuals who run these breweries all share an intense love of craft beer and a desire to expand their markets through education of southeastern consumers.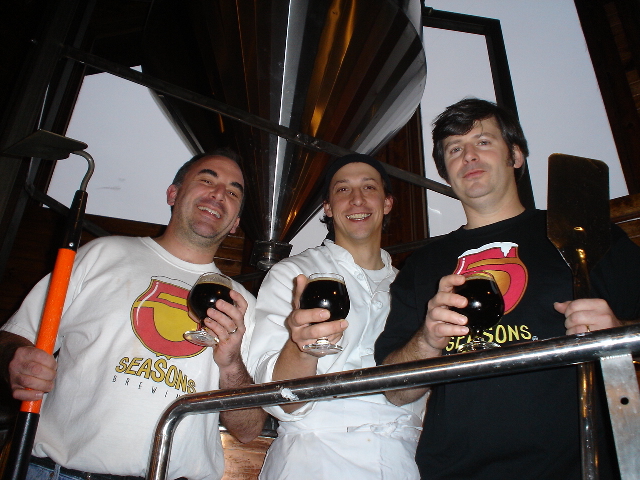 Dennis Lange, David Larkworthy and Crawford Moran of 5 Seasons Brewing, Alpharetta, GA
Crawford Moran is the founder of defunct Dogwood Brewing Company and current co-owner and brewer for 5 Seasons brewpub in Alpharetta, Georgia. "The key to growing our beer culture is continuing education about craft beer," says Crawford. "We must keep educating consumers, waitstaff, restaurateurs and especially the politicians. I brew a vast array of styles, we do a unique cask ale every week, we always have a high gravity beer on tap and we're aging beers on site in whiskey barrels. The advantage of a brewpub in the education area is that I get to interact directly with our customers," said Moran.
Many customers may come in for the food, but locally owned brewpubs that drip with southern ambience and hospitality are the first place that many southern folk get to sample their first craft beers. Enjoyable and welcoming standouts not mentioned elsewhere in this article include Max Lager's (Atlanta), Copper Creek (Athens, GA), Moon River (Savannah), Cannon (Columbus, GA), Tampa Bay Brewing, Asheville Pizza & Brewing, Foothills (Winston-Salem), Aiken Brewing (Aiken, South Carolina), and Blue Ridge (Greenville, SC). These brewpubs are vitally important in their role as craft beer ambassadors to their communities.
"In the early 1990s the concept of a brewpub seemed really outrageous to a lot of people, and now brewpubs are a commonplace, accepted locale to enjoy good food and fresh beers," says Jordan Fleetwood, brewer for Twain's Billiards and Tap brewpub in Decatur, Georgia. "Twain's was established as a great beer bar and then grew into the brewpub arena. It was a natural progression for us, and our customers have really been supportive. I think that it's much better to buy your beer from a local, community brewery than from a big factory in St. Louis."
Scott Maitland's experience with his Chapel Hill brewpub leads him to concur. "When Top of the Hill opened ten years ago people didn't understand the concept of local breweries or the fact that beer was something different than Bud, Miller and Coors. A typical exchange at the bar went like this -- 'Hi. I'd like a Bud Light.' 'Sir, we are a microbrewery and we only sell the beers that we make.' 'OK, how about a Miller Lite?' This has completely changed now. We educated the college crowd, and because of the great economy now in our state, these young people have stayed here and are demanding craft beer. I think brewpubs don't get enough respect for creating a grass roots level of appreciation for craft beer."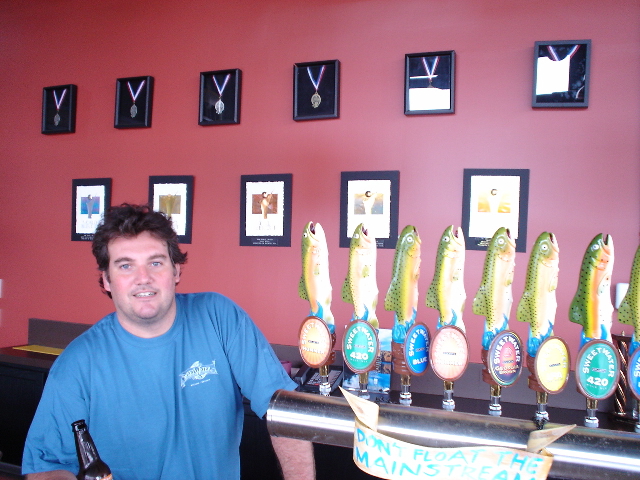 Kevin McNerney is co-owner of Atlanta's popular Sweetwater Brewing Company
The founders of Atlanta's Sweetwater Brewing Company met while attending the University of Colorado in Boulder in the early 1990s and worked together for a time at Rockies Brewing Company (when they weren't hiking, fishing and river rafting). The two free spirits visited Georgia around the time of the 1996 Olympics and saw Atlanta as a city in desperate need of another microbrewery. Sweetwater's motto is "Don't Float the Mainstream," and the company has grown into a craft beer leader in the Southeast by producing West Coast and U.K.-style ales. Their immensely popular Sweetwater 420 outsells Samuel Adams Light and Shiner Bock in the Atlanta area and is the most popular craft beer in the state of Georgia.
The southern struggle for great beer is most arduous in the states of Alabama and Mississippi. Alabama does have two fine brewpub standouts in the form of Montgomery Brewing Company and Old Auburn Ale House. Lazy Magnolia is Mississippi's lone brewery, and brewer Leslie Henderson is well aware of the difficult road ahead in running a brewery in the state. "We knew that this is 'Bud Country,' and that natives in southern Mississippi won't tolerate being told that they need to catch up with the Yanks," says Henderson. "Instead, we started making beers that use local ingredients (pecans, sweet potatoes and locally produced honey) with flavors designed to pair with the amazing food we have down here. In doing this, we're adding to the overall culture of the South, not trying to introduce some alien beer culture."
Linus Hall and his wife Lila started Nashville's Yazoo Brewing Company in 2003. Linus was a homebrewer who got his professional start by working at Brooklyn Brewing Company with Garrett Oliver. After relocating to Nashville, Linus decided to open his own microbrewery in the old Marathon automobile factory near downtown. Yazoo's beers have become a vital and respected part of Nashville's beer culture, and the Hefeweizen brought home a gold medal from the 2004 Great American Beer Festival. As to why the beer culture in the South may trail other areas of the country, Linus offers, "Based on the success of many new breweries popping up in the South, I think that southerners do have the taste to appreciate rich flavors of a well-made beer. Look at our food -- spicy, rich, barbecued, smoked -- much more adventuresome than the fare in some parts of the country where craft beer took off in the beginning. I think with our ever-expanding food culture, the rest of the country better look out, because the South will one day lead the way in craft beer sales!"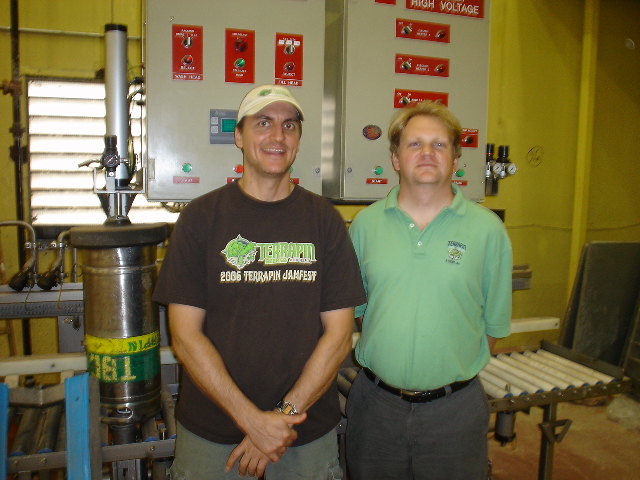 Brian "Spike" Buckowski and John Cochran are founders of Terrapin Beer Company in Athens, GA
John Cochran and Brian "Spike" Buckowski started their Athens, Georgia-based Terrapin Beer Company in 2002 by contract brewing their unique Rye Pale Ale out of Dogwood Brewing Company in Atlanta. The crisp, refreshing pale ale later went on to beat out 92 other pale ales to win a gold medal at the 2002 Great American Beer Festival. Terrapin is known for using non-traditional ingredients such as rye and coffee and for helping create new styles such as their hoppy India Brown Ale which is a cross between a traditional brown ale and an I.P.A. The company also produces four seasonal "monster beers" that are all over 8% A.B.V. Terrapin's beer portfolio, probably one of the most unique in the Southeast, has enabled the company to begin construction this year of their very own brewery in a 45,000 square-foot warehouse located just outside downtown Athens. The company is thrilled to finally have a brewery to call their own.
John Stuart, of Green Man Brewing in Asheville, believes that the South really has not created its own unique beer styles. The progressive town of Asheville has weather very similar to some parts of the U.K., and this is why Stuart thinks that traditional, British-style ales are so popular there. Green Man has been so successful with their line of pale ale, ESB, IPA and porter, that they have opened a new microbrewing facility and tasting room just down the street from their Jack of the Wood pub (home of their original brewpub). Stuart remarks, "Tasters who visit our microbrewery are very appreciative of our ales, and no one asks for a light lager."
Paul Philippon of the Duck-Rabbit Craft Brewery in Farmville, North Carolina rejects the stereotype that beer drinkers in the Southeast only want light bodied beer. "We produce full flavored, full bodied dark beers. Regional differences make things a lot more interesting than homogeneity, and I hope that Duck-Rabbit can make a positive contribution to the range of beer styles and beer flavors available in the Southeast," Philippon says.
The important influence of prominent beer pubs in the region should not be discounted. Bars like Bulldog Pub in New Orleans, Barley's Pizza in Asheville, and Georgia's Brick Store in Decatur and Summits Wayside Taverns in Snellville and Cumming serve a staggering array of well-cared-for draft and bottled beers from around the world. Summits' owner Andy Klubock says, "Our store in Cumming has over 200 different tap lines and as many bottled beers… more than any other place in the country, in our opinion. I think Summits does a good job of introducing new styles to Georgia and allowing customers to continually try new things."
Many in the south look at Brick Store as one of the most impressive beer bars in the entire country. Dave Blanchard, Mike Gallagher and Tom Moore started the pub in 1997 in a beautiful, historic building on the main courthouse square in Decatur, Georgia. The best craft beers available at the time from the region, nation and world were served in proper glassware by friendly, well-trained staff with an emphasis on beer education. In 2004, House Bill 645 brought an end to Georgia's 6% A.B.V. law and allowed beers up to 14% to be sold in the state. This spurred Brick Store to open an impressive, Belgian-themed bar upstairs from the original pub. Owner Dave Blanchard explains, "Our relationship with importers and breweries allows us to offer beers that customers will find almost nowhere else in the state. The Brick Store and its expansive beer list have received tremendous acclaim on Beeradvocate.com & Ratebeer.com. We've also racked up ten consecutive years of 'Best of Atlanta' recognition for our fabulous beer list and pub fare. What's really encouraging is that people visit the Brick Store from areas of the Northwest or Northeast and say that our pub is better than many of the places in those areas."
Brick Store's Mike Gallagher adds, "We get to be creative here in the Southeast. If our pub were located in Portland, Philadelphia or New York, people would be looking to see how we fit in with the established beer culture or what we are doing that's different. Here, we are helping create the beer culture and set new trends. After we opened and made a success of the place, people admitted to us that they had some big doubts about whether or not we could make the pub work here. They were polite southerners all along the way, but many admitted that they were amazed that we have done so well in a region of the country that has been dominated for so long by light lagers."
A few obstacles still remain in the journey toward beer enlightenment in the South. Michael Bryant of Dunedin (a pioneering brewery in Tampa) and Kevin Rusk of Titanic Brewery & Restaurant in Miami remain very frustrated by the legal landscape of beer in Florida. Rusk sums up their opinions by stating, "Florida legislators, along with their friends who own Busch Gardens, have purposely manipulated the state's laws to keep out many craft brewers. Up until 2005 the state also banned any bottle that was not a domestic size -- allowing only 8, 12, 16 and 32 ounce bottles. This prohibited many fine beers from being sold in the state."
After a few legal victories favoring craft beer in the past several years, Georgia is currently experiencing some setbacks. The new head of the Department of Revenue alcohol division has decided to vigorously enforce outdated, unreasonable brewery laws that have been basically ignored for years. Georgia breweries are now being hit with heavy fines for bringing beer samples to festivals, telling retail customers where to purchase their beers and doing pint nights at bars. It is still illegal to purchase beer directly from a microbrewery or take home a growler of beer from a brewpub. A new policy has also been introduced that could limit beer samples at brewery tours to only two ounces per beer. Tours are the main marketing tool of many struggling microbreweries, and this policy change would have an extremely detrimental effect.
Danner Kline's Free the Hops campaign is still fighting to raise the beer alcohol limits in Alabama and allow more gourmet products to be sold. Kline communicates frustration and hope when he says, "Influence from the religious right is crippling. Alabama is still overrun with neo-prohibitionists stigmatizing alcohol at every opportunity, portraying alcohol as the 'Great Satan' killing children and breaking up families. All of this is detrimental to a culture that appreciates fine alcoholic beverages. I am envious of cities that have a wide variety of breweries when the entire state of Alabama only has one bottling brewery, recently destroyed by fire. The South still has a long way to go, but I think many years from now we'll have a well-developed beer culture that will not be a carbon copy of the Northwest or Northeast."
But on the whole, beer culture in the South has made remarkable gains in the last 15 years. Rather than viewing the South as a lagging beer culture, many craft brewers now see the region as a land of promise and possibilities. Interesting, creative beer styles are receiving an extensive amount of attention these days in the Southeast, and several breweries in other parts of the country have capitalized on this demand. Ommegang, Oskar Blues, Great Divide, Dogfish Head and Victory are all extremely amazed and impressed at the massive volume of beer that they have sold just in Georgia.
Great beers are engrained in the cultural fabric of regions such as the Pacific Northwest, but as beer drinkers in the Southeast become more educated and experimental in regard to robust beer styles, the region will continue to offer new horizons and an ever-expanding market for these beers. Many enthusiastic beer lovers in the South are experiencing an exciting, flavorful learning curve. Spike Buckowski, brewer for Terrapin in Georgia, sums it up by saying," I feel that the beer culture in the Southeast is evolving into something very special. It's really nice to have a wide open market down here and introduce people to creative and flavorful beer styles. To tell the truth, many southeastern craft brewers are producing beers that are still over the heads of many beer drinkers here. In a lot of ways, I kind of like that."
***
Owen Ogletree is a Georgia beer writer, beer traveler, BJCP National Beer Judge, and founder/director of www.ClassicCityBrew.com, Classic City Brew Fest and Atlanta Cask Ale Tasting.
---