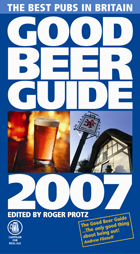 What is cask-conditioned ale?

Real ale (also called cask ale or cask-conditioned ale) is young beer with some residual sugar and active yeast cells that is placed in sealed metal casks. The typical cask has a volume of 10.8 U.S. gallons and is called a "firkin." In the sealed firkin the beer undergoes a special conditioning process whereby the yeast produces a soft carbonation and complex flavor components and then settles to the bottom of the cask with the help of finings such as isinglass (made from fish swim bladders). After a time, excess carbonation is vented and a serving tap is hammered through a spout on the cask. The beer is served without pasteurization or additions of artificial carbon dioxide or other gasses.

Regular kegged beer is usually filtered, pasteurized and "pushed" out of the keg during serving by adding artificial carbon dioxide to increase internal keg pressure. Real ale goes from firkin to pint glass by a simple gravity tap or a handpump beer engine that uses power from a bartender's arm muscles to suck the beer from the cask in the cellar up through tubing to the pub's bar. Cellars with firkins are usually kept at 50-55 degrees F. As the beer is dispensed, cellar air is drawn into the firkin through an open bung at the top of the cask called a shive. This means that the cask-conditioned contents of a firkin must usually be consumed over a couple of days to avoid excessive off-flavors from oxidation. Strong ales like barleywines can withstand a much longer serving time and usually experience some very interesting and pleasing flavor and aroma changes over several days of dispensation. Cask-conditioned ale is truly a beautiful, "living" beverage that continues to evolve and change over its entire life from mash to mouth.

These soft, malty, complex beers are served at 50-55 degrees F (cool, but warm enough to fully experience the flavors) with a low to moderate level of carbonation that does not numb or prickle the tongue. Real ales should never be sour, phenolic, excessively cloudy, flat, or filled with suspended yeast or "floaty bits" – if so, send back the pint and order a different selection.

The main beer styles typically encountered in good U.K. pubs include mild, golden ale, bitter, old ale, porter, stout and barleywine. Milds are lower alcohol, light-bodied brown ales that are gently hopped and have delicate flavors of malt, nuts, chocolate and fruity esters. Bitters are medium gold to medium copper in color and mostly have a moderate hop bitterness backed by pleasant esters and elegant English malt notes. There are very light-bodied bitters (designated standard or ordinary) that have an alcohol range of 3.2 to 3.8% alcohol by volume (abv), special or best bitters with 3.8 to 4.6% abv, and finally extra special or strong bitters with 4.6 to 6.2% alcohol ranges. Refreshing golden ales have become popular in the summer and offer a lighter color and less caramel malt flavors than bitters. Old ales and barleywines are high alcohol beers with a rich mouthfeel and sweet malt finish. Unfortunately, porters and stouts (with their dark cocoa and roasted barley character) are becoming a little difficult to find in England's pubs in recent years (especially in the warmer months).


Liverpool's pubs are magnificent.

Kerri "The Beer Wench" Allen and I visited Liverpool in April of 2007. We were extremely impressed with the city's new economic boom and the pride that seemed to be shared by the natives. Liverpool also has a great deal to offer its visitors -- a multitude of parks, museums, and diverse architecture awaits. Liverpool's most popular tourist spot is Albert Dock on the Mersey River waterfront. The Dock has the largest group of Grade I historical buildings in the UK, along with The Beatles Story exhibition, museums, shops and restaurants. Be sure to also visit the Liverpool Anglican Cathedral (the UK's largest and most impressive). Beatles fans will also be interested in the Casbah Coffee Club (the only original Beatles venue to remain unchanged over the years) and Cavern Club (where the Beatles played many of their early sets). But for Kerri and I, the highlight of the city is the exciting range of pubs that serve authentic, cask-conditioned, real ales.

No lover of great beer should visit the UK without a copy of CAMRA's

Good Beer Guide

. CAMRA (Campaign for Real Ale) is a beer drinkers' organization devoted to the promotion of real ale, and their annual guidebook highlights the best pubs in the UK in which to find the prized beverage. The Liverpool branch of CAMRA produces an impressive free, full color, monthly magazine that highlights the best of the city's beer scene -- copies are available in many Liverpool pubs. The group has also compiled a book entitled

The Liverpool HIstoric Pub Guide

(a handy Liverpool pub map is included inside the front cover) that is also available from the CAMRA website.

Liverpool is a very walkable city, so secure a hotel room in the downtown area, put on your comfortable shoes and prepare yourself for visits to some historic, beautiful, memorable pubs. If you will be hitting many pubs in one day, I suggest that you order half pints at each stop (even though most real ales have low alcohol content, pacing is still important). Following is a photo album and guide to Liverpool's best real ale pubs within easy foot distance from the city center. At the bottom of this page there is also information regarding tours and the brewery taproom of Liverpool's Robert Cain Brewery.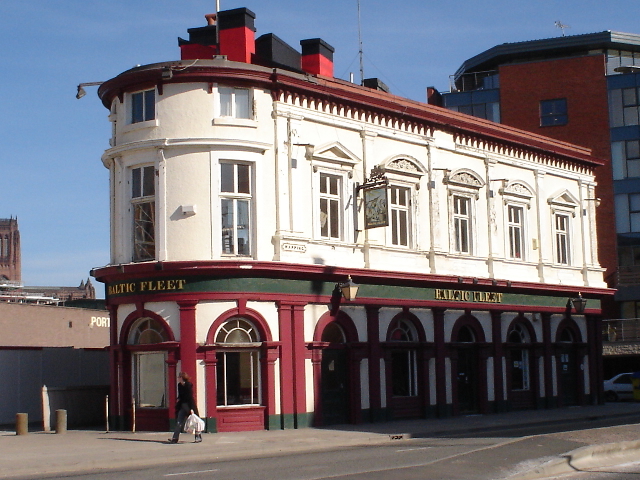 Baltic Fleet
33 Wapping
The Baltic Fleet is located near the Albert Dock area and is Liverpool's only brewpub. Despite being surrounded by construction of new high-rises and condos, The Baltic has held on to its history, rustic nautical atmosphere and well-made house ales. The brewhouse is called The Wapping Brewery, and there are always a couple of guest real ales on tap as well. The dining room is downstairs.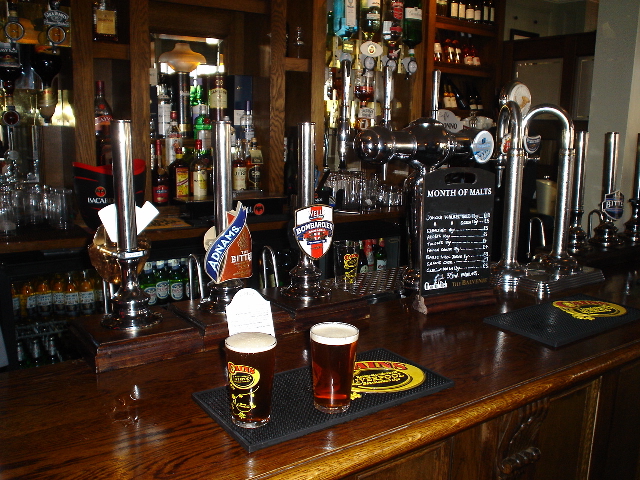 Blackburne Arms
24 Catharine Street
Refurbished in May of 2006, this attractive pub features six real ales and a friendly staff. The building has sat completely abandoned and empty for many years, but the beautiful restoration effort of the current owners has been superb. Food and sleeping rooms are available. Located several blocks southeast of the city center, this neighborhood pub is very much worth the walk.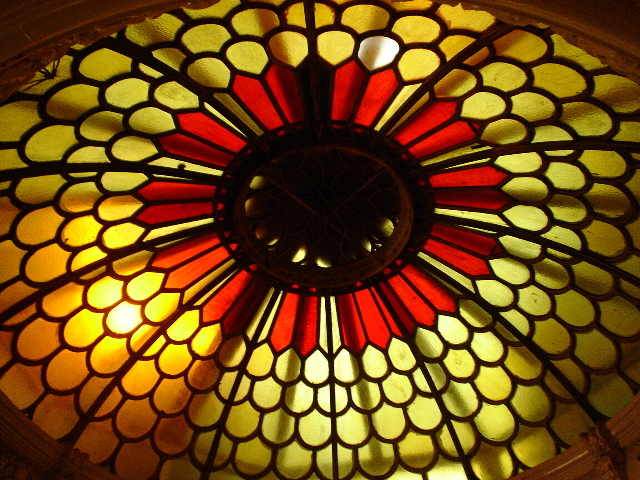 Crown Hotel
43 Lime Street
The Crown is situated just one block from St. John's Shopping Center in the city center. The exterior and interior of this pub are both magnificent with dark oak beams and bar construction and lovely stained glass. The photo above shows the ornate glass dome above the main staircase. Food items (including some veggie offerings) are available most of the day at very affordable prices. The range of real ales is a bit small, but all were fresh and well-maintained during our visit.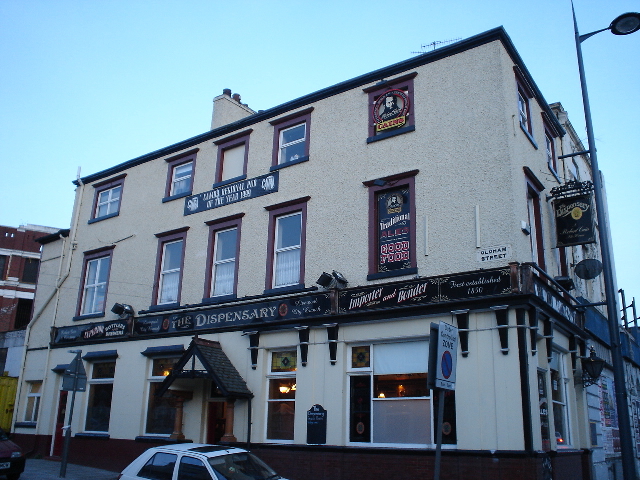 The Dispensary
87 Renshaw Street
This neighborhood pub is owned by the Cains Brewery and features most of the range of the Cains real ales. There are also some appealing guest beers and ciders that show up on the tap menu from time to time. This pub was originally called the Grapes (look for the old sign above the main bar) and was purchased by Cains a few years ago and turned into this small, award-winning pub that is popular with locals today.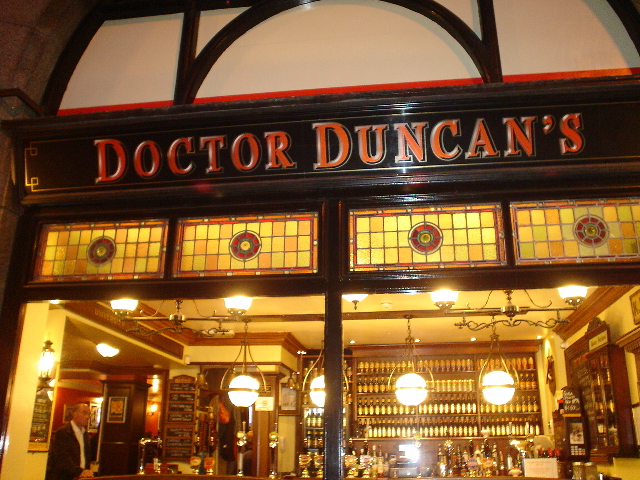 Doctor Duncan's
St. John's House, St. John's Lane
This Cains pub is an absolute masterpiece. Named for a famous Liverpool physician from the mid-1800s, Doctor Duncan's has multiple rooms that are decorated in glorious fashion. Medical and pharmaceutical themed documents, paintings and memorabilia line the walls, and the bar offers the full range of Cains regular and seasonal beers as hand-pulled real ales and bottled versions.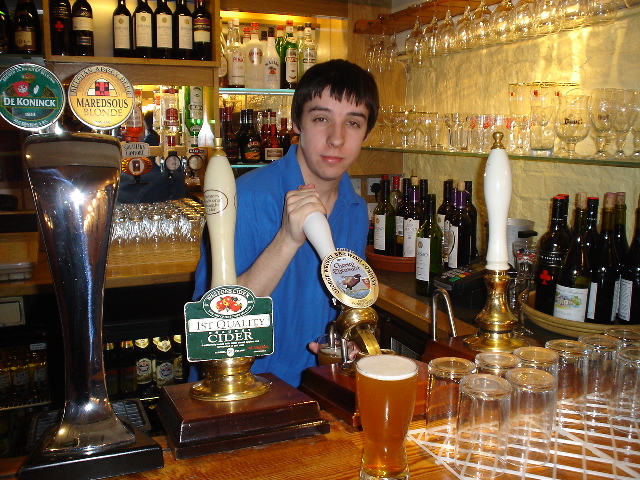 Everyman Bistro
5 Hope Street (in the lower floor of Everyman Theatre)
More of a large, upscale, attractive diner than a pub, this delightful restaurant offers unique and delectable food items and a decent selection of real ale and import beers. Everyman can be very busy on theatre nights, and a signal is sounded at the end of each intermission. The main room contains the bar and taps, and the room to the left offers delicious food selections that are served cafeteria style.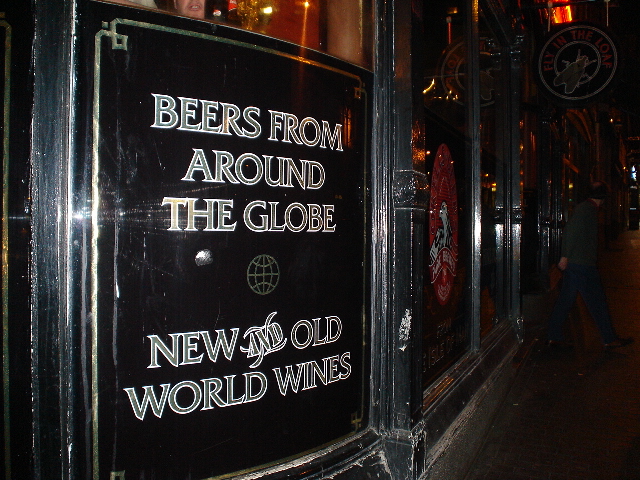 Fly in the Loaf
13 Hardman Street
The Fly is owned by the Okells Brewery and serves up most of their real ales along with a big selection of guest ales and imported bottled beers. The place used to be a bakery whose motto was "no flies in the loaf" (no wonder they went out of business). The food is very nice, and the pub is famous for its roasted meats offered each Sunday. In the evenings there is a loud jukebox that can sometimes hinder polite conversation.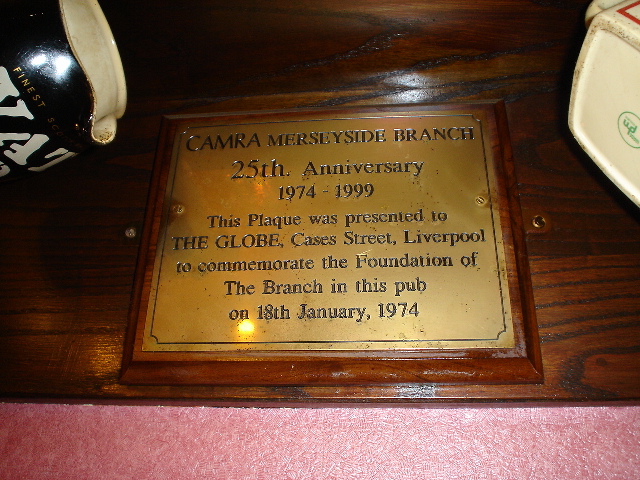 The Globe Hotel
17 Cases Street
The floors of this pub have a wicked upwards slope from the front door to the back of the establishment. There is lots of room in the back, so if the front happens to be a bit crowded, just work your way uphill to one of the rear areas for more breathing space.
The Globe is located near the city center and has carried its current name since the mid-1800s. The plaque pictured above can be found on a wall near the back of the pub -- it commemorates the first meeting of the Liverpool branch of CAMRA on January 18, 1974.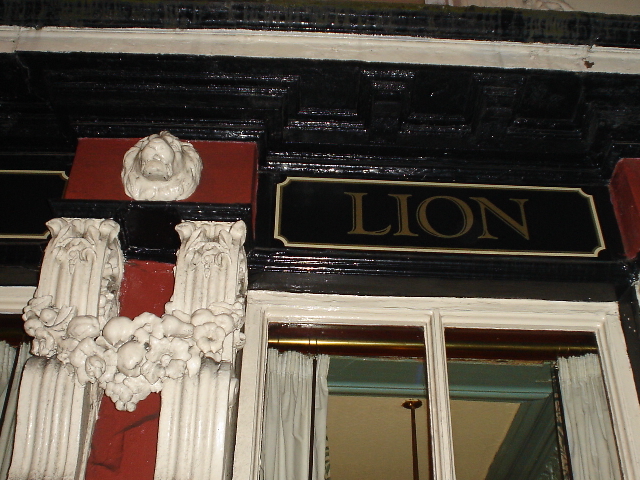 Lion Tavern
67 Moorfields
T
his old pub has seen many changes over the years, but is still a highlight of any Liverpool pub crawl. A nice selection of regional real ales are served through attractive serving hatches to thirsty regulars. Specialty cheeses and sandwiches are offered Monday through Friday, and the pork pies are a local favorite. The interior is covered with soothing green tiles and wallpaper.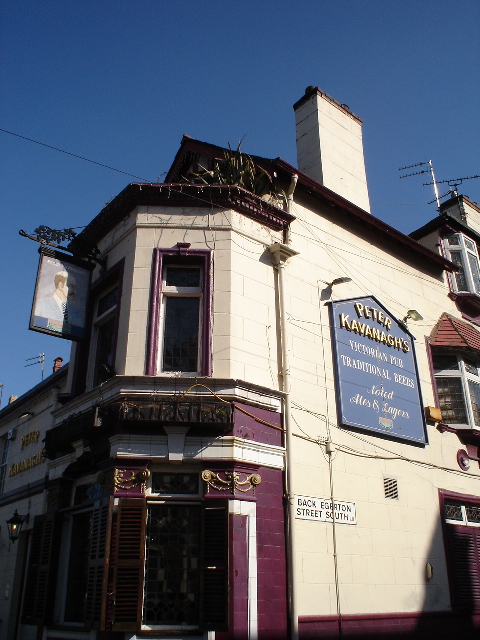 Peter Kavanagh's
2-6 Egerton Street
The purple tile front makes for an attractive greeting to visitors of this personable pub that is located in the southeast of Liverpool near the Anglican Cathedral. The interior is just as impressive, with colorful, old wall paintings, beautiful antiques and unique round tables with drain areas to catch spillage (these tables were sometimes used on ocean liners). Peter Kavanagh owned the pub for 53 years in the latter part of the 1800s and build most of the pub's current features and decor. 4-5 interesting real ales are available.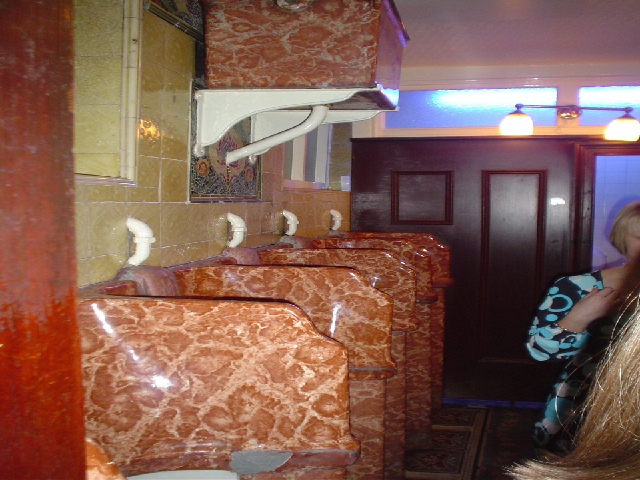 The Philharmonic
Hope Street
The photo above illustrates how ladies will often head into the men's toilet at the Philharmonic (after checking to be sure the facilities are unoccupied) to admire the stunning marble urinals. The Phil is widely regarding as one of the "most ornate pubs in Britain" because of its stained glass, stonework and carpentry. Located just across the street from Liverpool's Philharmonic Hall, this must-see pub was once a favorite of Beatle John Lennon who later lamented that he had become so famous that he could no longer drink there. The real ales here are fresh and delicious.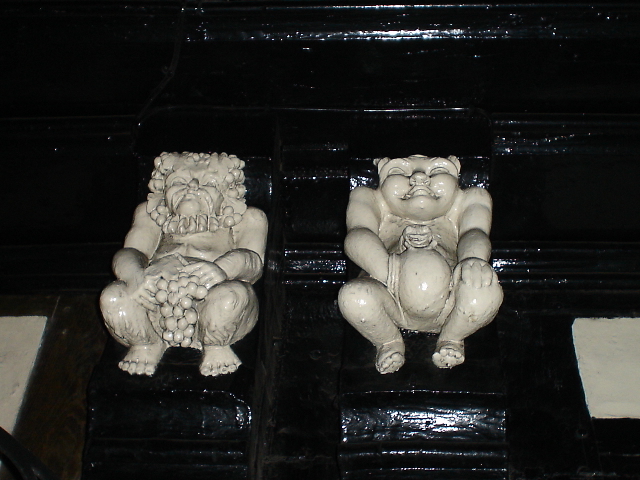 Thomas Rigby's
23 Dale Street
Some of the interesting exterior decor of Thomas Rigby's is shown in the photo above. The pub is named after a wholesale wine and spirit dealer who lived during the nineteenth century and owned several pubs in Liverpool. Today the pub offers a wide selection of bottled beers (including many Belgian ales) and usually four rotating taps. Okell's bought the pub in 2003 and carried out a nice renovation that has resulted in the attractive establishment that sits here today. Great food is served until 7 PM each day.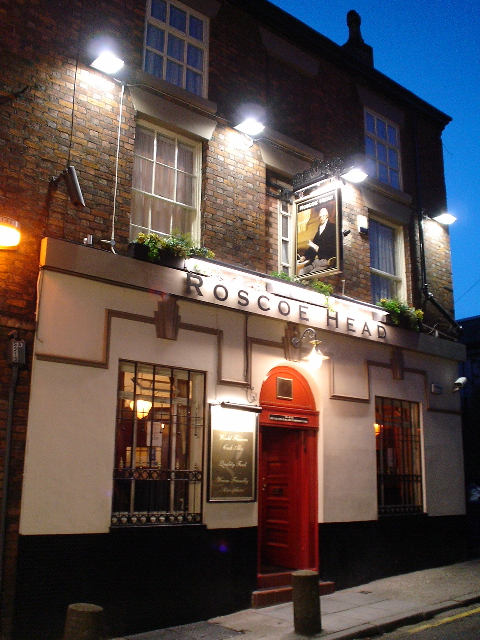 Roscoe Head
24 Roscoe Street
There are four small rooms at this quaint pub named for William Roscoe (a Liverpool poet and historian). This is one of the few Merseyside pubs that has been featured in every single edition of CAMRA's Good Beer Guide (as of 2007). It has been family-owned now for several years and offers weekday meals and a small range of good real ales.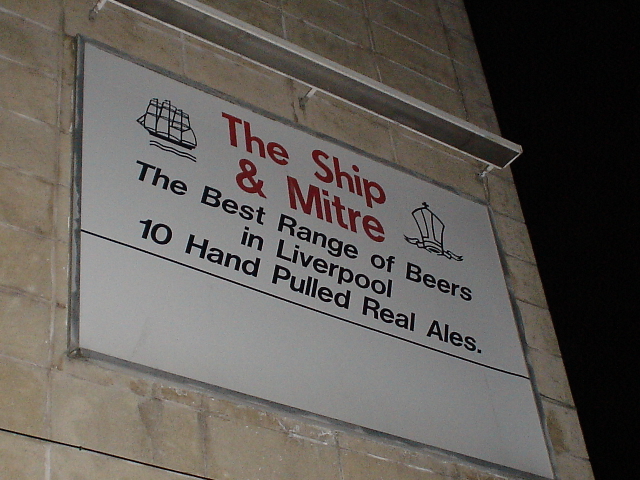 The Ship and Mitre
133 Dale Street
No beer lover should miss this pub on a visit to Liverpool. In contrast to its relatively spartan interior, the beer selection is quite impressive. You'll find a dozen real ales, two ciders and 100+ imported bottled beers from Germany, Belgium, the United States, etc. The pub was once the Bent's Brewery Tap until Bent's was bought out by Bass in the late 1960s. The servers will be happy to provide sips of the different real ales to help you make up your mind.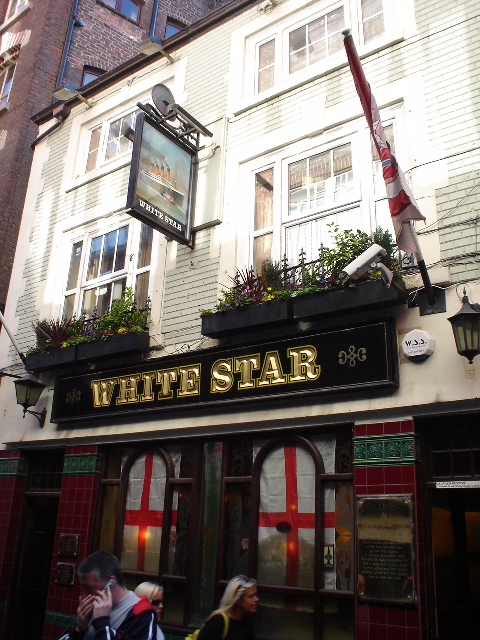 White Star
2-4 Rainford Gardens
Located among the touristy establishments of Mathew Street, the White Star offers a more down-to-earth pub atmosphere. The place is filled with Liverpool history and memorabilia from the White Star ocean liners (of

Titanic

fame). The pub is also a fine place to watch a televised football (soccer) match and grab a pint of real ale.
Cains Brewery Tour / Brewery Tap
Stanhope Street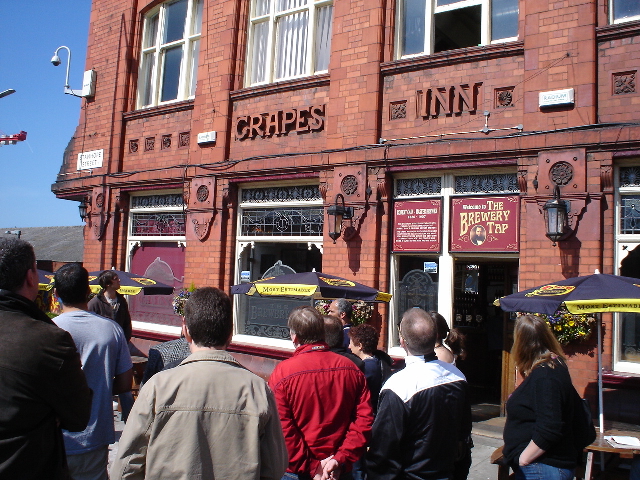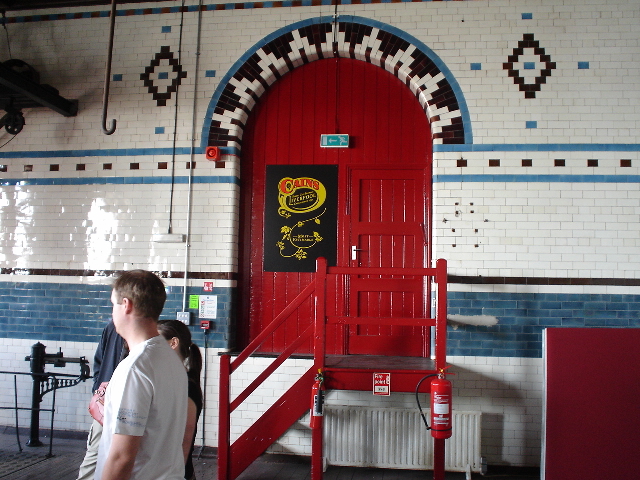 Robert Cains Brewery is several blocks south of the city center in what used to be the old Higson's Brewery. The Brewery Tap was once known as The Grapes Inn and is now the place to enjoy a pint of Cains real ale and meet for the daily brewery tours. The Robert Cains brewery is now owned by brothers Sudarghara and Ajmail Dunsanj from India who have done a phenomenal job in making the brewery beautiful and extremely successful once again. The picture above and to the left shows the group in front of the Brewery Tap at the start of the tour. The picture to the right is of the restored hop and grain storage room that is now sometimes used for small meetings. Click here for information on booking a Cains brewery tour.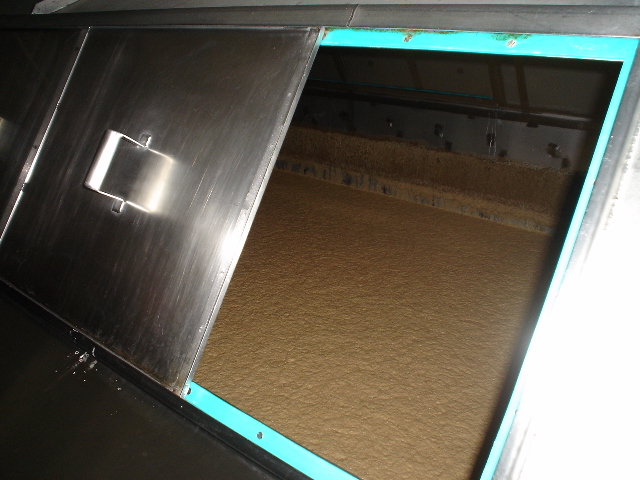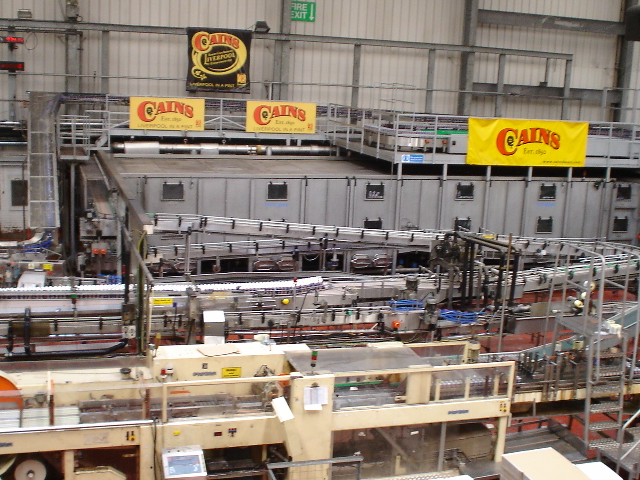 The Cains brewery tour takes visitors through all areas of the old and new facility. The photo above and to the left provides a peek into a fermenter filled with what will soon become Cains Dark Mild ale (what a fantastic aroma), and the impressive canning line is shown to the right. Cains brews a wide range of beers that includes Liverpool Lager, Dark Mild, FA, IPA, Bock, Creamy Stout, Triple Hop and Raisin Beer.
Other Liverpool pubs of note...
The Belvedere Arms,

8 Sugnall Street. This pub is owned and refurbished by the same folks who brought the Blackburn Arms to Liverpool. Reopened since April of 2006, there are six interesting real ales available here, and a variety of paintings from local artists adorns the walls.


Carnarvon Castle

, 5 Tarleton Street. Very homey pub with an attractive front on an otherwise nondescript street.

Cracke

, 13 Rice Street.

Poste House,

23 Cumberland Street.


Richard John Blacker

, Lime Street between The Crown and The Vines. Large Wetherspoon's pub with good food all day and evening. Wetherspoon pubs serve food late into the evening after the kitchens in most other pubs have long shut down.

Swan Inn,

86 Wood Street.

The Vines,

Lime Street. Gorgeous old pub with one real ale tap.


Welkin

, 7 Whitechapel. Another Wetherspoon's pub -- this one looks like it has been housed in what used to be a large cafeteria. A no-frills place to go for a pint of real and filling, very reasonably priced food.