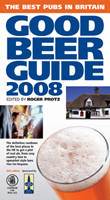 The Campaign for Real Ale (CAMRA) celebrated 30 years of its flagship Great British Beer Festival (GBBF) last August 7-11 at Earls Court exhibition center in London. More than 280 breweries from across the UK showcased almost 700 outstanding real ales -- that's 340,000 pints of beer under one roof. Attendance came close to 70,000 and was up almost 40% -- highlighting the fact that flavorful, personable, traditional ales are making great gains in popularity in Britain.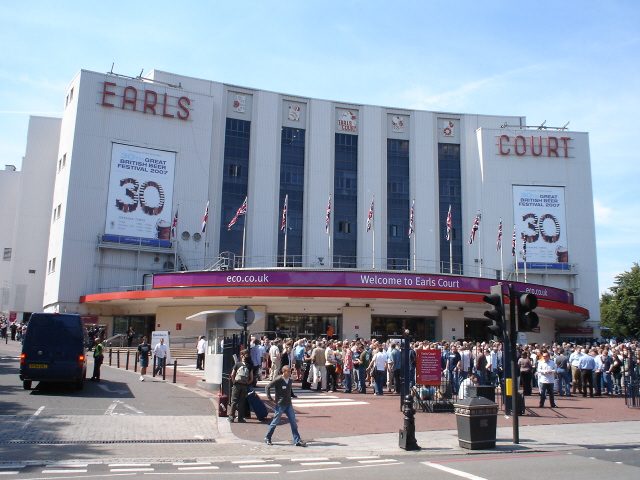 GBBF attendees paid a small entrance fee that bought a program booklet and souvenir pint glass. Inside the sprawling Earls Court main hall (the size of a large aircraft hangar), ales were arranged into enormous serving areas based on different regions of the UK. Beers could be found here ranging from England's smallest microbrewery to the large national companies. Volunteers sold samples in 1/3, 1/2 and full pint sizes, but in order to sample as many different ales as possible, most true beer aficionados stuck to the 1/3 sample size.

The GBBF touts itself as "the world's largest pub." Besides presenting tastes of the best cask ales in Britain, the festival also offered traditional pub food and games, live music, and a gift shop featuring t-shirts, CAMRA guidebooks, glasses, mugs, vintage pub signs, tap handles and even stuffed animals. There was also a family room with plenty of entertainers, video games, toys, soft drinks and snacks to keep children amused.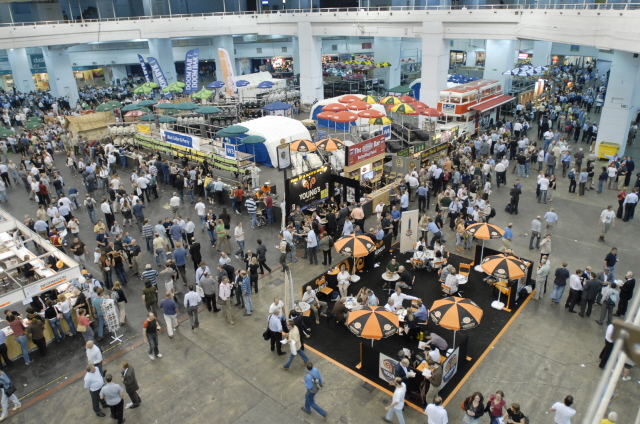 Photo courtesy of CAMRA

CAMRA started the London festival back in 1977 with a very modest attendance. CAMRA is one of the UK's most successful non-political, grass-roots consumer organizations that works to promote appreciation of traditional English ales and pubs. The group's main focus over the years has been the promotion of authentic, cask-conditioned ales.

Cask-conditioned ale (also known as "real ale") is produced by placing young, unfiltered beer containing residual sugar and active yeast in sealed metal casks. The typical English pub cask is called a "firkin" and has a volume of 10.8 U.S. gallons. In the sealed firkin, yeast produces soft carbonation and complex, mellow flavor components before settling to the bottom. After a time, special porous pegs are used to vent any excess carbonation, and a serving tap is hammered through a spout on the front of the cask. Real ale is served without pasteurization or additions of artificial carbon dioxide or other gasses.

Regular kegged beer is usually filtered, pasteurized and served from the keg by adding artificial carbon dioxide to increase internal keg pressure. Conversely, real ale makes its way into the pint glass by a simple gravity spout or a hand-pump beer engine that uses power from a bartender's arm muscles to pump the beer from the cask in the cellar to the tap at the bar.

Real ale can even exsist in bottled form. One section of the Great British Beer Festival featured unfiltered ales that are naturally conditioned and carbonated by residual yeast inside bottles. When consumed in fresh condition, these beers can have all the complexity, flavor and charm of their cask-conditioned versions.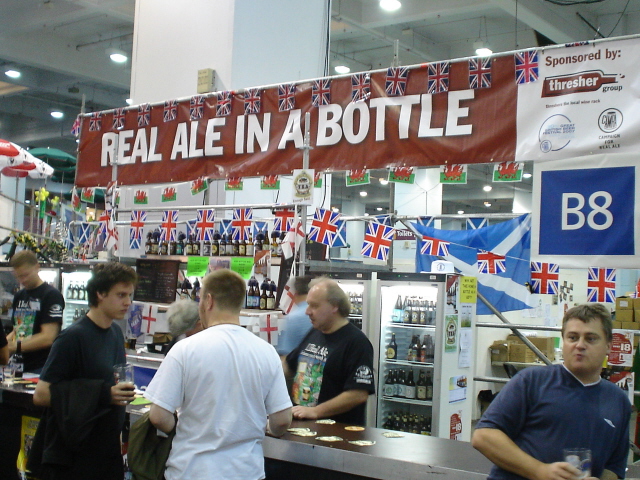 Myths persist that traditional British ales are flat, murky and warm. A few samples at the GBBF will show immediately that these beliefs are untrue. A delicious, soft carbonation will be found in a properly conditioned real ale that compliments the elegant malt and hop character of the beer without prickling or numbing the tongue. The yeast in an exemplary cask-conditioned ale will settle to the bottom of the firkin, and the beer will be served crystal clear. The best UK pub cellars are usually kept at a cool 50-55 degrees F, and this temperature really allows the subtle, yet complex, flavors of real ale to be fully appreciated on the palate.

British ales come in a variety of colors, flavors and strengths. Golden Ales are light in color with a citrusy hop flavor and bitterness. Classic English Bitters are usually amber in color, range in alcohol strength from 3 to 6% and have a caramel malt character with moderate hop bitterness for balance. Mild Ales are brown in color, have low bitterness, and are characterized by very low alcohol (less than 4%). Porters and Stouts are black ales with pronounced coffee and chocolate overtones. All of these classic styles may be found as cask-conditioned versions in the UK's best pubs.

Ales headed to the GBBF may need extra security measures in the years to come. On the night of May 7 a lorry packed full of real ale was stolen from a truck yard in Lincoln, on its way to satisfy the thirsty beer drinkers expected at the GBBF. Marc Holmes, organizer of the festival said, "We knew it was going to be popular, but we've never had beer stolen before! 15,000 pints is a lot of beer, but no one will be disappointed as we have another 335,000 pints already at the festival grounds and we hope to have the missing beer replaced by Monday morning."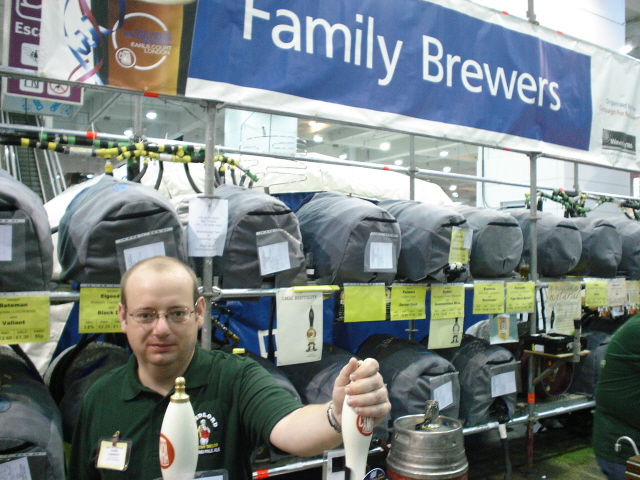 Each beer served at the GBBF is entered into judging sessions to determine the best examples of several style categories. Lastly, the judging of the "Champion Beer of Britain" finals is done on the morning of the first day of the festival starting at 10:30 AM. The panel picks the best-of-show ale from the winners in each main category. The judging panel consists of six tasters drawn from a pool of trained beer judges, brewers, pub owners and beer authors who taste the top beers in "blind" fashion. Judges know which style they are tasting but do not know the names of the beers.

A traditional mild ale with a modest strength of just 3.2% alcohol stormed to victory in the Champion Beer of Britain competition on August 7. Hobsons Mild comes from a long-running craft brewery in Shropshire, England. Hobsons opened in 1993 in a former sawmill but has moved recently to spacious new premises on a Shropshire farm. To insure freshness, Hobsons supplies real ales only within a 50-mile radius of the brewery. Roger Protz, one of the finalist judges, commented on Hobsons Mild, "It's a great victory for a traditional British beer. It's bursting with flavor and, unusually for a Mild, it's got plenty of hop character."

Cask-conditioned ales are experiencing increasing popularity in the United States as well and are even available in Athens, Georgia. Matt Buley, brewer for downtown's Copper Creek brewpub, produces one or two authentic cask ales served from an English firkin at 6 PM on the first Wednesday of each month. These beers have become so sought-after that one ten-gallon firkin was once drained in 30 minutes!

Beer-loving visitors to the UK should be warned that only about 20-30% of the country's pubs stock authentic, cask-conditioned ale. But fear not, CAMRA publishes a multitude of essential guidebooks, including their popular Good Beer Guide to the UK. To order a copy or learn more about real ale and/or the Great British Beer Festival, pop over to www.camra.org.uk. Cheers!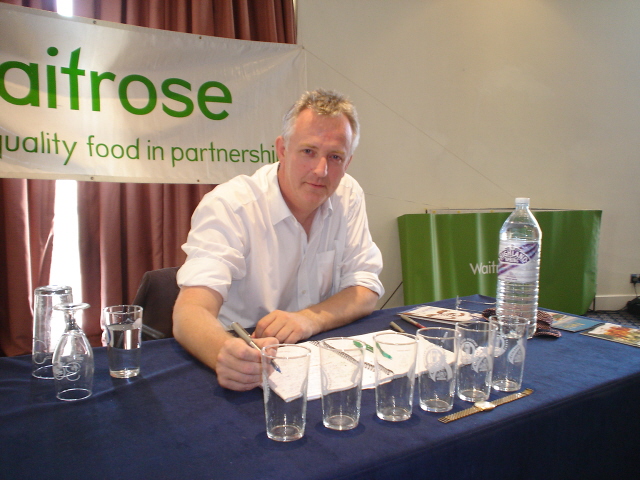 Tim Webb, author of the

Good Beer Guide to Belgium

, hosted
a special Belgian beer tasting at the festival.