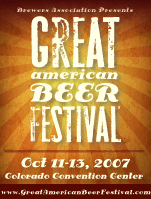 Kerri "The Beer Wench" Allen and I were honored to be included in the panel of judges at the 2007 Great American Beer Festival in Denver, Colorado. Held October 11-13, the 2007 GABF was the first time that all four public sessions sold out (in advance, no less). More than 46,000 people attended, and this magnificent event really demonstrates the popularity of craft beers in today's market.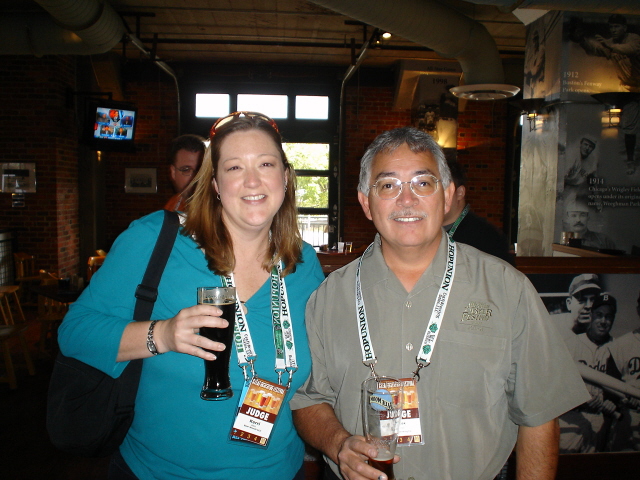 Kerri shares a brew with a fellow GABF judge at the Sandlot.

More than 100 judges sniffed and sipped blind beer samples for three days to evaluate 2,793 beers and pick the best entries and top breweries for this year's festival. A total of 222 medals were awarded in 75 beer style categories (see complete list at bottom of this page). A gold, silver or bronze medal from the GABF is the most coveted award available to American brewers, and the GABF judges do a marvelous job in picking the brews that have the best and most appropriate properties of each particular beer style.

This year 473 breweries entered 2,793 beers making 2007 the most competitive GABF on record. Only 8 percent of all beers entered earned a medal. In total, 142 breweries (30 percent of all those participating) won at least one medal this year. Only 62 breweries (13 percent of all those participating) won at least one gold medal this year. As in recent years, the popular style of American-style India Pale Ale drew the largest number of entries with 120 in total. This year the competition saw impressive growth in the Fruit and Vegetable Beer category from 46 entries in 2006 to 94 entries in 2007. The Wood- Barrel-Aged Beer category also expanded -- going from 58 entries in 2006 to 72 entries in 2007. I was lucky enough to judge delicious rounds in both Fruit and Vegetable and Wood Barrel-Aged beers this year.

Along with Kerri and I, the GABF judge panel consisted of notable beer and brewing individuals such as Tomme Arthur (Pizza Port in CA), Ray Daniels (Brewers Association), Mark Dorber (The Anchor in UK), Steve Dresler (Sierra Nevada in CA), Teri Fahrendorf (formerly of Steelhead in OR), Paul Gatza (Brewers Association), Travis Hixon (Blackstone in TN), Lyn Kruger (Siebel Institute in IL), Garrett Oliver (Brooklyn Brewery in NY), Charlie Papazian (Brewers Association), John Pinkerton (Moon River Brewing in GA), Chuck Skypeck (Boscos in TN), Carol Stoudt (Stoudt Brewing in PA), and many others.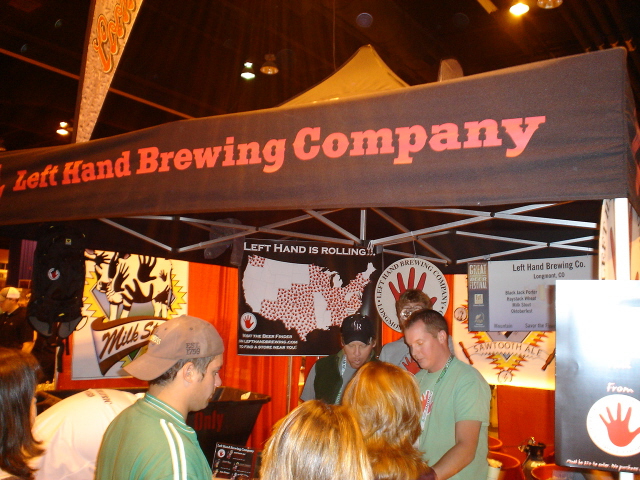 Left Hand booth at the 2007 GABF

Kerri and I landed in the mile high city on Tuesday, October 9 and attended a judges orientation that focused on sensory calibration regarding alcoholic strength. The informative session was conducted by Christopher Bird of the Alltech Institute of Brewing & Distilling and Dr. Gary Spedding (Brewing & Distilling Analytical Services). A sociable judges' reception followed at Denver's Rock Bottom Brewery. Our actual judging sessions took place on October 10-12.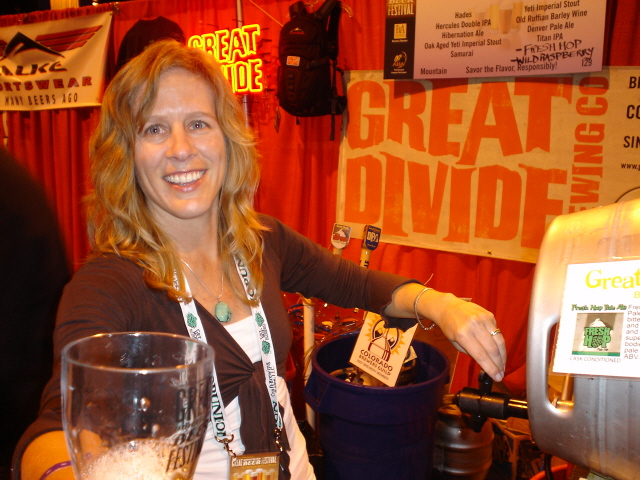 Mary Valles of Denver's Great Divide Brewing Co. pours a cask ale sample at the GABF

The public tasting sessions at the GABF are always a delight. In 2007 there were over 1,800 beers on tap on the festival floor -- the largest selection of American beers ever assembled on the planet. The festival floor was divided into U.S. regions: South, Northeast, North Central, Mountain West, Pacific, and Pacific Northwest. About 18,000 gallons of beer were consumed over the three days of the festival, and attendees were also treated to several demonstrations involving cooking with beer and pairing beer with certain foods.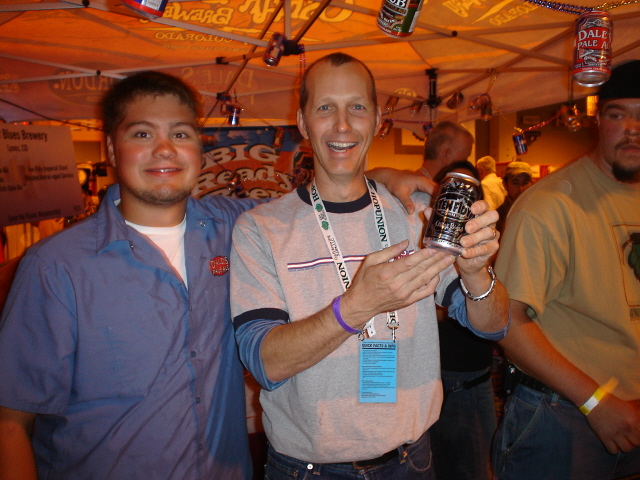 Marty Jones (with can in hand) - Oskar Blues Brewing, Lyons, CO



"What people in Denver don't realize is that Denver is considered the Munich of the West, the Napa Valley of beer. This is the greatest opportunity in the world to sample a full array of styles and appreciate the incredible diversity of beer that America has to offer." - John Hickenlooper, Mayor of Denver and founder of Wynkoop Brewery in downtown Denver.




L-R: Marnie Old, Sam Calagione and Julie Hertz at the GABF Media Luncheon

A special media event was held at noon on Friday, October 12. The extensive range of informative topics included a slide presentation on "The Business of Craft Beer" with Paul Gatza (Brewers Association) and Bump Williams (Information Resources), a beer styles introduction led by Charlie Papazian (Brewers Association), an introduction to Lucy Saunders' new book

The Best of American Beer & Food

, and a special farewell to beer critic Michael Jackson (who passed away in 2007). The highlight of the event was a scrumptious lunch that outlined the differences between wine and beer with foods. Sam Calagione (CEO/President Dogfish Head Brewing) and Marnie Old (Assistant Dean of Wine Studies, Manhattan's French Culinary Institute) hosted the luncheon demonstration that paired four courses with a difference wine and beer for each course. The session allowed media representatives to reflect on how each beverage complimented and contrasted with differing food flavors.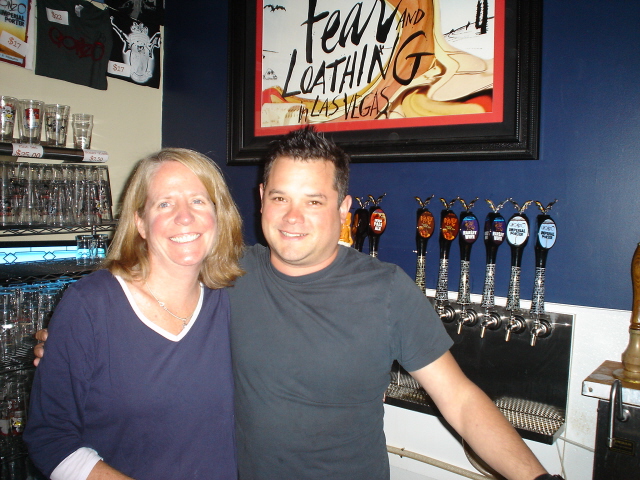 Flying Dog Brewery Tour

Flying Dog Brewery (2401 Blake Street) conducted a special tasting at the Blake Street Tavern (next door to the Brewery) on Friday of the festival. Special oak-aged, cask-conditioned, and

Brettanomyces

-laced versions of Horn Dog Barleywine, Gonzo Imperial Porter, and Heller Hound Double Bock were savored by the standing-room-only crowd. Regular tours of the Flying Dog Brewery are especially popular during the week of GABF.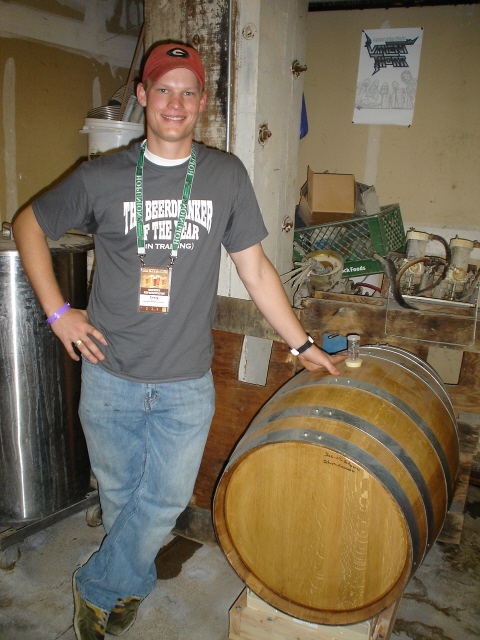 Craig Mycoskie of Wynkoop

The Denver brewpub that is a favorite of beer geeks has to be Wynkoop Brewery at 1634 18th Street in lower downtown. Wynkoop offers a substantial selection of almost a dozen house beers alongside a satisfying food menu. We were pleased to find out that Craig Mycoskie, an old homebrewing friend of ours from Athens, GA, is now an assistant brewer at the Wynkoop (see photo above).

Denver's Falling Rock Taphouse (1919 Blake Street) is widely considered to have the best beer selection in the city. Falling Rock offered many special sessions and tasting during this year's GABF. Special brews from Dogfish Head, HeBrew and Stone were featured. To avoid the long lines and ensure a place at Falling Rock's events, beer lovers are advised to arrive very early.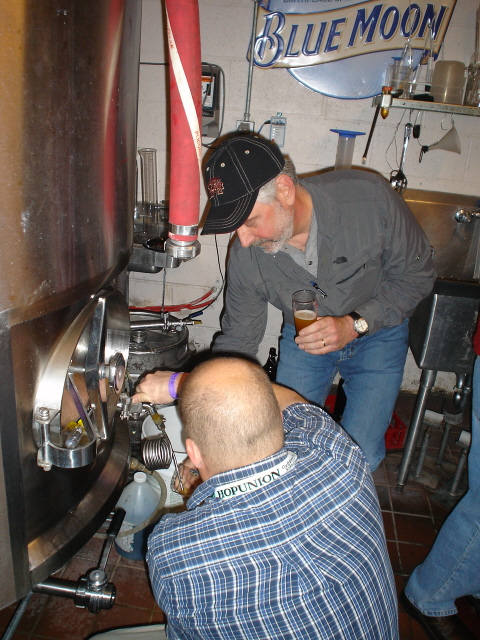 Brewers sample from the fermenter at Sandlot

The Sandlot Brewery at Coors Field continued their multiple-year winning streak at the 2007 GABF. The talented brewers at Sandlot use their brewpub to produce some flavorful and impressive test batches of several beer styles. On your next trip to Denver for a Rockies game, be sure to stop into the Sandlot and ask for a sampler. The favorite Sandlot beer on our most recent visit was a double strength version of Blue Moon Belgian White (Blue Moon Gran Cru).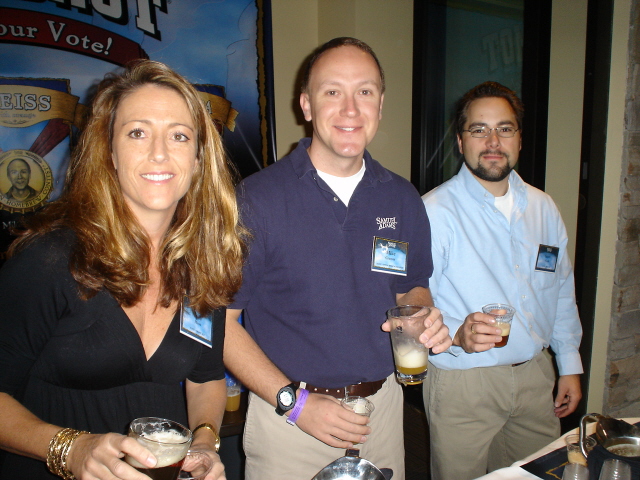 LongShot employee finalists pour their beers at the Samuel Adams brunch
L-R: Lili Hess, Mike Cramer and Scott Cook.

Jim Koch, founder of Boston Beer Company, hosted a special media brunch on Saturday morning of the GABF to announce the winners of his LongShot homebrew contest. The event was held at Earl's Restaurant on the 16th Street Mall in downtown Denver. Mike McDole of California, Rodney Kibzey of Illinois, Dave Pobutkiewicz of New Jersey, and David Jackson of Georgia were the finalists in the 2007 Samuel Adams American Homebrew Contest, and all four were present at the reception. GABF attendees were invited to stop by the LongShot booth at the festival to meet the finalists and vote on the 3rd brew to be included in the LongShot variety pack from the separate Samuel Adams employee homebrew contest. This year's main LongShot competition brought in over 1,700 entries from across the country!


---



Craft Brewing Statistics from

BeerTown.org

...





How much craft beer was produced in 2006?




Approximately 6.7 million barrels




• 1 barrel = 31 gallons




• 31 gallons = 2 "half barrel" kegs (each keg is 15.5 gallons)




• 13.78 cases (24 12-ounce bottles) = 1 barrel




• 7 million barrels = 2.3 billion 12 oz. beers





How much did U.S. craft beer grow in 2006?




• Total growth = 12%




• 6.7 million barrels of craft beer was produced in the United States




• Total annual craft beer dollar volume = $4.7 billion




• Craft beer volume share = 3.2%




• Craft beer $ share = 4.99%





Total number of U.S. craft breweries in 2006:


50 regional craft breweries
364 microbreweries
+ 975 brewpubs


Total = 1,389 regional craft breweries, microbreweries and brewpubs





How is U.S. craft beer growth measured?




By the number of barrels of beer U.S. craft breweries produce in a year.





How much did the U.S. spend on purchasing beer in 2006?




Approximately $94 billion




---

2007 GABF Medalists...

Category: 1 American-Style Cream Ale or Lager - 24 Entries
Gold: Lone Star, Pabst Brewing Co., Woodridge, IL
Silver: Old Style, Pabst Brewing Co., Woodridge, IL
Bronze: TAPS Cream Ale, TAPS Fish House & Brewery, Brea, CA

Category: 2 American-Style Wheat Beer - 19 Entries
Gold: Pyramid Crystal Weizen, Pyramid Breweries, Seattle, OR
Silver: Brewmaster Reserve, Widmer Brothers Brewing Co., Portland, OR
Bronze: Honey Weiss, Diamond Bear Brewing Co., Little Rock, AR

Category: 3 American-Style Hefeweizen - 46 Entries
Gold: Whitetail Wheat, Montana Brewing Co., Billings, MT
Silver: Easy Street Wheat, Odell Brewing Co., Fort Collins, CO
Bronze: American Hefeweizen, Gella's Diner and Liquid Bread Brewing Co., Hays, KS

Category: 4 Fruit Beer or Vegetable Beer - 94 Entries
Gold: Leinenkugel's Berry Weiss, Jacob Leinenkugel Brewing Co., Chippewa Falls, WI
Silver: The Great Pumpkin, Elysian Brewing Co., Seattle, WA
Bronze: Raspberry Tart, New Glarus Brewing Co., New Glarus, WI

Category: 5 Herb and Spice Beer - 58 Entries
Gold: Summertime 69, Gunnison Brewery, Gunnison, CO
Silver: Sigda's Green Chili, CooperSmith's Pub & Brewing Co., Fort Collins,CO
Bronze: Frederick Miller Classic Chocolate Lager, Miller Brewing Co., Milwaukee, WI

Category: 6 Coffee Flavored Beer - 36 Entries
Gold: Coffee Bender, Surly Brewing Co., Brooklyn Center, MN
Silver: Java Porter, Blind Tiger Brewery & Restaurant, Topeka, KS
Bronze: Pipeline Porter, Kona Brewing Co., Kailua-Kona, HI

Category: 7 Specialty Beer - 17 Entries
Gold: Judgment Day, Port Brewing & The Lost Abbey, San Marcos, CA
Silver: Maui Gold Summer Ale, Maui Brewing Co., Lahaina, HI
Bronze: Doble Diablo, Thunder Canyon Brewery, Tucson, AZ

Category: 8 Rye Beer - 22 Entries
Gold: Crazy Jackass Ale, Great American Restaurants, Centreville, VA
Silver: Rockchuck Rye, Snake River Brewing - Lander, Lander, WY
Bronze: 1065 Right On Rye, Rock Bottom Brewery - Bethesda, Bethesda, MD

Category: 9 Specialty Honey Lager or Ale - 39 Entries
Gold: Honey Moon Summer Ale, Blue Moon Brewing Co., Golden, CO
Silver: Midas Touch, Dogfish Head Craft Brewery, Milton, DE
Bronze: Hawaiian Honey, Chicago Brewing Co., Las Vegas, NV

Category: 10 Other Low Strength Ale or Lager - 14 Entries
Gold: Half Wit, BJ's Restaurant & Brewery - Reno, NV & Chandler, AZ, Huntington Beach, CA
Silver: Firestone Extra Pale, Firestone Walker Brewing Co., Paso Robles, CA
Bronze: Firestone Lager (Mini-Hell), Firestone Walker Brewing Co., Paso Robles, CA

Category: 11 Experimental Beer (Lager or Ale) - 34 Entries
Gold: Imperial Chocolate Pumpkin Porter, Midnight Sun Brewing Co., Anchorage, AK
Silver: Veritas 002, Port Brewing & The Lost Abbey, San Marcos, CA
Bronze: Victor, Allagash Brewing Co., Portland, ME

Category: 12 Gluten Free Beer - 8 Entries
Gold: RedBridge, Anheuser-Busch, Inc., St. Louis, MO
Silver: New Grist, Lakefront Brewery, Milwaukee, WI
Bronze: Shakparo Ale, Sprecher Brewing Co., Glendale, WI

Category: 13 American-Style Sour Ale or German-Style - 12 Entries
Gold: Cuvee de Castleton, Captain Lawrence Brewing Co., Pleasantville, NY
Silver: Skull & Bones Cuvee, Bristol Brewing Co., Colorado Springs, CO
Bronze: Le Terroir, New Belgium Brewing Co., Fort Collins, CO

Category: 14 Wood- and Barrel-Aged Beer - 26 Entries
Gold: Oak Whiskey Red, Twisted Pine Brewing Co., Boulder, CO
Silver: Kentucky Bourbon Barrel Ale, Alltech's Lexington Brewing Co., Lexington, KY
Bronze: Buffalo Bock, Ram Restaurant & Brewery (Indianapolis), Indianapolis, IN

Category: 15 Wood- and Barrel-Aged Strong Beer - 72 Entries
Gold: Bourbon Wheatmiser, Goose Island Brewpub, Chicago, IL
Silver: Bourbon Barrel Anniversary Ale, Olde Peninsula Brewpub & Restaurant, Kalamazoo, MI
Bronze: Relapse, Newport Beach Brewing Co., Newport Beach, CA

Category: 16 Wood- and Barrel-Aged Sour Beer - 21 Entries
Gold: Cuvee de Tomme, Port Brewing & The Lost Abbey, San Marcos, CA
Silver: Temptation, Russian River Brewing Co., Santa Rosa, CA
Bronze: Barrel-Aged Cherry, BJ's Restaurant & Brewery - Reno, NV & Chandler, AZ, Huntington Beach, CA

Category: 17 Aged Beer (Ale or Lager) - 30 Entries
Gold: Broad Street Barleywine, Rock Bottom Brewery - King of Prussia, King of Prussia, PA
Silver: 2003 Pilgrim's Dole, New Holland Brewing Co., Holland, MI
Bronze: Alaskan Smoked Porter 2004, Alaskan Brewing Co., Juneau, AK

Category: 18 Cellar or Unfiltered Beer - 31 Entries
Gold: Organic Zwickelbier, RedRock Brewing Co., Salt Lake City, UT
Silver: Cambridge Amber, Cambridge Brewing Co., Cambridge, MA
Bronze: Hop Angel I.P.A., Chelsea Brewing Co., New York, NY

Category: 19 Smoke-Flavored Beer - 25 Entries
Gold: Smokey the Beer, Blind Tiger Brewery & Restaurant, Topeka, KS
Silver: Alaskan Smoked Porter 2006, Alaskan Brewing Co., Juneau, AK
Bronze: Smokin Willie Porter, Moose's Tooth Brewing Co., Anchorage, AK

Category: 20 International-Style Pilsener - 10 Entries
Gold: 4K Pils, Deschutes Brewery, Bend, OR
Silver: Southside Pils, Gordon Biersch Brewery Restaurant Group, Chattanooga, TN
Bronze: Pig's Eye Pilsner Beer, Pig's Eye Brewing Co., LLC, Woodbury, MN

Category: 21 German-Style Pilsener - 47 Entries
Gold: Pikeland Pils, Sly Fox Brewing Co., Royersford, PA
Silver: Prima Pils, Victory Brewing Co., Downingtown, PA
Bronze: Kingfisher Premium Lager Beer, Olde Saratoga Brewing Co., Saratoga Springs, NY

Category: 22 Bohemian Style Pilsener - 33 Entries
Gold: Gordon Biersch Czech Lager, Gordon Biersch Brewery Restaurant Group, Chattanooga, TN
Silver: Pallavicini Pilsner, Pug Ryan's Brewery, Dillon, CO
Bronze: Detroit Lager, The Beer Co's - Detroit, Detroit, MI

Category: 23 Münchner (Munich) Style Helles - 34 Entries
Gold: El Amigo Light, Mission Brewery, San Diego, CA
Silver: Gorch Foch, Three Floyds Brewing Co., Munster, IN
Bronze: What in the Helles?, Steamworks Brewing Co., Durango/Bayfield, CO

Category: 24 Dortmunder/European Style Export or
German-Style Oktoberfest/Wiesen (Meadow) - 18 Entries
Gold: Move Back, SandLot Brewery at Coors Field, Denver, CO
Silver: Green Side Up, SandLot Brewery at Coors Field, Denver, CO
Bronze: Widmer Export Lager, Widmer Brothers Brewing Co., Portland, OR

Category: 25 American Style Light Lager - 27 Entries
Gold: Old Milwaukee Light, Pabst Brewing Co., Woodridge, IL
Silver: Pabst Blue Ribbon Light, Pabst Brewing Co., Woodridge, IL
Bronze: Coors Light, Coors Brewing Co., Golden, CO

Category: 26 American-Style Lager - 33 Entries
Gold: Hamm's, Miller Brewing Co., Milwaukee, WI
Silver: Miller Genuine Draft, Miller Brewing Co., Milwaukee, WI
Bronze: McHenry Lager, Clipper City Brewing Co., Baltimore, MA

Category: 27 American Style Specialty Lager - 16 Entries
Gold: Icehouse, Miller Brewing Co., Milwaukee, WI
Silver: Mickey's Ice, Miller Brewing Co., Milwaukee, WI
Bronze: Mickey's Malt Liquor, Miller Brewing Co., Milwaukee, WI

Category: 28 Vienna Style Lager - 37 Entries
Gold: Balto Märzhon, Clipper City Brewing Co., Baltimore, MD
Silver: Dos Rios, Glenwood Canyon Brewing Co., Glenwood Springs, CO
Bronze: Stoudts Ofest, Stoudts Brewing Co., Adamstown, PA

Category: 29 German Style Märzen - 58 Entries
Gold: Victory Festbier, Victory Brewing Co., Downingtown, PA
Silver: Stewart's Oktoberfest, Stewart's Brewing Co., Bear, DE
Bronze: Michelob Marzen, Anheuser-Busch, Inc., St. Louis, MO

Category: 30 American Style Amber Lager - 44 Entries
Gold: Steam Engine Lager, Steamworks Brewing Co., Durango/Bayfield, CO
Silver: Toasted Lager, Blue Point Brewing Co., Patchogue, NY
Bronze: Old Scratch Amber Lager, Flying Dog Brewery, Denver, CO

Category: 31 European Style Dark/Münchner Dunkel - 18 Entries
Gold: Dunkelstilsken, CB & Pott's Restaurant & Brewery (Highlands Ranch), Highlands Ranch, CO
Silver: Capital Munich Dark, Capital Brewery Co., Inc., Middleton, WI
Bronze: Munich Dunkel, RedRock Brewing Co., Salt Lake City, UT

Category: 32 American-Style Dark Lager - 12 Entries
Gold: Roadrunner Red Lager, Thunder Canyon Brewery, Tucson, AZ
Silver: Henry Weinhard's Classic Dark, Miller Brewing Co., Milwaukee, WI
Bronze: Elevator Dark Horse, Elevator Brewing Co., Columbus, OH

Category: 33 German Style Schwarzbier - 23 Entries
Gold: Gordon Biersch Schwarzbier, Gordon Biersch Brewery Restaurant Group, Chattanooga, TN
Silver: RedRock Black Bier, RedRock Brewing Co., Salt Lake City, UT

Category: 34 Bock - 23 Entries
Gold: Troegenator, Tröegs Brewing Co., Harrisburg, PA
Silver: Gruffmeister 8 Maibock, Foothills Brewing, Winston-Salem, NC
Bronze: Butthead Bock, Tommyknocker Brewery, Idaho Springs, CO

Category: 35 German Style Strong Bock - 22 Entries
Gold: Samuel Adams Double Bock, Boston Beer Co., Boston, MA
Silver: Warning Sign, Rockyard American Grill & Brewing Co., Castle Rock, CO
Bronze: Instigator, Sly Fox Brewing Co., Royersford, PA

Category: 36 Baltic-Style Porter - 13 Entries
Gold: Killer Kowalski, Flossmoor Station Brewing Co., Flossmoor, IL
Silver: Foothills Baltic Porter, Foothills Brewing, Winston-Salem, NC
Bronze: Amnesia, The Grumpy Troll Restaurant & Brewery, Mount Horeb, WI

Category: 37 Golden or Blonde Ale - 48 Entries
Gold: Red Brick Blonde, Atlanta Brewing Co., Atlanta, GA
Silver: Kiwanda Cream Ale, Pelican Pub & Brewery, Pacific City, OR
Bronze: Mississippi Blonde, Bent River Brewing Co., Moline, IL

Category: 38 German Style Kölsch/Köln Style Kölsch - 45 Entries
Gold: Saint Arnold Fancy Lawnmower, Saint Arnold Brewing Co., Houston, TX
Silver: Colorado Kölsch, Steamworks Brewing Co., Durango/Bayfield, CO
Bronze: Gordon Biersch SummerFest, Gordon Biersch Brewery Restaurant Group, Chattanooga, TN

Category: 39 English-Style Summer Ale - 24 Entries
Gold: "312" Urban Wheat Ale, Goose Island Beer Co., Chicago, IL
Silver: Sandbagger Gold, Montana Brewing Co., Billings, MT
Bronze: Green Flash Extra Pale Ale, Green Flash Brewing Co., Vista, CA

Category: 40 Classic English Style Pale Ale - 32 Entries
Gold: Pale Ale, Diamond Bear Brewing Co., Little Rock, AR
Silver: DBA (Double Barrel Ale), Firestone Walker Brewing Co., Paso Robles, CA
Bronze: Summit Extra Pale Ale, Summit Brewing Co., St. Paul, MN

Category: 41 English-Style India Pale Ale - 38 Entries
Gold: Squatters IPA, Utah Brewers Cooperative, Salt Lake City, UT
Silver: India Pale Ale, Goose Island Beer Co., Chicago, IL
Bronze: Beech Street Bitter, Pizza Port - Carlsbad, Carlsbad, CA

Category: 42 American Style Pale Ale - 68 Entries
Gold: Firestone Pale 31, Firestone Walker Brewing Co., Paso Robles, CA
Silver: Piranha Pale Ale, BJ's Restaurant & Brewery - Roseville, CA & Portland, OR
Bronze: Full Frontal Pale Ale, Piece Brewery, Chicago, IL

Category: 43 American-Style Strong Pale Ale - 91 Entries
Gold: Nectar Pale, Firestone Walker Brewing Co., Paso Robles, CA
Silver: Hop Bomb IPA, Rock Bottom Brewery - Bellevue, Bellevue, WA
Bronze: Bent Nail IPA, Red Lodge Ales Brewing Co., Red Lodge, MT

Category: 44 American-Style India Pale Ale - 120 Entries
Gold: IPA, Odell Brewing Co., Fort Collins, CO
Silver: Blind Pig IPA, Russian River Brewing Co., Santa Rosa, CA
Bronze: El Camino IPA, Mission Brewery, San Diego, CA

Category: 45 Imperial or Double India Pale Ale - 72 Entries
Gold: Hopsickle, Moylan's Brewing Co., Novato, CA
Silver: Moylander, Moylan's Brewing Co., Novato, CA
Bronze: Double Trouble Imperial IPA, 21st Amendment Brewery, San Francisco, CA

Category: 46 American Style Amber/Red Ale - 66 Entries
Gold: Stone Levitation Ale, Stone Brewing Co., Escondido, CA
Silver: Hop Head Red, Green Flash Brewing Co., Vista, CA
Bronze: McCarthy Red, Emmett's Tavern & Brewing Co., West Dundee, IL

Category: 47 Imperial or Double Red Ale - 38 Entries
Gold: Organic Deranger, Laurelwood Brewing Co., Portland, OR
Silver: Hog Heaven, Avery Brewing Co., Boulder, CO
Bronze: Extra Special Red, Odell Brewing Co., Fort Collins, CO

Category: 48 Bitter or Pale Mild Ale - 43 Entries
Gold: Pub Bitter, Deschutes Brewery, Bend, OR
Silver: Squatters Organic Amber Ale, Utah Brewers Cooperative, Salt Lake City, UT
Bronze: Snake River Pale Ale, Snake River Brewing Co., Jackson, WY

Category: 49 Extra Special Bitter or Strong Bitter - 38 Entries
Gold: The Wise ESB, Elysian Brewing Co., Seattle, WA
Silver: O'Brien's Harvest, Hale's Ales Brewery, Seattle, WA
Bronze: Big Sea ESB, Free State Brewing Co., Lawrence, KS

Category: 50 Scottish Style Ale - 26 Entries
Gold: 1065 Brown Bear Brown, Rock Bottom Brewery - Bethesda, MD, Bethesda, MD
Silver: Laughing Lab Scottish Ale, Bristol Brewing Co., Colorado Springs, CO
Bronze: Commando Scottish Ale, Pizza Port - Solana Beach, Solana Beach, CA

Category: 51 Irish Style Red Ale - 25 Entries
Gold: Red Rocks Red, Rock Bottom Brewery - Westminster, Westminster, CO
Silver: Crimson Phog, 23rd Street Brewery, Lawrence, KS
Bronze: Enchanted Rock Red Ale, Fredericksburg Brewing Co., Fredericksburg, TX

Category: 52 English Style Dark Mild Ale or English- - 49 Entries
Gold: Lil' Pip's Mild Ale, Hoppers Grill & Brewing Co., Midvale, UT
Silver: Nut Brown Ale, Blackstone Brewing Co., Nashville, TN
Bronze: 1069 Brown Bear Brown, Rock Bottom Brewery - Campbell, CA, Campbell, CA

Category: 53 American Style Brown Ale - 45 Entries
Gold: Doryman's Dark Ale, Pelican Pub & Brewery, Pacific City, OR
Silver: RedRock Nut Brown Ale, RedRock Brewing Co., Salt Lake City, UT
Bronze: Bitch Creek ESB, Grand Teton Brewing Co., Victor, ID

Category: 54 German Style Brown Ale/Düsseldorf Style - 32 Entries
Gold: Alt, Herkimer Pub and Brewery, Minneapolis, MN
Silver: 1065 Firechief Ale, Rock Bottom Brewery - Bethesda, MD, Bethesda, MD
Bronze: Gordon Biersch Alt, Gordon Biersch Brewery Restaurant Group, Chattanooga, TN

Category: 55 South German Style - 60 Entries
Gold: Hefeweizen, Beaver Street Brewery & Whistle Stop Café, Flagstaff, AZ
Silver: Stoudts Weizen, Stoudts Brewing Co., Adamstown, PA
Bronze: Top Heavy Hefeweizen, Piece Brewery, Chicago, IL

Category: 56 German-Style Wheat Ale - 35 Entries
Gold: Boscos Hefeweizen, Boscos Brewing Co., Memphis, TN
Silver: Dark 'n' Curvy, Piece Brewery, Chicago, IL
Bronze: Gordon Biersch Hefeweizen, Gordon Biersch Brewery Restaurant Group, Chattanooga, TN

Category: 57 Belgian-Style White (or Wit)/Belgian- - 47 Entries
Gold: Nit Wit, BJ's Restaurant & Brewery - Reno, NV & Chandler, AZ, Huntington Beach, CA
Silver: John's Generations White Ale, Millstream Brewing Co., Amana, IA
Bronze: Mothership Wit Organic Wheat Beer, New Belgium Brewing Co., Fort Collins, CO

Category: 58 French- and Belgian Style Saison - 35 Entries
Gold: Saison Vautour, McKenzie Brew House, Malvern, PA
Silver: Liquid Sun 1087, Rock Bottom Brewery Scottsdale, Scottsdale, AZ
Bronze: Southampton Saison, Southampton Publick House, Southampton, NY

Category: 59 Belgian and French-Style Ale - 24 Entries
Gold: Tiburon Blonde, Marin Brewing Co., Larkspur, CA
Silver: Southampton Double White Ale, Southampton Publick House, Southampton, NY
Bronze: Domaine DuPage, Two Brothers Brewing Co., Warrenville, IL

Category: 60 Belgian-Style Sour Ale - 28 Entries
Gold: High Mountain Cherry Ale, Rubicon Brewing Co., Sacramento, CA
Silver: Supplication, Russian River Brewing Co., Santa Rosa, CA
Bronze: Kriek de Hill, Iron Hill Brewery & Restaurant - Media, Media, PA

Category: 61 Belgian Style Abbey Ale - 55 Entries
Gold: Triple Dipsea Belgian-Style Ale, Marin Brewing Co., Larkspur, CA
Silver: Green Flash Trippel, Green Flash Brewing Co., Vista, CA
Bronze: Four, Allagash Brewing Co., Portland, ME

Category: 62 Belgian Style Strong Specialty Ale - 58 Entries
Gold: Celis Grand Cru, Michigan Brewing Co., Webberville, MI
Silver: RedRock Reve, RedRock Brewing Co., Salt Lake City, UT
Bronze: Batch 8000, Bell's Brewery, Inc, Galesburg, MI

Category: 63 Brown Porter - 23 Entries
Gold: Pioneer Porter, Fredericksburg Brewing Co., Fredericksburg, TX
Silver: Prospector Porter, Tommyknocker Brewery, Idaho Springs, CO
Bronze: St. Charles Porter, Blackstone Brewing Co., Nashville, TN

Category: 64 Robust Porter - 62 Entries
Gold: Pt. Reyes Porter, Marin Brewing Co., Larkspur, CA
Silver: Edmund Fitzgerald Porter, Great Lakes Brewing Co., Cleveland, OH
Bronze: Planet Porter, Boulder Beer Co., Boulder, CO

Category: 65 Classic Irish Style Dry Stout - 24 Entries
Gold: Moylan's Irish Dry Stout, Moylan's Brewing Co., Novato, CA
Bronze: Blarney Sisters Dry Irish Stout, Third Street Aleworks, Santa Rosa, CA

Category: 66 Foreign (Export) Style Stout - 23 Entries
Gold: Zonker Stout, Snake River Brewing Co., Jackson, WY
Silver: Custer's Last Stout, Montana Brewing Co., Billings, MT
Bronze: Russian Imperial Stout, Sacramento Brewing Co., Sacramento, CA

Category: 67 American-Style Stout - 28 Entries
Gold: Sticky Stout, Pizza Port - Carlsbad, Carlsbad, CA
Silver: Big Bear, Bear Republic Brewing, Healdsburg, CA
Bronze: Terminal Stout, Rock Bottom Brewery Chicago, Chicago, IL

Category: 68 Sweet Stout - 18 Entries
Silver: Double Cream Stout, Bell's Brewery, Inc, Galesburg, MI
Bronze: Milkman Stout, Capitol City Brewing Co. - Arlington, Arlington, VA

Category: 69 Oatmeal Stout - 36 Entries
Gold: Blue Corn Oatmeal Stout, New Mexico Brewers Guild, Santa Fe, NM
Silver: Oatmeal Stout, Schooner's Grille & Brewery, Antioch, CA
Bronze: Alaskan Stout, Alaskan Brewing Co., Juneau, AK

Category: 70 Imperial Stout - 44 Entries
Gold: Abyss, Deschutes Brewery, Bend, OR
Silver: TAPS Imperial Stout, TAPS Fish House & Brewery, Brea, CA
Bronze: Russian Imperial Stout, Rogue Ales, Newport, OR

Category: 71 Strong Scotch Ale - 28 Entries
Gold: MacPelican's Wee Heavy Strong Scotch Ale, Pelican Pub & Brewery, Pacific City, OR
Silver: Scotty Karate Scotch Ale, Dark Horse Brewing Co., Marshall, MI
Bronze: McKenzie Wee Heavy, McKenzie Brew House, Malvern, PA

Category: 72 Old Ale or Strong Ale - 32 Entries
Gold: Old Woody, Fish Brewing Co., Olympia, WA
Silver: Outback X, Bend Brewing Co, Bend, OR
Bronze: Imperial Nut Brown Ale, Tommyknocker Brewery, Idaho Springs, CO

Category: 73 Other Strong Ale or Lager - 32 Entries
Gold: Derail Ale, Durango Brewing Co., Durango, CO
Silver: Dragonstooth Stout, Elysian Brewing Co., Seattle, WA
Bronze: Bottleworks VIII, Flyers Restaurant and Brewery, Oak Harbor, WA

Category: 74 American-Style Wheat Wine Ale - 9 Entries
Gold: Star Brew Triple Wheat, Marin Brewing Co., Larkspur, CA
Silver: Wheat Wine, Portsmouth Brewery, Portsmouth, NH
Bronze: Wheatmiser, Goose Island Brewpub, Chicago, IL

Category: 75 Barley Wine Style Ale - 48 Entries
Gold: John Barley Corn Barleywine, Mad River Brewing Co., Blue Lake, CA
Silver: Cereal Killer Barley Wine, Arcadia Brewing Co., Battle Creek, MI
Bronze: 3 Guy Off the Scale Barley Wine, Dark Horse Brewing Co., Marshall, MI