Beer Guides to Cities
Around the World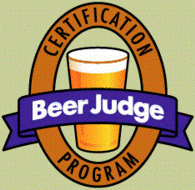 ---
HeBrew Bittersweet Lennys R.I.P.A
Smaltz Brewing Company - Saratoga Springs, NY, USA
Imperial IPA


FIRST PLACE


Aroma: Fruity, plum, raisin, hops, toffee. Malt notes are complex.
Appearance: Medium dark reddish/copper. Light carbonation.
Flavor: Spicy, citrusy, bold hop flavor and bitterness. Toffee, dark fruit malt notes with a touch of sweetness and alcohol warmth. A delicious beer with a big body - not cloying at all. Rich and complex.




---
Fat Dog Imperial Oatmeal Stout
Stoudts Brewing Company - Adamstown, PA, USA
Specialty Beer




SECOND PLACE


Aroma: Roasty, cocoa notes. Slight dark fruit hints. Clean, dark malt nose dominates.
Appearance: Black in color with a dark tan layer of foam on top.
Flavor: Chocolate notes, slightly sweet with a hint of roasted malt, toasted grain and alcohol. Dark malts are complex in flavor with licorice notes. There is a nice hop background (tastes like UK hops). A bold and beautiful dark ale.



---
Saphir Bock
Victory Brewing Company - Downingtown, PA, USA
Helles Bock with single varietal Saphir hop (Hallertau hybrid)




THIRD PLACE


Aroma: Toast, bread and hints of smoke, honey and sweet malt.
Appearance: Clear. White foam. Deep gold color with hints of copper.
Flavor: Strong, pleasing flavors of German malt. Malt flavors are complex. Finish has a nice malt / hop balance with a hint of alcohol. The noble hop character of this beer is very elegant. Delicious mouthfeel.


---
14'er ESB
Avery Brewing Company - Boulder, CO, USA
Extra Special / Strong Bitter (ESB)
1st HONORABLE MENTION
Aroma: NW American hops, perfumy wood notes, hints of fruity esters.
Appearance: Attractive layer of white foam. Light copper color.
Flavor: Tastes very dry-hopped. Blend of US and UK hops is very nice. There is also a very pleasing malt presence and balance. A well-made ESB.


---
Prickly Wit
Real Ale Brewing Company - Blanco, TX, USA
Specialty Beer - Imperial Belgian White with prickly pear puree
2nd HONORABLE MENTION
Aroma: Coriander, spice, fruity orange notes, hints of clove.
Appearance: Dark gold with a light stand of white foam.
Flavor: Orange notes - slightly sweet. Phenolic hints, slightly spicy from coriander. Good, medium mouthfeel - very fruity flavors.

---
Thomas Hooker Helles
Thomas Hooker Ales & Lagers - Bloomfield, CT, USA
Munich Helles
Aroma: Paint, fruit, apple, acetaldehyde, ethyl acetate.
Appearance: White foam, very clear golden color. Perfect appearance.
Flavor: Sour, phenolic, apple, oxidation, plastic. This bottle was obviously infected. Need to try this beer again in the future.

---
Cains Dark Mild
Cains Brewery - Liverpool, UK
Mild Ale
Aroma: Cocoa, smoke hint, sherry note.
Appearance: Dark brown in color, opaque. Light tan head.
Flavor: Very drinkable, with sweet caramel and hints of black malt. There is a tiny bit of coffee and toffee in the flavor with a hint of molasses. Hops are hardly noticeable (as appropriate for this style).



---
Baltika 7
Baltika Brewer - St. Petersburg, Russia
Premium American-Style Lager
Aroma: Mild, light malt, grain notes with a hint of hops and honey.
Appearance: Light gold in color with attractive white head. Very clear.
Flavor: Honey hints. Nice malt notes that make the lager slightly sweet. There is a hint of butter in the finish. It has a nice body for the style. There are German influences in malt and hops. Good beer, but perhaps too complex for this style?

---
Moosbacher Schwarze Weisse
Scheuerer Brewery - Bavaria, Germany
Dunkelweizen


Aroma: Buttermilk, malt vinegar, acetic acid, butter.
Appearance: Clear in appearance. Brown in color. Light foam for style.
Flavor: Infected. Sour banana, light caramel. All pleasant notes are covered by infection. Try this beer again in the future.



---
Saranac Pale Ale
Matt Brewing Company - Utica, NY, USA
Extra Special / Strong Bitter (ESB)
Aroma: Hop and clove-like phenol hints with a bit of oxidation. Vanilla notes.
Appearance: Copper color with light foam. Very attractive.
Flavor: Fruity, malty with a hint of paper. Mild flavors (too mild for style). Body is medium/light. Water seems to have a complex mineraly note.

---

Victory Hop Devil
Victory Brewing Company - Downingtown, PA, USA
American IPA


Aroma: Citrus, grapefruit, wood, tea. Aromas are a bit light for style.
Appearance: Light copper in color. Good clarity. Medium carbonation.
Flavor: Grapefruit hop flavor. Nice balance in bittering and aroma hops. Malt is nice. Toffee hints are present behind the hops. There are also vanilla undertones.


---

Tommyknocker Maple Nut Brown Ale
Tommyknocker Brewery - Idaho Springs, CO, USA
Specialty Beer - nut brown ale with maple syrup


Aroma: Sour veggies, soy, vinegar notes.
Appearance: Brown color with light head.
Flavor: All the background flavors are covered by sour / acetic acid notes. Slightly infected bottle. No maple flavors are apparent.