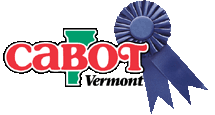 Beer Guides to Cities
Around the World



Entertaining with Cabot Cheese and Beer


In these difficult economic times, everyone is trying to find ways to have fun, relax, and entertain on a budget. The new buzzwords like "stay-cations" and "eat-out at home" prove that Americans still want to enjoy life but have to watch the bottom line. More and more people are throwing backyard barbecues rather than going out for steak dinners or taking a picnic to a local park to spend time with friends and family without blowing the bank.

To assist all of my friends and fans, I have come up with a great entertainment idea for those of you who love to entertain but don't want to spend a small fortune to do it. Why not hold your own potluck beer and cheese tasting? You don't need to spend mega bucks on expensive foreign cheeses to have a good gourmet tasting session. Cabot Cheese, born and bred in the good ol' US of A has a variety of flavors in their line up of Vermont cheddar cheeses that can satisfy almost any cheese pallet. They can be found in your local grocery store, are very tasty, and affordable. Some of their flavors include mild, sharp, seriously sharp, garlic and herb, tomato and basil, horseradish, habanero, jalapeno, and pepper jack. A couple of these also come in reduced fat versions for anyone watching their waste line. Using a block of several varieties of cheeses paired with your favorite craft beers and crackers of choice, you can create an afternoon or evening of fun and camaraderie. If you have been to one of our beer events, you may have seen the Cabot Cheese table and even sampled some of their fine cheeses.

How, you might ask, is this going to keep from costing me a fortune? Craft beer isn't all cheap, and a good, affordable cheese could get costly if one buys a few blocks of it. Here is where the potluck comes into the picture. You can go about this different ways. Send an invite (or e-vite) to your friends giving them one of the cheese varieties to bring. Each friend will bring a sampling of their cheese and maybe 2-3 different beers to go with it. Since this is a tasting, you only need enough of the beer for every person to receive maybe a 3-4 ounce sample. With ten friends you have ten different types of cheese and twenty or thirty different samples of beer. You could even up the fun by holding blind tastings on what style of beer is being served with each cheese.

It doesn't take a beer or cheese aficionado to pair beers with cheese. In fact, I am going to take the guess-work right out of the equation. Click on the Cabot Cheese link to get to the Cabot Cheese site. There you will find a link to beer and cheese pairings. I am currently working on updating the information for their site and soon you will have extended descriptions of the cheese with three or more styles that would best be served to either contrast or complement that cheese. Choose from the styles you like or try something new. I'll keep you informed as to when the new information will be available, but go ahead and check them out now. You may also want to check out their recipes using Cabot cheese and beer.

It's not difficult to enjoy good beer with your friends, even on a budget. If you have any other entertaining tips out there, don't hesitate to drop me a line. Remember to eat well and drink good beer.