Text and photo captions by Owen Ogletree
Album Photos by Phil Farrell
Click on the photo link below to be taken to the album...
PHOTOS FROM OUR 2014 ATLANTA CASK ALE TASTING
: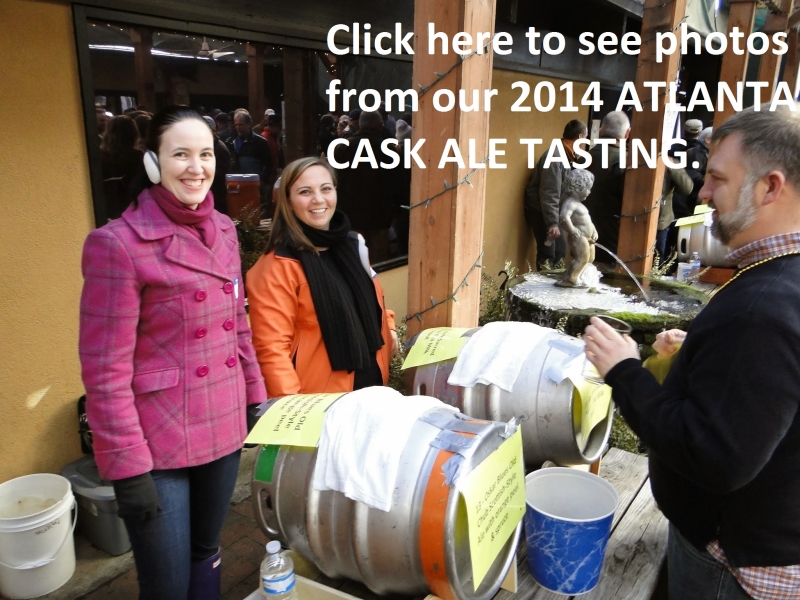 ---

List of Cask Ales &

Winners

at our 2014 Event:
01 - 5 Seasons Prado Smoked Scotch Ale
- At 9% ABV, this brew is highlighted by a warming, complex malt character and medium body, with hints of raisin and orange breaking through the mellow, smoked malt finish. We employed a secondary fermentation using Fuggle hops and toasted coconut.
02 - BlueTarp Hopsided.
Dry-hopping this cask with Mosaic brings a ton of tropical fruit, black current and even blueberry notes! This brew packs all the hops of a double IPA, without all that malt getting in the way (not that there's anything wrong with that). 6.6% ABV, 75 IBUs.
03 - Burnt Hickory KOLB's FARM "The Burial Truce"
is a massive, 13% ABV, bourbon barrel-aged, coffee/chocolate/honey/oatmeal stout with Trinidad black scorpion peppers and vanilla beans added directly to the cask.
04 - MAZURT Teenage Calcutta
.
Ms. Teenage Calcutta needed a cause, if she was going to be the next Ms. India. She chose the street children of East India whose infliction with sobriety was becoming a national disgrace. The desperate call for help was quickly answered by the fine brewers of MAZURT who brewed a beer the sober kids of Calcutta would surely drink and love. Brewed with cumin, peppercorns, cardamom, cloves, cinnamon, Arbol chilies, deep roasted Kenyan coffee, Madagascar vanilla, organic Peruvian cocoa nibs, Vermont Grade B maple syrup and Georgia wild flower honey. Briefly aged in a Prichard's Rum barrel. Guest brewed at Burnt Hickory. 13.6% ABV
05 - Copper Creek Smoked Porter Aged on Serrano Peppers.
Straight from the compact brewhouse of Copper Creek brewpub in Athens Georgia comes this silky smooth black ale with elegant hints of smoked malt and spicy warmth from serrano peppers.
06 - Heavy Seas Ginger Spiced Imperial Red Ale.
In our 9% ABV Yule Tide aged in a Jamaican rum barrel, expect a full malt body dominated by toast, chocolate and caramel notes. Barrel-aging imparts a rich, buttery rum character along with vanilla oak notes, and ginger offsets the sweetness with a drying zing.
07 - Highland Sour Bourbon Barrel-Aged Coffee Porter
- A rich, black ale with warming notes of bourbon and oak, followed by undertones of vanilla and coffee. A subtle sour character is supported by wonderful farmhouse aromatics. 5.8%. ABV
08 - JailHouse The Edible Undies Conjugal Visit.
Our Imperial Red Ale features copious amounts of Warrior, Chinook and Liberty hops. This cask has been "tastefully" enhanced with dark cocoa and cherry fruit rollups.
09 - Left Hand Black Jack Porter.
Dry-hopped with Willamette, this cask comes in as an English-style porter with espresso and dark chocolate notes alongside hints of tobacco. Willamette hops offer a tea-like perfume with a kiss of melon and fresh grass. Enjoy your BJ - you deserve it!
10 - Max Lager's Hop Giant
is a blend of Hopsplosion!!! IPA, IMOS-Imperial Mocha Oatmeal Stout and Frost Giant DIPA. The cask is dry-hopped with three hops (for concept consistency) - Azacca, El Dorado and Citra. Who knew blending three beers could be so good?
11 - Moon River Wild Belly-Washer English-Style Golden Ale.
This refreshing (yet complex) beer is aged on oak and Brettanomyces bruxellensis yeast that imparts an appealing, earthy, leathery character.
12 - O'Dempsey's Cold One Pale Ale
is an American pale ale with 29 IBUs and 5.65% ABV. Its malt and hops are balanced to perfection - everything you'd look for in a classic pale ale. This cask is dry-hopped with Fuggles.
13 - Oskar Blues Old Chub Strong Scottish-Style Ale.
This cask was filled with malty, toffee-like, 8% ABV Old Chub made with roasted malts, Galaxy hops, orange peel and a 100 pound Christmas tree (actually, spruce branches from our Hops & Heifers Farm in Colorado).
14 - Red Brick Sacred Cow Chai Tea Milk Stout.
Brewed with Rishi organic chai tea, this creamy, slightly sweet stout is sure to keep you warm all winter long! Try the Divine Bovine!
15 - River Dog Brewing Coastal Kriek.
This cask ranks as a Belgian red ale soured with authentic Roeselare yeast. The beer also picks up impressive character from a healthy addition of cherries.
16 - Stone IPA
is a prototypical West Coast Style IPA. It's loaded with immense hop flavor and aroma, and this particular cask is amplified with a generous dosing of Citra hops.
SECOND PLACE SPECIALTY ALE: 17 - Strawn Peach Habanero Wheat.
This special cask offers an appealing peach aroma and taste - backed by an American wheat ale base followed by a peppery habanero aftertaste.
18 - Thomas Creek Deepwater Dopplebock
is a rich, malty, strong lager with a "personality adjustment" from additions of toasted peanuts and Werther's Original candy.
19 - Thornbridge Halcyon
(UK - 7.4% ABV) is an imperial English IPA that pours an opaque honey hue and throws a huge tropical fruit, fresh hop aroma. Chewy, juicy, biscuity malts and intense pineapple fruit flavors and citrus hoppiness combine with a hint of tangerine and pear drops.
20 - Thornbridge Jaipur
(UK - 5.9% ABV). The immediate impression of this multi-award-winning India Pale Ale is a soft smoothness that quickly gives way to a crescendo of massive hoppiness accentuated by honey notes.
FIRST PLACE UK ALE: 21 - Harviestoun Old Engine Oil
(UK - 6% ABV) is a remarkably smooth, creamy, 6% ABV porter with a beautiful, velvety mouthfeel. Enjoy flavors of coffee, slightly buttered toffee, roasted malt, dark chocolate, earthy hops and a mild cherry ester.
22 - Three Taverns Single Intent
pays tribute to Belgium's Trappist breweries that make a lighter-bodied, blonde ale set apart only for the monks - hence the term Patersbier or "father's beer." The spicy, herbal aroma from French Strisselspalt hops is intensified in our cask version by dry-hopping and cask-conditioning. 5% ABV, 35 IBUs.
FIRST PLACE CLASSIC STYLE ALE: 23 - Twain's Galactic Criminal Sin IPA
. Boom! 6.9% ABV Criminal Sin blasts mega aroma and flavor! At 82 IBUs, the beer is loaded with Columbus, Centennial, Chinook, Citra, Citra, Citra, and more Citra hops. This firkin was also dry-hopped with eight ounces of Australian Galaxy. Hop-heads: Bring it!!!
THIRD PLACE SPECIALTY ALE: 24 - Westbrook Bourbon Barrel-Aged 2nd Anniversary Cap'n Skoon's Ballistic Stout.
At 10% ABV, this monster Baltic-style stout shows up big and roasty like an imperial stout, but the beer is actually fermented with a German lager yeast.
25 - Hawkshead Brodie's Prime Export
(UK - 8.5% ABV). An extra-strength version of Brodie's Prime, this "old ale" is rich and malty with a roasted edge balanced by spice and fruit notes from a medley of English and American hops.
26 - Hawkshead Cumbrian Five Hop
(UK - 5.0% ABV) - A highly hopped, English-style golden ale with a tropical fruit nose, fruity flavor notes and a long, dry finish. Made with a blend of traditional and modern hops that includes Citra and Amarillo.
27 - Hawkshead NZPA
(New Zealand Pale Ale) (UK - 6.0% ABV) - A complex, modern pale ale packed with wild fruit flavors and hoppy aromas. Made using four New Zealand hops: Green Bullet, Riwaka, Motueka & Nelson Sauvin.
SECOND PLACE UK ALE: 28 - Hobson's Manor Ale
(UK - 5.5% ABV) - Brewed to celebrate England's Severn Valley Railway Manor Class steam engines, this amber bitter offers aromas and flavors that reflect fresh grains, hops and biscuit crust.
29 - Hobson's Postman's Knock Dark English Ale
(UK - 5.1% ABV) - A ruby porter offering a blend of complex ingredients - producing a chocolately character with hints of vanilla, treacle and roast malt. Initial sweetness gives way to a velvety, cocoa-like finish.
THIRD PLACE UK ALE: 30 - Ilkley Mary Jane IPA
(UK - 6.0% ABV) is a trans-Atlantic India Pale Ale that relies on English hops for bittering and North American hops for a floral aroma. Based on an award-winning Yorkshire ale, this version boasts notes of honey and a pleasant, lingering bitterness.
31 - Ilkley Mayan Chocolate Chipotle Stout
(UK - 6.5% ABV). They may not have gotten all their predictions right, but they knew how to brew great beer! Inspired by an ancient Mayan recipe, this extraordinary stout is velvety smooth, bittersweet, and has a subtle, smoky fire in its belly.
32 - Ilkley Siberia Rhubarb Saison
(UK - 5.9% ABV). World famous Yorkshire rhubarb adds a hint of pleasant sourness to the earthy spice and fresh vanilla character of this naturally hazy saison. Refreshing on the palate, with a long, satisfying, bittersweet finish.
33 - Lazy Magnolia Once You Go Black Creek, You Never Go Back
. Our 8.5% ABV winter seasonal is black as the bayou on a moonless night. It begins with aromas of dark chocolate and coffee, followed by a savory blend of roasted barley and caramel flavors, with a velvety-sweet finish. We gave this cask the "lazy" treatment by adding oak chips soaked in Buffalo Trace bourbon and a splash of vanilla. Big Cheers, Y'all!
34 - Monday Night Brewing Somoa Please
- Our interpretation of the Somoa cookie of legendary Girl Scout Fame - a Scotch-style ale partnered with toasted coconut, vanilla beans and chocolate malt. Oh daaaaaaang, girl.
35 - Mother Earth Our Sisters of the Moon IPA
was cask-conditioned using honey as the primer. Brewed with Amarillo, Chinook, Cascade, and Centennial hops, this ale weighs in at 60 IBUs. This 6.9% ABV IPA cask was dry-hopped with whole flower Cascade.
SECOND PLACE CLASSIC STYLE ALE: 36 - New Belgium Rampant IPA
. This burly, imperial IPA's Mosaic and Calypso hops bring stonefruit to the front seat, and the addition of Centennial hops nod towards citrus. Peach tones and a profoundly bitter bite explode on the tongue, and this cask holds an additional hopping of Citra for even more tropical fruit aroma.
37 - Peak Winter Session
is a wheat beer using dark malts to provide subtle toasty notes. Interesting pineapple tones from Citra single-hopping and dry-hopping provide a stark contrast to the toasty character of the body. ABV: 5%, IBUs: 62.
38 - Red Hare Oatmeal Sticky Stout
with additions of coffee and vanilla beans is a smooth, 6.5% ABV stout built with oats making up 23% of the grain bill. Lightly hopped to let the grains shine through, the jolt of coffee and vanilla beans completes this amazing "breakfast" beer.
THIRD PLACE CLASSIC STYLE ALE: 39 - Sierra Nevada Bigfoot
- A beast of a barleywine, brimming with bold flavors of bittersweet malt and heaps of whole-cone Pacific NW hops. Bigfoot is a strong, robust bruiser of a beer, with the refined intensity of a wine.
40 - Southbound Brewing Moonlight Drive
- An 8.5% ABV imperial coffee stout brewed with Bali Blue Krishna from our friends at PERC Coffee. Along with coffee character, expect notes of chocolate, caramel and roasted malts. We've added cocoa nibs and enough chipotle pepper to bring Mr. Mojo Risin' back.
41 - SweetWater The Love Child
. While on vacation, an INFECTIOUS Belgian blonde caught the eyes of a HOP American, and they spent a wonderful whirlpool of a night together. They anxiously awoke and shared some morning chardonnay wood. Weighing in at 6.9% ABV and 19.5 inches tall lying down, this cask is the love child! Enjoy the result!
42 - Terrapin Mosaic
- This single-hopped, 6.6% ABV red rye ale is an homage to the relatively new Mosaic hop. Prized for its complexity, Mosaic hops impart an array of interesting flavor and aroma components that include tropical fruit, citrus, berries, herbs and pine.
FIRST PLACE SPECIALTY ALE & PEOPLE'S CHOICE: 43 - Wrecking Bar Mexican Siberius Maximus RIS
- A barrel-aged, 12.5% ABV Russian Imperial Stout with toasted cocoa nibs, vanilla beans, cinnamon bark, and chipotle and smoked serrano peppers.
44 - Yes Face Mild Mannered Ale
. A 4.5% ABV, malty brown ale with chocolate and coffee notes, this beer is dark and opaque, with gentle carbonation and a smooth mouthfeel. Dry-hopping brings light citrus and fruit notes
.
---