Text and photo captions by Owen Ogletree
Photos by BJCP grand master beer judge Phil Farrell
Click on the photo link below to be taken to the album...
PHOTOS FROM OUR 2013 ATLANTA CASK ALE TASTING: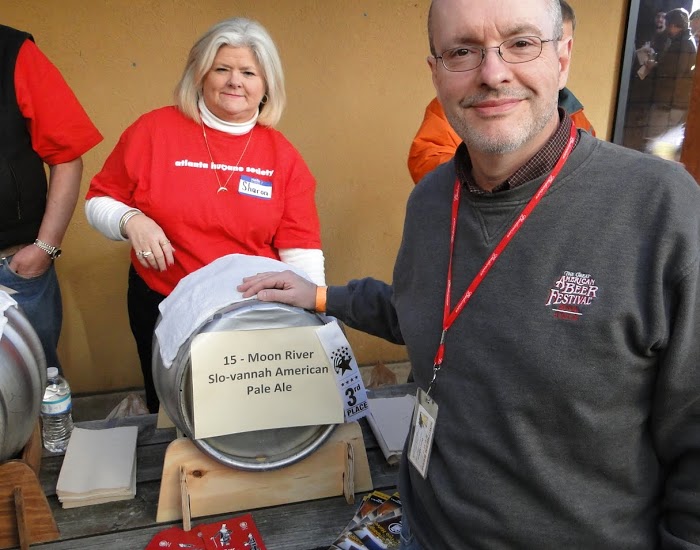 ---

List of Cask Ales at our 2013 Event:
FIRST PLACE SPECIALTY: 01 - 5 Seasons Prado All Good starts with our robust porter aged in the finest Heaven Hill Bourbon barrel for three months. Once in the cask, we cooked up some sugar and added Trappist yeast and a lot of patience. All Good is malty with slight Belgian fruit notes, a hint of vanilla and oak, and warmth from Bourbon traces and 9% ABV.
02 - 5 Seasons Traditional Porter, a collaborative brew between the Westside and Prado locations, is very English in style, with aroma and flavor nuances of delicious dark malts. Soft and slightly sweet with complex chocolate malt and caramel character, its light hops add a wonderful balance.
03 - Boulder Beer Company Mojo IPA - This Mojo was racked into the firkin along with a portion of fermenting beer. The secondary fermentation in the firkin results in a cask-conditioned Mojo that pours clear and golden with a delicate carbonation level highlighting the robust aromatic qualities.
04 - Burnt Hickory Ezekiel's Wheel Pale Ale dry-hopped with Galaxy. This citrusy, hop-centered, extremely well-balanced pale ale is called "Zekey Stardust" by the guys at the brewery. Gold/orange in color with 6.5% ABV.
SECOND PLACE SPECIALTY & PEOPLE'S CHOICE: 05 - Hole in Juanita Mexican Mazurt. When her math teacher, Mr. Sanchez, discovered Hole in Juanita, he soon loved it very much. Brewed with deep roasted Mexican coffee, organic Peruvian coca Nibs, Vermont grade-B maple syrup, Madagascar vanilla, Georgia wild flower honey and numerous varieties of Mexican peppers. It was then consensually aged on Tequila-soaked charred American oak dripping with succulent flavor. 13.8% ABV. Guest brewed by Hamp Covington and Dan Rosen at Burnt Hickory.
06 - Duck Rabbit Wee Heavy Scotch Ale. Unfiltered and cask conditioned with honey, this distinctive cask offers layers of rich caramel malt character backed by a warming alcohol note and bold mouthfeel.
THIRD PLACE CLASSIC STYLE: 07 - Great Divide Yeti Imperial Stout is an onslaught to the senses. It starts with big, roasty malt flavor that gives way to rich caramel and toffee notes. Yeti gets its bold hop character from an enormous quantity of American hops, and weighs in at a hefty 9.5% ABV and 75 IBUs.
08 - Green Flash Imperial IPA. San Diego IPA, as it has come to be known, is pale in color and super-hoppy. Our 9.4% ABV (yet quaffable) Imperial IPA is created in this new tradition with intense hop character from a unique blend of Summit and Nugget.
09 - Heavy Seas Pale Ale - A traditional English-style pale ale with an East Coast twist. UK Fuggles and Goldings dominate the flavor, but Cascade hops added in the boil and hop-back provide subtle citrus layers. This one-off cask also includes Maryland-grown Zeus hops.
10 - Highland Brewing Thunderstruck Rum Raisin Coffee Porter ranks as a robust porter with the charm of a coffee raisin chocolate liqueur. Its rich smell and full body bring reminders of the finer things in life.
11 - JailHouse Misdemeanor Amber Ale is built on robust flavors, but with practiced restraint. A medium-bodied amber ale with a balanced caramel sweetness and a heft of biscuit overtones, the ale is balanced with a combination of earthy hop varieties from the Willamette Valley, and this singular cask houses a blend of spices and sweet orange peel. 5.5% ABV.
SECOND PLACE CLASSIC STYLE: 12 - Lagunitas Sucks is a "cereal medley" of barley, rye, wheat and oats. Full of "complexishness" from the grains, then joyously dry-hopped for big aroma and resinous flavor. Named as an homage to last year's disappointment at not being able to make Brown Shugga - as the result of our brewhouse getting damaged by a hurricane-induced tumbling crane that delayed our expansion... which SUCKS!
13 - Left Hand Milk Stout. Dark and delicious, America's great milk stout will change your perception about what a stout can be. Dark malts mingle with creamy, sweet flavors and a special Columbus dry-hopping in this awesome cask that's "udderly delightful." Preconceived notions are the blinders on the road to enlightenment.
14 - Max Lager's HOPSPLOSION!!! IPA - Hop heads rejoice! This 7% ABV hop bomb is aggressively dosed with an insane amount of Centennial, Amarillo, Cascade, U.S. Goldings, Willamette and Magnum and dry-hopped in the cask with El Dorado and Citra.
THIRD PLACE SPECIALTY: 15 - Moon River Slo-vannah American Pale Ale with citrus zest. This 4% ABV ale is 100% tasty, and the Citra and Centennial dry-hopping produces a session ale as subtle, smooth and laid back as its namesake city. Slo-vannah is brewed to satisfy your need for hop goodness, without bittering out the taste buds or piling on too much alcohol. This version contains a generous addition of citrus zest to further enhance the hop charge.
16 - Oskar Blues Oskar the Grouch was originally made in collaboration with Ska brewing. Beechwood and applewood smoked malts give this beer a slightly spicy and delicately smoky aroma and flavor combined with a load of Eldorado and Cascade hops in both kettle and dry-hop to present a juicy, citrusy hop profile. The cask was then dry-hopped with an ounce of Simcoe.
17 - Port Brewing Mongo Double IPA - Columbus (nicknamed "Mongo") was spawned by our first two brewery cats - Amarillo and Cascade. So, we decided our Mongo beer should feature a bunch of these hops. As such, massive, resinous hop aromas and flavors weave in and out of what little malt you can taste in this double IPA.
18 - Stone Levitation Ale - This special cask, dry-hopped with Centennial, forms a deep amber ale with rich malt flavors, a big hoppy character, citrus overtones (courtesy of the hops and our special yeast) and a modest 4.4% alcohol.
19 - Thomas Creek Up The Creek Extreme IPA. At 12.5% ABV, this brash ale carries a strong malt backbone and residual sweetness balanced by enough hops to come in at over 100 IBUs. This singular cask was aged with Granny Smith apples and whole cinnamon sticks for a homemade apple pie taste!
20 - Twain's River Sunset Amber dry-hopped with Citra and Galaxy. This smooth session ale has a complex malt profile, and the boil hops that were used were Magnum, Citra, Galaxy, and Australian Summer hops. This firkin benefitted from an extra dose of flavorful Citra and Galaxy dry-hops.
21 - Weyerbacher Quad - Big and delicious, rich and complex, our Quad is an elegant brew. Try savoring it with a fine dinner or as an aperitif or accompaniment to dessert. Quad also stands alone quite well, and we recommend enjoying it in a brandy snifter or wine glass to fully appreciate the aroma of this exquisite ale.
22 - French Broad Ryehopper Rye Pale Ale cask is dry-hopped with Amarillo. A distinctive American pale ale with strong rye malt notes, resulting in a dry-on-dry, spectacular beer experience.
23 - Lazy Magnolia Double Dry-hopped Timber Beast. Timber Beast made its debut this year on July 1 when the Mississippi laws went into effect, raising the ABV level for the state. At a healthy 9%, the Beast boasts an intense flavor, serious citrus hops, and a personality as bold as its name. Buckle up!
24 - Monday Night Brewing Eye Patch Ale. This singular cask contains locally-roasted Batdorf & Bronson coffee. It's an approachable, English-style IPA with American hops infused with a delicate Ethiopian Yirgacheffe Kochere coffee - known for its notes of citrus blossom and lavender.
25 - Mother Earth Sisters of the Moon IPA. Light copper in color, this 6.9% ABV IPA offers an intense hop aroma and strong hop bitterness, and our hop-back process uses fresh American hop cones to provide a juicy hop taste, while remaining balanced.
26 - Moylan's Brewing Company's Ryan Sullivan's Imperial Stout with TCHO Chocolate. Rich, thick, intense and named in honor of our St. Patrick's Day piper, Ryan Sullivan's Imperial Stout brings aspects of chocolate truffles, espresso coffee, burnt currants and the sweetness of sherry to mind.
27 - New Belgium Felix. Our brewery has over 30 foudres (large oak barrels) holding a dark base beer called Oscar and a light base beer called Felix. Felix is golden orange in color, fruity, peachy, and tart with citric-like notes. Boasting nice earthy tones, but not overly Brett in character, the super-sour Felix in this cask was barrel-aged for over three years. We deem the foudre that holds the best stand-alone Felix as NBB LOVE-Felix, and this is the last of it for at least a couple of years!
28 - O'Dempsey's once again rolls out its 2012 ACAT award-winning Your Black Heart Russian Imperial Stout - this time infused with cranberries and cocoa nibs for layers of dark malt richness aligned with fruit and chocolate character.
29 - Peak Organic Simcoe Spring Ale - A classic pale ale that's single-hopped exclusively with Simcoe. Aggressive Simcoe dry-hopping adds piney, fruity notes, and the restricted malt profile provides an appealing foundation for the powerful dry-hopping. 5.4% ABV, 61 IBUs.
30 - Red Brick Lost Years. This cask is made from one of the three brews that will be blended to create our first Brick Mason release of 2013. It's loosely brewed in the English-style Old Ale tradition and spiced with star anise, bitter orange peel and sweet orange peel, and aged in oak barrels.
31 - Red Hare 2012 Chocolate Porter with additions of dark cocoa nibs and peanut butter is an 8% ABV, 15 IBU dark ale that sports a hefty peanut butter nose with hints of chocolate and peanut butter blending together throughout - our version of a peanut butter cup.
32 - Sierra Nevada Ruthless Rye IPA. Rye has been a staple grain for ages - with its spicy, black pepper-like flavor that's prized by distillers and brewers. Ruthless, a rugged IPA with fruit, citrus and herbal hop notes balanced with the dry spiciness of the rye, is dry-hopped with Chinook, Citra and Experimental hops. Today's version is also dry-hopped in the cask with additional Chinook.
33 - Southern Tier 2XIPA is our mouth-watering, 8.5% ABV, double IPA loaded with Simcoe and Citra hops - all backed with prized Maris Otter malt. 2XIPA offers a grand balance of citrusy hops and complex grain notes.
34 - SweetWater Sad Ending - A dry American Imperial Stout fermented with sweet, cream-filled, chocolate Hostess Cup Cakes. That's right - Hostess Cup Cakes - some of the last of their kind, soon to be extinct, a collector's item. This combination will be a delicious way to reminisce and tell stories - the perfect desert beer.
35 - Terrapin Breakfast Karma - For this cask, we took our Hop Karma Brown Ale and used 100% maple syrup to lightly carbonate the brew. We also added cinnamon and a touch of vanilla to round out this delicious breakfast beer!
FIRST PLACE CLASSIC STYLE: 36 - Uinta Hop Notch is our world class IPA that comes in at 7.2% ABV. This firkin was dry-hopped with Cascade and Galaxy and then cask-hopped with whole leaf Amarillo for a succulent blast of hop aroma and flavor.
37 - Wild Heaven Belgian-style IPA - An enormous IPA crafted with aromatic and honey malts and single-hopped with massive amounts of mouth-watering Nelson Sauvin hops. This cask is a test batch for a possible future release from Wild Heaven - offered here for the very first time.
38 - Wrecking Bar Tip of the Cap English Mild with Tahitian vanilla beans includes English hops and 11 different grains, but is completely "sessionable" at a modest 3.6% ABV. Bread, biscuit, sugar and light fruit malt character is complemented perfectly by vanilla aroma and flavor.
---