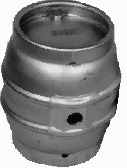 Brewing ales in Britain back in the 1800s was a rustic, laborious process. Cool cellars provided the only refrigeration. Fermentation vessels were made of wood. Ales were carbonated from carbon dioxide gas produced by residual yeast inside sealed wooden or metal casks called "firkins." This old-world method of production and carbonation produces what has come to be known as cask-conditioned ale (also called cask ale or real ale). Surprisingly, these traditional beers are making a comeback. Why is cask ale so special? In the sealed firkin, yeast produces soft, light carbonation and complex, mellow flavor components before settling to the bottom of the container. After a time in the cask, special porous pegs are used to vent any excess carbonation, and a serving tap is hammered through a spout on the front of the cask. Traditional real ale is served without pasteurization or additions of artificial carbon dioxide or other gas.

The 2011 Atlanta Cask Ale Tasting showcased 32 traditional and specialty cask-conditioned ales from some of the best craft breweries around the USA and UK. After a morning judging panel, the free public sampling session was held 3-6 PM. Everyone was impressed with the flavors and excellent quality of these real ales. It was a special afternoon at 5 Seasons and Taco Mac that centered around unique, flavorful beer. Thanks go out to all our wonderful volunteers for helping make this special event possible!

Text by Owen Ogletree
Photos by Ted Hull and BJCP master beer judge (and chicken guy) Phil Farrell
Posted February 2011

---
Cask Ales at our Big 2011 Event:
PEOPLE'S CHOICE AWARD: 5 Seasons Prado AAAH... BACON! Scotch Ale.

Our 8% ABV, signature Scotch Ale sports a smooth, complex malt character with a slight roasted note, sweet balance and subtle hop finish. What could possibly make this beer more enjoyable? Bacon, of course. Whole leaf Hallertau hops, hickory chips and bacon were smoked with staves from our Heaven Hill Bourbon barrel, then added to the cask before secondary fermentation.
Allagash Black

is a 7.5% ABV stout brewed with German pale ale malt, three roasted malts, torrified wheat, oats and Belgian dark caramelized syrup. It's fermented with a Belgian Trappist-style yeast strain, and its roasted malts give this stout an unforgettable chocolate, toast, coffee and malty aroma and taste.
Avery Out of Sight

, our Out Of Bounds Stout with a cold coffee toddy infusion, comes in as a variation of the popular stout usually served only at the Avery Tap Room. An espresso blend from local Boulder roastery Unseen Bean contributes an amazing layer of complexity to this 6.2% ABV stout.
Bell's Hopslam

- Starting with six different hop varietals added to the brew kettle and culminating with a massive dry-hop addition of aromatic Simcoe hops, this 10% ABV Double IPA possesses the most complex hopping schedule in the Bell's repertoire. Pacific NW Simcoe contributes a pungent blend of grapefruit, stone fruit and floral notes, and a generous malt bill and solid dollop of honey provide a perfect balance.
Founders Double Trouble

- An imperial IPA brewed to turn your world upside down. Hops will get you coming and going, and pungent aromatics up front pair with a malt-balanced backbone and a smooth, bitter finish. 9.4% ABV and 86 IBUs.
Duck-Rabbit Porter

cask has been aged in a bourbon barrel and conditioned with honey. Duck-Rabbit Porter holds a dark malt roasty character and silkiness from the addition of oats in the grist. Bourbon barrel aging adds wood flavors of charred American oak with notes of vanilla and coconut.
Heavy Seas Siren Noire

is an 8% ABV English-style Imperial Chocolate Stout fermented and flavored with Belgian chocolate. This cask has been infused with Mount Hood hops, organic Madagascar vanilla beans, anise flower and a "mystery" wood. Hear the call of our smooth and alluring Siren.
HONORABLE MENTION: He'Brew Vertical Jewbelation

is a barrel-aged blend of seven different recipes of our Jewbelation series. We re-brewed the 8, 9, 10, 11, 12, 13 and 14 and barrel-aged these all in Sazerac 6-Year Rye Whisky barrels. These were then blended to create a mad,10.5% ABV concoction.
Highland Cold Mountain Winter Ale.

This cask is our spiced winter seasonal aged on medium toasted oak. A tasty brew that complements all holiday festivities, Cold Mountain is typically malty in body, lightly hopped and rounded out with spices that vary from year to year.
Lagunitas Brown Shugga'

-- How come you taste so good? Boatloads of pure brown sugar in each batch -- that's how! This rich, roasty and mysteriously drinkable ale might best be described as "irresponsible." It leaves a lot of stories in its wake.
J.W. Lees Manchester Star Ale

is a limited edition, 6.5% alcohol British ale brewed to an original 1884 recipe. This mahogany hued beer presents fruity, chocolately flavors and is brewed with Grist Goldings, Styrian and Hallertau hops and chocolate malt.
SECOND PLACE OVERALL: Left Hand Milk Stout.

Dark and delicious, America's great milk stout changes your perception about what a stout can be. Characterized by roasty, chocolately goodness with the addition of sweet milk sugar to balance out the flavor, this cask is also dry-hopped with Cascade, just for fun. It's "udderly" delightful!
Moon River Apparition Ale

cask is a 4.8% ABV ale dry-hopped with extra UK Sovereign hops. An interpretation of a classic English pale ale using ingredients imported from the U.K. (including Maris Otter pale malt and Sovereign hops), this session ale's taste is driven by malt flavors of caramel and toast with a fruity English-ale yeast character.
O'Dempsey's Inukshuk IPA

with coriander and rosemary. Weighing in at 1.067 original gravity and 69 IBUs, this IPA combines a bitter hop bite and light citrus nose with just enough malt backbone to support its 7% ABV. All in all, it achieves a balancing act for your senses.
Oskar Blues Double Dry-Hopped Gordon.

This imperial dry-hopped red ale serves up a sweet, candy-like taste and mouthfeel from crystal malts paired with a heavy dry-hopping of Amarillo -- giving a tangerine, earthy hop aroma. A second dry-hopping of Columbus in the firkin makes for a perfect complement to the warmth of the 8.7% alcohol.
Red Brick Vadlamani

is an "India Brown Porter" cask ale that was pilot-brewed with East Kent Goldings and Sovereign dry-hops. Elegant, chocolatey notes are balanced by a complex hop profile.
THIRD PLACE OVERALL: Weyerbacher Fireside Ale

is an intricate dark ale with a touch of smokiness. The rich malt flavor, crisp bitterness and smoke nuances reach perfect equilibrium in this 7.5% ABV brew. Fireside Ale will warm you up as the temperature drops.
Wild Heaven Ode to Mercy

is our 8.2% ABV, 40 IBU imperial brown ale infused with coffee and aged on oak. This cask is finished with cocoa nibs. Ode To Mercy overflows with bold flavors woven into a balanced and approachable beer that finishes with creamy, lingering hints of oak, coffee and roasted goodness. Citrusy hops peek through, adding additional layers of complexity.
French Broad Brewery's Wee Heavy-er Scotch Style Ale

is a malty, high-alcohol brew with impressive notes of caramel and toffee. This cask version boasts a delicate, natural carbonation and earthy, dry-hopped nose.
JailHouse Brewing's Breakout Stout

presents itself with a sturdy hop bitterness, a hint of dark chocolate and a generous amount of roast and coffee flavors. A light infusion of bourbon-soaked oak chips provides this cask with an added vanilla-like complexity.
Moylan's Ryan Sullivan's Imperial Stout.

Aged with American white oak chips soaked in Irish Mist, this rich and intense version of our award-winning 10% ABV ale, named in honor of our St. Patrick's Day Piper, brings chocolate truffles, espresso coffee, burnt currants and sherry sweetness to mind.
New Belgium Ranger IPA

-- Brewed with pale and dark caramel malts, New Belgium's foray into true American IPAs is an amber beauty bursting with an abundance of hops. Chinook (floral/citrus) and Simcoe (fruity) lead off the aroma/flavor profile, and this singular cask is "double-dry hopped" with Cascade -- once in the brewing process and again in the firkin.
Peak Organic Spring Simcoe

is a dry-hopped Spring Ale featuring only the popular Simcoe hop, which imparts a citrus flavor and bouquet. Extremely refreshing, memorable and vibrant, this seasonal ale makes for the perfect harbinger of warmer days ahead.
Rogue Mogul Madness Ale

, made with seven different malts, is described by brewer John Maier as "radically hopped with layers of complex, dark malt flavors." This dry-hopped cask holds 68 IBUs of Saaz, Columbus, Chinook, Rogue Micro Hopyard Revolution, Rebel and Freedom hops -- all balanced by multifaceted notes of nuts, berries and mocha.
Sierra Nevada 30th Anniversary Our Brewers Reserve Grand Cru

is a exceptional ale highlighting our pioneering history and the innovative spirit that has carried us through the years. It's a marriage of our three most acclaimed ales: Oak-aged Bigfoot, Celebration Ale and fresh Pale Ale blended together and generously dry-hopped. 9.2% ABV.
Southern Tier 2XIPA

. Made with four varieties of hops and three types of malts, our noteworthy, hop-centered, 8.2% ABV ale is not quite an imperial, but certainly not a standard India Pale Ale. 2XIPA is a hop lover's dream -- citrusy and clean with an incredible finish.
FIRST PLACE CLASSIC STYLE: Stone Ruination IPA

- Dry-hopped with whole leaf Simcoe (an intense American hop variety introduced in 2000), this impressive IPA explodes with notes of pine, citrus, wood and passion fruit. This cask was made by Stone's assistant brewer Kyle Carney who worked with cask ales in the past while brewing in Scotland. Kyle shoved as much Simcoe into this cask as possible.
FIRST PLACE SPECIALTY STYLE: SweetWater's A Barrel Full of Drunkies.

This 11% ABV, blended cask is our rendition of a Quad cellared in an American bourbon barrel for 10 months and blended with another Quad cellared in a French Bordeaux barrel with Brettanomyces and Lactobacillus for 10 months. This fusion was then topped off with our adaptation of a Tripel that was cellared for 28 months with fresh blackberries in a French Bordeaux barrel.
Terrapin Moo-Hoo "Double Dip" Chocolate Milk Stout

is aged on real cocoa nibs and shells from Nashville's Olive & Sinclar. With additions of lactose sugar, this beer offers a velvety mouth feel and delicate sweetness. We "double dipped" our cask version by adding a generous amount of nibs and shells to the firkin to enhance this beer's chocolately appeal.
Thomas Creek Up The Sorachi Creek

is a special version of Up the Creek Extreme IPA dry-hopped with Sorachi Ace. This hop's lemony, citrus flavor adds a unique twist to our heavily hopped, deep amber IPA. The floral hop aroma and tart hop flavor bring out the lighter side of this full-bodied beer. Be careful, with 12.5% ABV, you may find yourself "up the creek!"
Thornbridge Merrie

, a 5.9% ABV English strong ale with additions of bay leaves and juniper, pours a nutty brown color with a complex aroma of grain, spice, caramel, mint and herbs. Piney hoppy notes dance with coffee undertones and complex malt notes. Truly a unique, distinctive ale from the world-class Thornbridge Brewery located near Sheffield, England.
Twain's Billiard & Tap

brings a cask of dark wheat ale conditioned with Brettanomyces and tamarind. Aged for four months, this one-of-a-kind ale boasts subtle sourness complemented by elegant wheat breadiness and a sweet/tart flavor and tropical flair imparted by the tamarind.
---

The calm before the casks at 5 Seasons Prado.


Casks were placed in horizontal "stillage" position for a week.



Each cask is vented and ready to pour for judging.



The chilly 5 Seasons patio.



Three judging panels sent their best brews to best-of-show.



Each beer was judged to style in the blind competition.





All About Beer's

Daniel Bradford discusses an IPA.


Each cask ale is dissected in great detail.



A beautiful range of colors.


Cask ales have a natural, light carbonation.


The best-of-show panel awards the final ribbons.


Attendees admire the appearance of real cask ale.



L-R: Dave, Lee and Nick enjoy the casks.



Attendees loved the warm (for January) weather.



Taco Mac's patio made a perfect locale to expand this year's fest.



Ed Hamrick and Owen Ogletree discuss the most
important tool for any beer fest - duct tape.



Richard Miley from Watkinsville's Chops & Hops
enjoys a cask ale with his dad.



L-R: Wild Heaven's Nick Purdy, Trappeze's Eric Johnson
and O'Dempsey's Randy Dempsey.



Group hug at Taco Mac at the end of the event.





Dead casks at the conclusion of the tasting.