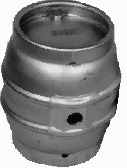 Brewing ales in Britain back in the 1800s was a rustic, laborious process. Cool cellars provided the only refrigeration. Fermentation vessels were made of wood. Ales were carbonated from carbon dioxide gas produced by residual yeast inside sealed wooden or metal casks called "firkins." This old-world method of production and carbonation produces what has come to be known as cask-conditioned ale (also called cask ale or real ale). Surprisingly, these traditional beers are making a comeback. Why is cask ale so special? In the sealed firkin, yeast produces soft, light carbonation and complex, mellow flavor components before settling to the bottom of the container. After a time in the cask, special porous pegs are used to vent any excess carbonation, and a serving tap is hammered through a spout on the front of the cask. Traditional real ale is served without pasteurization or additions of artificial carbon dioxide or other gasses.

The 2009 Atlanta Cask Ale Tasting showcased 21 traditional and specialty cask-conditioned ales. After a morning judging panel, the free public sampling session was held 4-7 PM. Everyone was impressed with the flavors and excellent quality of these sample cask homebrews. The energetic Celtic music from Mickle-a-Do was also a hit. It was a special evening centered around unique, flavorful beer. Thanks to Atlanta Brewing and all our attendees and volunteers for making this special event possible!

Text by Owen Ogletree / Photos by Ted Hull and Phil Farrell - Posted February 2009

Get your party or beer tasting started with custom invitations.
Cask Ales at our 2009 Event:
01 - Julie's Biere De Garde

is a complex and fruity ale with saffron and dried peaches. A full-bodied, dark blonde beer made with four Belgian malts and finished with floral Strisselspalt hops, it embodies caramel overtones with the complementary flavors of dried peach and saffron. Homebrewed by Julie Baggett, brewer for Huske Hardware in Fayetteville, NC.



02 - Dahlonega Extra Special English-Style Pale Ale

is brewed as a traditional extra special/strong bitter with higher levels of alcohol and a moderate increase in bittering hops. Dry hopping in the cask with whole leaf Kent Goldings hops provides for a fresh hop aroma. This is what cask beers are all about! Homebrewed by Bob Carlton of Dahlonega Brewing Company and Alpharetta's Beer Necessities Homebrew shop.



03 - Payne's Pale Ale

is named after the late, great John Payne (the owner of the Wedge building in Asheville). Anyway, enough history. This pale ale is about 5% ABV and uses Cascade hops throughout (including dry hopping). Even though it incorporates British malt, its aroma and flavor profiles match an American pale ale. Homebrewed by Carl Melissas of Wedge Brewing Company, Asheville, NC.



04 - Outlaw Blake's Brown Ale

- An American brown ale balancing the sweetness of toasty, caramel and chocolate maltiness with the citrus smack of American hops. Brewed with a London ESB yeast to impart a full mouthfeel and fruity flavor, it's finished with a large helping of Simcoe hops, lending an orange zestiness to the semi-dry finish. Named for brewer Chuck Chambers' nephew, who shot a menacing stare to anyone trying to take the water hose from him on his third homebrewing session before the age of two.



05 - Bourbon Trail Scotch Ale

exhibits a dominant malt character, giving this 8% ABV beer a great depth of complexity and a deep red hue. Its medium body complements pleasant caramel notes, subtle oak, and warm lingering hints of bourbon from oak chips soaked in a healthy amount of the fine spirit. Hops include UK Challenger and UK Golding. Homebrewed by Kevin Mcnerney of 5 Seasons Brewing, Sandy Springs.



06 - Houblon Wit

accomplishes something Belgian brewers do all the time: morphing traditional beer styles into hybrids. We turned traditional Belgian white ale into a hybrid by jacking it up on American Amarillo hops, which add a fresh apricot, grapefruit character to the spicy, orange flavor of the Wit. Does this mean we're American brewers imitating Belgian brewers who are imitating American brewers who are interpreting a Belgian style? Homebrewed by John Pinkerton and Chris Lady of Moon River Brewing in Savannah, GA.



SECOND PLACE




07 - This Beer

contains water, malt, hops and yeast. That's it - no exotic fruits or spices, no coffee or other breakfast foods, no rice, corn or other side dishes. It wasn't aged on foreign or domestic wood tainted with the flavor of rival spirits. It is beer. If you've really gotta be technical… it's an ale, it's fairly red, it started at 17 degrees Plato, and finished at 2.1 degrees (if you're a beer geek, you do the ABV math). Bittered with plenty of Northern Brewer hops and finished with Centennial, if there's not enough hops for you, then your name is probably Chris Terenzi. If it's too much, then you probably should have given your ticket to someone else. It's beer… isn't that what you came for? Homebrewed by John Roberts of Atlanta's Max Lager's.

THIRD PLACE & PEOPLE'S CHOICE
08 - The Grapes Of Cask

- This warming Belgian-style Tripel IPA has been aged in a French white oak Bordeaux barrel, helping to balance the body, while adding notes of grape and allowing European hops to shine through. This strong ale exhibits a complex bouquet of vanilla, oak, Belgian esters, and citrus (from the Centennial dry hops). Homebrewed by Nick Nock, brewer for Atlanta's Sweetwater Brewing Company.





09 - Eric's Winter Warmer

comes in at 6.8% ABV with pomegranate, cranberries, nutmeg and cinnamon. This flavorful, malty ale is also dry-hopped with UK Kent Goldings. Homebrewed in Winterville, GA by Eric Johnson, owner of Athens' Trappeze Pub.



10 - Whiskey & Oak Black Beauty

- A big Belgian Trappist-style brown ale brewed with lots of rye for a hint of spicy complexity. Cellared and aged on whiskey and oak, this elegant dark ale exhibits aromas and flavors of vanilla, fruit, malt and spice. Homebrewed by Crawford Moran, co-owner and brewer of Alpharetta's 5 Seasons North.



11 - Flemish Brown Ale

- A complex, yet balanced Belgian-style brown ale aged for four months with Brettanomyces and ten pounds of tart cherries. What a treat for lovers of wild ales! Homebrewed by Jordan Fleetwood of Twain's Billiards & Tap in Decatur, GA.



12 - Special Widdershins Barleywine

comes in as a full-bodied, flavorful, strong ale that's dry-hopped with a profuse amount of U.S. grown Goldings and aged in a brandy barrel. Homebrewed by Ro Guensel of Left Hand Brewing in Longmont, CO.



13 - Milk Stout

- This cask has been aged in a 23-year-old Pappy Van Winkle bourbon barrel. Lovely vanilla and coconut notes accent the round lactose sweetness of this luxurious Milk Stout. The bourbon barrel is evident but doesn't overpower the underlying flavor notes of the stout. Homebrewed by Paul Philippon, Ryan Witter-Merithew and Matt Dick of The Duck-Rabbit Craft Brewery in Farmville, NC.



14 - The Bomb

is a dry hopped "oatmeal export stout" that packs a roasty little punch balanced by a soft sweetness from the oats. The ale finishes dry with a hint of chocolate and licorice. With generous dry hopping with Summit hops in the firkin, the hop profile is not hiding either. Homebrewed by Travis Kruger of Florida's Dunedin Brewery.



15 - People's Porter

, a robust porter aged in a 23 year old Pappy Van Winkle bourbon barrel, offers a balance of plentiful crystal malts for sweetness and roasted malts for bitterness. An elegant bourbon/vanilla character emerges from the six-week barrel aging period. 6% ABV / 45 IBUs. Homebrewed by Jamie Bartholomaus of Foothills Brewing in Winston-Salem, NC.



16 - Chocolate Thunder

is a cask of porter brewed with cocoa powder and cacao nibs (fresh beans from Ecuadorian cacao trees). The firkin contains a bed of cocoa nibs and a dark American oak spiral. Expect an up front chocolate aroma with a mouth-watering dark cocoa flavor. On the back end, look for underlying wood notes and a dark cocoa bitterness. Disclaimer: This beer will not improve your basketball skills, make you jump higher, or help you destroy glass backboards. Homebrewed by Brian "Spike" Buckowski of Athens' Terrapin Beer Company.



17 - Pulchritudinous Porter

is a robust porter featuring double Cascade and Golding hops, and aged with oak chips and Magnum hops in the cask. At 6.5% ABV, it boasts a russet charcoal hue and a distinctive toasted malt taste from specialty black patent and chocolate grains. Drawing from its name, the Pulchritudinous Porter offers many qualities to delight the palate and please dark beer lovers and hop lovers alike. Homebrewed by Tom Davis of the Thomas Creek Brewery, Greenville, SC.

HONORABLE MENTION
18 - Vanilla Gorilla

packs loads of roasted barley, chocolate malt and flaked oats as the base for this rather "robust" oatmeal stout. This 7.7% ABV ale was aged for several weeks on vanilla beans. Homebrewed by Dave Mcclure of Atlanta Brewing Company.





19 - Mesa Stout

uses the finest roasted malts along with locally roasted and cold-extracted coffee. The result is a smooth and immensely drinkable brew with coffee aromas and flavors that are distinct, without being overstated. Brewed with 100% Rainforest Alliance certified Mesa de Los Santos coffee beans from Nashville's own Portland Brew microroasters. O.G. 1.067, IBUs 26. Homebrewed by Travis Hixon of Blackstone Restaurant & Brewery in Nashville.



20 - Espresso Stout

- As the name implies, this stout has been created with the brewer's own fresh, home roasted espresso beans, imparting an intensely inviting coffee aroma and flavor. Today's cask has been oaked and "dry-beaned" to further enhance the roasted complexity. Homebrewed by Matt Buley of Copper Creek Brewing in Athens, GA.

FIRST PLACE
21 - Hunahpu's Imperial Stout

- In Mayan mythology, Hunahpu gave cacao (raw chocolate) to the Mayan people who used it (along with spices and chilies) to make a drink for the everyday people and a food for rulers and gods. Hunahpu's Imperial Stout has a forward chocolate character with notes of cinnamon and vanilla. The dark fruit and tobacco-like notes of ancho and pasilla chilies contribute a deep complexity, yet produce very little Scoville heat. Quaff this beer and take a journey into the history of the Mayan culture. Homebrewed by Wayne Wambles, Cigar City Brewing, Tampa, FL.






Owen Ogletree announces the winners for 2009.


Video by Nick Marshall.





Gail Graves, ACAT steward, pours beers for the morning judging session.



Owen Ogletree, ACAT founder/director and BJCP National Beer Judge, organizes the judging.



Judges discuss aroma, appearance, flavor and finish of each beer.



Phil Farrell is a BJCP Master Beer Judge.



Don "Dr. Brewski" Beistle and

Southern Brew News

' Lisa Hanson listen to judge comments.



Kerri "The Beer Wench" Allen ponders a cask Biere de Garde during judging.


Wooden pegs, called spiles, vent excess carbon dioxide from each firkin -- sixteenth century technology at its best!



Casks are served at ACAT by simple gravity taps.


The brewery and cask beers are kept at a cool 55 degrees F.


The casks await the public tasting session.


Cabot Cheese samples please the crowd.



Which real ale to sample first?



Volunteers serve up the lovely cask-conditioned ales.



Atlanta Brewing Company's Dave McClure does an interview for www.beeramerica.tv.



Atlanta Brewing Company produces a fine range of beers.



Don, Owen and Dean check the pressure of the cask from Travis Kruger. This ale wasn't called "The Bomb" for nothing.



Fantastic Celtic music from Mickle-a-Do.



Each firkin contains 10.8 US gallons of real ale.





Grapes of Cask

took home

People's Choice

award.



SBN's Lisa Hanson and Bob Townsend enjoy a beer with Dave Blanchard, co-owner of Decatur's Brick Store Pub and Leon's Full Service restaurant.



5 Seasons' co-owner and host, Dennis Lange (left), dressed as Braveheart in support of his brewer's Scotch Ale.



Here's to real ale!



These beers are too good to sip.



Cask ales promote love.



Mark Nelson serves up the porters.



The Beer Wench mugs with the boys from Florida's Dunedin Brewery at the Friday night ACAT Brewers' Reception at Taco Mac.



Eric Johnson (left) is co-owner of Trappeze Pub in Athens, GA. K.P. (right) is a renowned beer rater on www.RateBeer.com.



The faces of retail, gourmet beer in Georgia: Sachin Patel (left) of Athens' Five Points Bottle Shops and Adam Tolsma (right) of Atlanta's Greens Package Stores.


Wayne Wambles (right) relaxes
after his big, first place ACAT win.