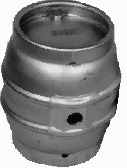 Brewing ales in Britain back in the 1800s was a rustic, laborious process. Cool cellars provided the only refrigeration. Fermentation vessels were made of wood. Ales were carbonated from carbon dioxide gas produced by residual yeast inside sealed wooden or metal casks called "firkins." This old-world method of production and carbonation produces what has come to be known as cask-conditioned ale (also called cask ale or real ale). Surprisingly, these traditional beers are making a comeback. Why is cask ale so special? In the sealed firkin, yeast produces soft, light carbonation and complex, mellow flavor components before settling to the bottom of the container. After a time in the cask, special porous pegs are used to vent any excess carbonation, and a serving tap is hammered through a spout on the front of the cask. Traditional real ale is served without pasteurization or additions of artificial carbon dioxide or other gasses.

The 2008 Atlanta Cask Ale Tasting showcased 20 traditional cask-conditioned ales. After a morning judging panel, the free public sampling session was held 4-7 PM. Everyone was impressed with the flavors and excellent quality of these sample cask homebrews. The energetic Celtic music from Póg was also a hit. It was a special evening centered around unique, flavorful beer. Thanks to Sweetwater Brewery and all our attendees and volunteers for making this special event possible!
Text by Owen Ogletree / Photos by Gail Graves and Kerri Allen - Posted January, 2008

| | | | | |
| --- | --- | --- | --- | --- |
| Chris Lady & John Pinkerton accept the 1st place award. | Dr. Chuck Chambers won 2nd place for his Mild Ale. | Terrapin's Spike Buckowski claims 3rd prize. | Dave Weil of Atlanta Brewing accepts the award for HM. | Nick Nock of Sweetwater gathered the most votes for People's Choice. |
Cask Ales at our 2008 Event:
SECOND PLACE


01 -

Two Ponds Gunstock Mild

exhibits a dark mahogany color, light tan head and a nutty, caramel, toasty, chocolate malt aroma and flavor with hints of raisins and molasses. Lightly balanced with English hops and the fruity flavor of classic English yeast. A session ale with more flavor than would be expected from its 3% ABV. Brewed by

Dr. Chuck Chambers

of Watkinsville, GA.

02 -

Mountain Brown

is a refreshing and well-balanced brown mild ale that is dry-hopped in the cask in the English tradition. The hop aroma comes through, but the hop bitterness is very low - making this a wonderful session beer. Brewed by

Bob Carlton

, who owns Beer Necessities Homebrew in Alpharetta and brews for

Dahlonega Brewing Company.

03 -

Kaiser Hefeweizen

. This is a wonderful Bavarian-style wheat beer with clove and banana notes along with a little tartness for balance. Made with the fine malts from Weyermann. Brewed by

Brian Hampton

who produced test batches for Cold Nose Dave's in downtown Athens, GA.

04 -

Edgewood Ale

is an 8.1% ABV Imperial Blonde Ale made from two-row malt, Fuggles and Cascade hops (75 IBUs). Brewed by

Hank Standridge

, who works for Cannon Brewpub in Columbus, GA.

05 -

Copperhead ESB

is a deep copper colored Extra Special Bitter brewed with Maris Otter malt and a blend of honey and crystal malts, then dry-hopped with an English and a northwestern US hop variety for a West Coast "bite." There is an earthy, fruity aroma followed by rich caramel, spicy flavors. Brewed by

Glen Sprouse

, who brews for the original 5 Seasons Brewing Company in Atlanta.



HONORABLE MENTION


06 -

Brown Ale

is a classic example of the American Brown Ale beer style. It shows a complex palate of oranges, chocolate and hints of fruit. Brewed by

Garrett Oliver

of the Brooklyn Brewing Company.


HONORABLE MENTION
07 -

Barrel Select

is a strong English Brown Ale that has been aged for 100 days in an oak bourbon barrel and then conditioned with grade A maple syrup for 120 days. This 8.8% ABV brew has complex vanilla, bourbon and phenolic tones. Brewed by

Dave McClure

who works for Atlanta Brewing Company.

08 -

Caldera Strong Oak

is a warming, potent ale aged in an oak barrel before being blended with a beautiful Chardonnay from California's Central Coast. Made by

Jordan Fleetwood

, who brews for Twain's Billiard and Tap in Decatur, GA.



THIRD PLACE


09 -

Rye2 Reserve

allows light and dark oak chips soaked in Woodford Reserve Bourbon to create magic in this cask of Imperial Pale Ale. The resulting beer is warming and well-balanced with hints of vanilla, wood and bourbon. Brewed by

Brian "Spike" Buckowski

of Terrapin Beer Company, Athens, GA.

10 -

Belgian Strong Dark Ale

. This brew has been aged in a Woodford Reserve barrel for almost one year. It's a big beer made with five malts and five hops and comes in at 55 IBUs, 25 degrees Plato OG and 10% ABV. Brewed by

Crawford Moran

, who is a partner with 5 Seasons Brewing North in Alpharetta, GA.

11 -

Wild Horses IPA

is a big IPA with pine notes up front, citrus in the finish and firm malt in the middle. It is hopped to nearly 80 IBUs with Columbus, Simcoe and Cascade. Crafted by

Jamie Ray

of Montgomery Brewing, Montgomery, AL.

12 -

Double IPA

has six hop varieties and 9.5% ABV. Cascade, Centennial, Millenium, Simcoe, Galena and Columbus hops are used in a whole leaf hop mash and first wort hopping to produce an amazing hop character. Brewed by

Jamie Bartholomaus

, who works for Foothills Brewing in Winston-Salem, NC.



PEOPLE'S CHOICE


13 -

Jack ass Barleywine

was brewed in a single batch topping off at 25 degrees Plato, and generously dry-hopped. After racking into an oak barrel and aging for five months, it was transferred to the cask and introduced to a copious amount of fresh Simcoe flowers. Brewed by

Nick Nock

, who works for Atlanta's Sweetwater Brewing.

14 -

Old 320

weighs in at 10% ABV and has a full body and malt character rich with caramel and raisin notes. An aggressive hopping rate featuring Brewer's Gold, Cascade and Ahtanum hops gives this beer a long, satisfying finish. Brewed by

John Roberts

of Max Lager's American Grill & Brewery in Atlanta.

15 -

Winter-Piedmont Porter

is a rich and creamy brew, deep brown to black in color, with a delicious, full-bodied chocolate-like malt flavor and a smooth, lingering finish. Brewed by

Brian Campbell

of Atlanta's Park Tavern.

16 -

Daddy-O Porter

is a sinfully rich, chocolatey Robust Porter brewed with a portion of rye malt and dry-hopped with English Fuggles. Brewed by

Linus Hall

, owner of Yazoo Brewing Company in Nashville, TN.

17 -

Pulchritudinous Porter

. A full-flavored, strongly hopped and oak-aged Robust Porter with a proper bitter finish. With its charcoal brown color, distinctive malt taste, and special combination of double hops, this special brew is sure to please. Brewed by

Tom Davis

of Thomas Creek Brewery in Greenville, SC.



FIRST PLACE


18 -

Little Chocolate Doughnuts

is a Porter with an appealing, semi-sweet, not-so-bitter, chocolate malt character. This beer was actually "dry-doughnut-ed" in the firkin for a little touch of "HOT NOW' goodness! Brewed by

John Pinkerton & Chris Lady

of Moon River Brewing Company in Savannah, GA.

19 -

Espresso Stout

. Brewed with fresh roasted coffee beans, this 5.8% ABV ale has a wonderfully roasty palate and a seductive aroma balanced by a full, silky body with malty highlights and a dry finish. Aging on heavily toasted oak chips produces delightful vanilla tones. Brewed by

Matt Buley

, who works for Copper Creek Brewing Company in Athens, GA.

20 -

English-style Imperial Stout

is rich and dessert-like and exhibits powerful malt flavors and hints of dark fruits. Large amounts of roasted malts give an opaque black color and a velvety texture suggesting unsweetened cocoa. Dry-hopped with East Kent Goldings and aged for three months in cask. Brewed by

John Stuart

of Green Man Brewery in Asheville, NC.



The 20 casks are set for serving.


Judges sort through all 20 beers, deciding on which are the most
accurate and flavorful, based on BJCP style descriptions.


The judging was conducted as a "best-of'show" competition.


Judges check the clarity and color of the beers.


Beer judging is hard work.


Don "Dr. Brewski" Beistle comments on a pale ale.


Terry and Kerri work their way through the samples.

Volunteers from the Atlanta Humane Society accept donations.

Thel, Nick and Dean pour samples of the cask ales.

The happy crowd enjoys the cask ales.

Terrapin dudes mug for the camera.

Gordy, Nick and Pasha tend the casks.

Energetic Celtic music from Póg pleases the crowd.



Special thanks go to Sweetwater
for hosting this event

!