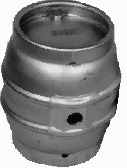 Cask-conditioned ale (a.k.a. real ale) is young beer that has been placed in small metal casks called firkins. In the sealed firkin the beer undergoes a natural conditioning process whereby the yeast produces carbonation and wonderful flavor components and then settles to the bottom. After a time, excess carbonation is vented and a serving tap is hammered into a spout on the cask. The beer is served without pasteurization or artificial gas. These soft, malty, complex beers are served at 50-55 degrees F (cool, but warm enough to fully experience the flavors) with a low to moderate level of carbonation that does not numb or prickle the tongue.

After a morning judging panel, the free public sampling session was held 4-7 PM. Everyone was impressed with the flavors and excellent quality of these sample cask homebrews made by Atlanta-area brewers. The lively celtic music from Mickle-A-Do was also outstanding. It was a special evening centered around unique, flavorful beer. Thanks to Sweetwater Brewery and all our attendees and volunteers for making this special event possible!

Photos and Text by Owen Ogletree - Posted January, 2007

Cask Ales at our 2007 Event:
01 - Belgian White Ale.

It's very rare to find a Belgian Witbier in a cask-conditioned form, but here it is. This is a light, fruity, spicy, tart wheat ale made with coriander and orange peel. Brewed by

Sam Lenaeus

who works for Rome Street Tavern Grill in Carrollton, GA.



02 - Barrel and Vine

is a version of a classic, medium-bodied Vienna-style Lager that has been aged for two months in the cask with French vanilla wood chips and dry-hopped with a handful of Hallertau hops. Brewed by

Brandon Stull

who works for Zuma Brewing Company in Atlanta.



03 - Brown Ale.

This is a slightly sweet, English-style Brown Ale with hints of roasted nuts that come from the use of dark malts. This beer has layers of subtle flavors and is very drinkable. Brewed by

Jonathan Andersen

who works for Rock Bottom Brewery in Atlanta.



04 - American Brown Ale

is a highly-hopped version of a malty, nutty English Brown Ale. This cask ale is brewed and dry-hopped with U.K. Kent Goldings hops. Brewed by

John Pinkerton & Chris Lady

of Moon River Brewing Company in Savannah, GA.

HONORABLE MENTION
05 - Whiskey Barrel Rye Pale Ale has a nice addition of rye malt added to the mash. The beer was also aged on a healthy dose of whiskey barrel oak chips for added complexity and vanilla notes. Brewed by

Bob Carlton

who owns Beer Necessities homebrew supply shop in Alpharetta and brews for Dahlonega Brewing Company.



06 - American IPA

is brewed with all British malts and dry-hopped with Simcoe. This complex ale has a big fruity, citrusy character. Brewed by

Crawford Moran

who was the owner of Dogwood Brewing and is now a partner in the new 5 Seasons North in Alpharetta, GA.



07 - American-style IPA.

This cask was brewed with American, German, Belgian and English specialty malts and then liberally dry-hopped with a blend of Cascade and Columbus hops from the Yakima Valley. This gives it a solid malt backbone and a nice, crisp, citrus/floral aroma. Brewed by

Glen Sprouse

who works for the original 5 Seasons Brewing Company in Atlanta.

THIRD PLACE
08 - Double IPA is a 9.5% alcohol ale with a big hop profile balanced by enough malt to make the beer very drinkable. Expect a full body and some citrus notes from the six hop varieties. Brewed by

Jamie Bartholomaus

of Foothills Brewing in Winston-Salem, NC.



09 - Imperial IPA

comes in at close to 10% alcohol and exhibits a full body with flavors and aromas of rich malt and several varieties of citrusy American hops. The light carbonation of this cask ale really allows for increased appreciation of the malt and hop intensity. Brewed by

John Roberts

of Max Lager's American Grill & Brewery in Atlanta.



10 - Robust Porter

weighs in at 16.5 degrees Plato and 24 IBUs. Notice the ruby highlights in this Maris Otter, chocolate malt and EKG hopped jewel of a beer. It's big enough to enjoy by a winter's fire, small enough to down a full pint, and complex enough to make that pint last a while. Brewed by

Brian Hampto

n who creates test batches in the micro-brewhouse of Cold Nose Dave's in Athens, GA.



11 - American-style Robust Porter

has been dry-hopped twice and conditioned on oak. It comes in at 7% alcohol and 40 IBUs. Brewed by

Tom Davis

of Thomas Creek Brewery in Greenville, SC.



12 - American Stout.

This black ale presents a nice blend of chocolate and roasted malt notes. There is also a touch of sweetness to balance all the extra hops added to the cask. Brewed by

Jordan Fleetwood

who works for Twain's Billiard & Tap in Decatur, GA.



13 - Barleywine.

This strong ale is deep mahogany in color with rich caramel malt and Fuggles dry-hop in the aroma. It has assertive, multi-layered malt flavors (with moderate sweetness) and is balanced with four additions of American and English hops. Brewed by

Gary Essex

who works for McGuire's Irish Pub in Destin, FL.



14 - Espresso stout

is a jet-black, roasty stout aged on oak chips and made with home-roasted coffee beans. This ale is malty and complex with pleasing notes of coffee and vanilla. Brewed by

Matt Buley

who works for Copper Creek Brewing Company in Athens, GA.



FIRST PLACE




15 - Substance Abuse Ale

puts all of your favorite vices in just one pint... beer, coffee and genuine Tennessee whiskey. A strong coffee oatmeal Imperial Stout was aged for six months in a Jack Daniel's barrel for a complex concoction that will leave your taste buds wide-eyed and bushy-tailed. Brewed by

Brian "Spike" Buckowski

of Athens' Terrapin Beer Company.

SECOND PLACE
16 - Happy Jack Imperial Stout has an abundant malt profile complimented by a strong hop flavor and aroma from double dry-hopping with Simcoe. This 9% abv stout was conditioned in a Jack Daniels barrel for three weeks and exhibits flavors and aromas of whiskey, oak and vanilla. It also has a velvety smooth finish from an addition of chocolate liqueur. Brewed by

Nick Nock

who works for Atlanta's Sweetwater Brewing Company.



17 - Pfefferneusse Porter

is a strong version of a double chocolate oatmeal porter that has been spiced with blackstrap molasses, star anise, ginger and dried orange peel. Registering at 8.8% abv, this beer makes an excellent winter warmer. Brewed by

Dave McClure

who works for Atlanta Brewing Company.



18 - Winter Porter

is a rich and creamy brew, deep brown to black in color, with a delicious, full-bodied chocolate-like malt flavor and a smooth, lingering finish. This modern revival of a centuries-old style of dark ale is crafted by

John Stuart

of Park Tavern with a special blend of roasted, caramelized and pale malts, and is balanced with traditional Goldings hops.

The judging area was set up at the bar of Sweetwater Brewery's
new tasting room.


Judges sort through all 18 beers deciding on which are the most
accurate and flavorful examples of their styles.
Photo by Gail Graves


Artsy judging shot.
Photo by Gail Graves


Owen Ogletree taps the casks the night before the event.
Photo by Kerri Allen


Almost 300 beer lovers were in attendance.
So many beers, so little time!


Gordy and Dean check a gravity tap.

Pasha and Dave take time for sampling.

SBN'

s Lisa Hanson strikes a pose with Best-of-Show winner
Brian "Spike" Buckowski.

Judges Kerri Allen and Owen Ogletree.

Owen Ogletree announces the winners.


Special thanks go to Sweetwater
for hosting this event

!