If there is such a thing as "Beer Nirvana" in Georgia, it has to be the three locations of Summits Wayside Tavern. These comfortable pub/restaurants have an open sports bar feel about them with televisions tucked into every corner and hundreds of mugs hanging over the bar. The chicken wings at Summits are some of the best in town – with the spicy hot sauces providing a tangy, tart flavor backed by spicy fire. But beer fans come to Summits for one reason – the absolutely outrageous selection of bottled and draft beers from around the world. Some go as far to say that the Cumming Summits has the largest beer selection of any pub or restaurant on the planet!

Photos and Text by Owen Ogletree - Posted August, 2005


I recently caught up with Summits owner Andy Klubock and managed to talk this busy guy into sitting down with me over a couple of beers and discussing his experiences with the business. If Andy were a dog, he'd have to be a Jack Russell terrier and bulldog mix -- he is extremely energetic and takes care of Summits customers with unwavering resolve. Andy loves beer and he loves every aspect of owning and operating the Summits locations.

Andy came to Georgia to attend Emory University and got a job in 1981 working in the kitchen and bar at Taco Mac in the Virginia Highlands neighborhood. He quickly developed an interest in all the different beer labels and styles that were being offered by Taco Mac. Andy says, "Taco Mac was an innovator at that time in Atlanta because they had a beer selection that was larger and more interesting than other pubs."

In the years since his early Taco Mac days, Andy has visited over 200 breweries and brewpubs all over the world. "I am fascinated now by beer. It makes my travels more fun to try the best beers in an area," Andy remarks.

Andy opened up Taco Mac locations in Sandy Springs and in Snellville, and in January of 2002 he decided to break away from the chain, rename his pubs, and open an impressive new location in Cumming. He wanted freedom to change the menu and put more emphasis on expanding his beer selections. Andy is quite emphatic when he states, "We are dedicated to giving our customers a big choice in food and beer. Our customers were very excited and supportive when we made the move to the Summits concept – today they associate great beer and food with the Summits name."

The enormous food selection at Summits is filled with items that are definitely not your typical sports pub fare. All the edibles are very fresh and made from scratch with Cajun, Asian, Mexican, and Italian items highlighting the menu. There are even special menu sections for advocates of low-carb and low-fat cuisine. Andy proudly announces, "We have our full menu available right up until closing time. Come on in at 1 am and eat whatever you want!" Andy uses the term "Pustro Cuisine" when talking about the food at Summits – referring to almost a "pub and bistro" combination.

Beer aficionados appreciate the food but come to Summits for the amazing selection of malt beverages. On a typical day you'll likely find a staggering array of draft beers – 114 at Sandy Springs, 166 at Snellville, and 224 at Cumming. Andy insists that his draft beers are better maintained than most because of his use of nitrogen gas mixed with the standard carbon dioxide. "Nitrogen is more expensive than CO2 but it does a much better job at preserving kegged beer," he says.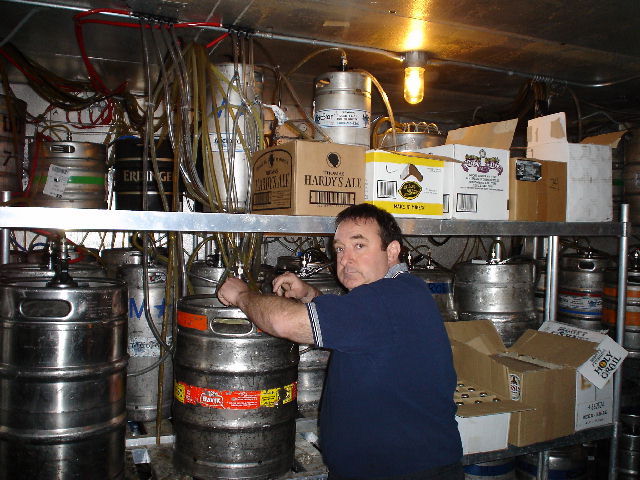 Andy in the Cumming Summits keg cooler

Andy has built each location around the keg rooms. The keg cooler must be large enough to hold all the draft beers and be in a central location that is close to the serving taps. Andy still gets excited when he gives tours of his chilly draft rooms that have kegs arranged three-high on metal shelves with hoses snaking in controlled chaos in all directions toward the bar taps.

Along with the standard pints, all the draft beers at Summits may be purchased in five ounce taster glasses for $1.49 each and $2.49 for the high-gravity beers over 7% alcohol. This gives patrons the chance to sample a big variety of beers and find new favorites. For a two dollar fee Summits also offers a Passport Club where clientele gains rewards for trying 100, 250 and 500 different draft beers.

Andy really drives home the point that education is the key to keeping his customers interested and satisfied. That's one of the reasons why he organizes so many special events at the three Summits locations, and many of these events raise funds for organizations like Habitat for Humanity.

There are regular beer tastings that offer food and seven or eight beers for only $10 for passport members and $15 for non-passport folks. Selections usually focus on beers that have just been released or are new to the Georgia market. These samplings are done on the first Monday each month in Cumming, the first Tuesday in Snellville, and the first Wednesday in Sandy Springs. Andy's lavish beer/cheese and beer/chocolate tastings have also garnered rare reviews from attendees.

June will be "Belgian Beer Month" at Summits with a tremendous number of Belgian ales on tap at each location – 35 at Sandy Springs, 50 at Snellville, and Cumming will pour 75. Authentic Belgian food items such as steak carbonade, mussels and Belgian fries will be offered at $9 to $13 per entrée. September will be "Gourmet Burger Month" where adventuresome souls can down burgers made with caviar, ostrich and bison – just to name a few.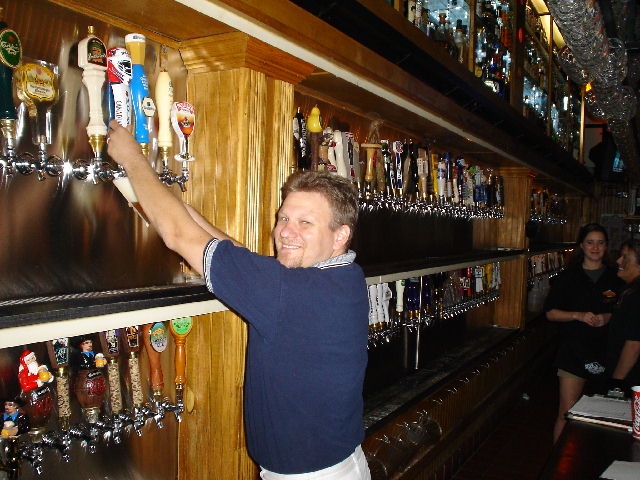 Kevin Southern is the Director of Operations at all three Summits Locations

Andy also has a special relationship with the Rogue Ales Brewery in Oregon. Rogue brewer Glen Falconer attended Emory University and became friends with Andy in the 1990s. Andy even formulated a stout called "Old Testy" that was produced by Rogue for Andy's Taco Mac locations. Now Rogue is celebrating its 15th anniversary in 2005 by releasing a unique keg of Rogue beer to the three Summits locations on the 15th of each month. The Rogue pubs in Oregon and the three Summits locations are the only spots in the entire nation to offer these flavorful brews. Rogue also makes an ESB-style ale in honor of Andy called "Summits Cliffhanger" that is available in 22 ounce bottles only in Oregon and Georgia.

Andy Klubock sums up his experience with Summits by saying, "I love coming to work everyday. It's great fun to work with terrific people and serve terrific customers. It's like be married to a woman and finding out that you love her more over the years. Summits has been a exceptional experience for me." It's safe to say that the same holds true for Andy's many customers.

www.summits-online.com

Summits Cumming
525 Lake Center Pkwy.
770-886-4374

Summits Sandy Springs
5830 Roswell Rd.
404-257-0735

Summits Snellville
3334 Stone Mtn. Hwy.
770-736-1333