Jamie Bartholomaus: The Foothills Bedrock


By Owen Ogletree




OO: Speak a bit about your history and your connection to beer.
JB: I went to college at the University of Georgia and started homebrewing in the early 90s. I was a friend of John Gayer at Blind Man Ales and started volunteering at the small brewery in Athens and put in about 30 hours a week helping them brew and bottle. I graduated from UGA with a degree in anthropology and did some archaeology for awhile around the Southeast. Then I got a job in 1996 at Vista Brewing in Columbia, SC and commuted there from Athens to brew a couple of times a week. I brewed there for about three years and did some archaeology at the same time. Next I landed a full time job at Old Hickory brewery and lived in Hickory for almost five years. Then came Blue Ridge Brewing in Greenville - I helped them out with their equipment and recipes. The guys at Blue Ridge then opened Foothills brewpub in Winston-Salem on St. Patrick's Day of 2005, and I moved there to brew and help run the place and have been there ever since.

OO: Why are you brewing now instead of doing archaeology?
JB: Archaeology is kind of a gypsy lifestyle - you live in hotels and go where the work is. You are out in the woods digging holes by yourself. Brewing is great because you get to produce a product and then watch people enjoy it in a nice environment. Running a brewpub is a very social, satisfying life - a lot more enjoyable than digging holes.

OO: What is the main theme of Foothills?
JB: We want to celebrate the diversity of beer and strive to make each beer unique and different. The last thing we want is for customers to think that our beer tastes like everyone else's. We come up with all our own recipes and use a wide range of ingredients to differentiate our beers.

OO: How have you been received in Winston-Salem?
JB: We were a little nervous at first because there wasn't a huge beer scene in town. There were a couple of bars with better beers, but we were heading into new territory. We were very well received - great sales in the restaurant and good appreciation of our beers. We sell some Budweiser too, but not very much. Customers love our beers. We have a 15 bbl brewhouse and produce all our beers at the brewpub.

OO: Who helps you brew?
JB: There are three of us who work in the brewery. Tim Harris started off volunteering with me when we opened and has worked as a full time brewer with Foothills since April 2006. Tim is my main man. Anthony Ramber is a new hire who just came on board a few months ago. He's doing a great job too. Scott Smith is my Sales Director and is largely responsible for spreading the good word about Foothills. He was my first employee and my go-to guy for sales and public events of any kind. We have a great team.

OO: Who runs your kitchen?
JB: George Metzger came to Foothills from a fine dining restaurant in Winston-Salem called Noble's Grill. Our volume is a lot higher than his old restaurant, but he does a great job with beer dinners and producing a nice menu with pizzas, sandwiches, salads, pastas, seafood, grilled meats and wraps. Most everything is from scratch. We cut our own French fries and even make our own ketchup and mustard. George uses our beer in many dishes, and features wild game selections like ostrich, antelope, elk, and buffalo burgers. We give our grain to the ostrich farmer and then buy meat from him. We try to focus on the restaurant side of the business. The brewery is very important, but we see our great restaurant as the key to longevity of the brewpub.

OO: How many house beers are usually on at Foothills?
JB: We have a sampler with six beers and usually have nine or ten beers pouring on a typical day. We have ten taps and try to keep them all flowing most of the time. I try to keep seven core beers and at least one seasonal. The core beers are our Salem Gold, Pilot Mountain Pale, Torch Pilsner, Rainbow Trout ESB, Total Eclipse Stout, Hoppyum IPA and Seeing Double IPA. Since we've opened, we've won a total of five major medals at the Great American Beer Festival, World Beer Cup and even the Atlanta Cask Ale Tasting.

OO: Which beers are the most popular?
JB: Our Seeing Double IPA has been the bane of my existence because it's 9.5% and we try to age it for awhile, but demand is so high. It was really surprising how popular this strong, hoppy IPA has been in our town. I think the South is about 10 or 15 years behind the rest of the country in terms of beer appreciation, so I think that awareness is starting to really catch on now in regard to hoppy beers. The hop crisis has also been in the news so much, and we find people thinking that if there is a shortage of hops, then hops must be really good.

OO: What goes into your IPAs?
JB: Our single IPA uses two-row pale malt and caramel and light crystal. Hops are Centennial, Simcoe, and Cascade. The Double IPA has Cascade, Centennial, Simcoe, Galena, Columbus, Millennium and Warrior. We blend the high alpha acid hops for bittering and middle additions. Using multiple varieties provides a good complexity and also protects us from inconsistency during the hop shortage. If we run out of one hop, we can substitute another and it won't be too noticeable.

OO: Being such a hoppy brewpub, have you been forced to raise beer prices because of the hop shortage?
JB: We went up about 15% this year on beer, mainly because of barley malt prices. Malt prices hit us harder than hop prices, but we've started buying more malt in bulk to save money.

OO: Is your brewery business growing?
JB: We just signed a deal with Bavarian Brewing Systems where we will be doubling the capacity of the brewery - adding some brand new 60 bbl fermenters and bright tanks. We looked for used equipment, but the used market has just dried up. We'll have to move some things around in the back warehouse area to fit in the new tanks, but this will increase our capacity to about 6000 bbls this year. We did about 2300 bbls last year, and we only made 800 the first year, so we have come a long way. We saw 48% volume growth last year.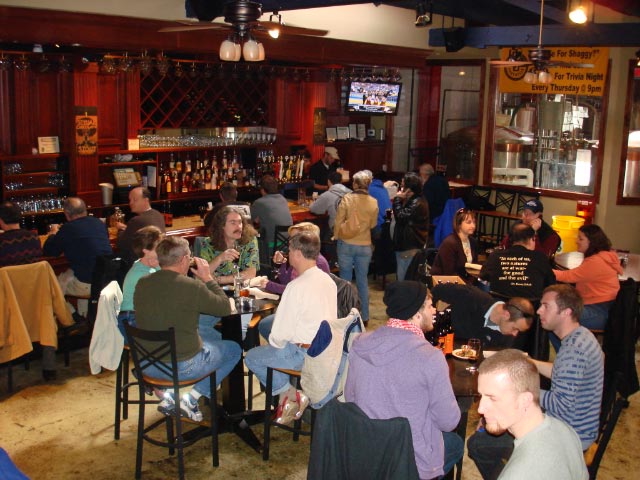 OO: What kind of customers do you see in the pub on a typical Friday or Saturday night?
JB: Late night is a younger bar crowd, but the bulk of business is 35-55 year old professionals - we get lots of business from the hospital and Wake Forest professors and grad students.

OO: Does Foothills bottle any of its beer?
JB: We don't do bottles on a regular basis. Over the past two years we did an annual, limited release of our Sexual Chocolate seasonal - 700 bottles - all hand-filled, hand-capped and hand-numbered and labeled. It sold out very quickly and was a big hit. It was a rich, cocoa Imperial Stout that came out last February for Valentine's Day. We put organic cocoa beans in the secondary tank, and the flesh of the pods kind of melts away as the beer ferments and ages over several weeks. There's about 3/4 of a pound of cocoa beans per bbl of beer, and the final ABV was 9.75%. We made 30 bbls, sold 24 kegs to about eight bars and restaurants throughout the Carolinas, and we are holding some back for special events. We number our Sexual Chocolate bottles, and bottle #69 with an upside down label sold for $200 on eBay! We loved that.

OO: Why is cask ale so popular at Foothills?
JB: We have five firkins and five pins. We usually do the smaller volume pins at the restaurant just to make sure they blow. We try to do a cask every Friday at 5 PM, but it's hard when we are out of town at events - we really need a brewer there to make sure things go well. We also do cask ales for our customers like Tyler's in Raleigh and Durham and Flying Saucer in Charlotte and Raleigh. Casks are the old-school way of drinking beer, and people are looking to get back into the roots of beer. Casks give us the opportunity to experiment with dry-hopping or using special ingredients like vanilla beans or spices. Casks provide interaction too - there's always a chance someone will get some beer in their face when the cask is tapped.

OO: What's the most challenging aspect of running the brewery?
JB: Managing growth. There are only six of us in the brewery all together, and we self-distribute in North Carolina. We make the beer and drive around and sell it too, and we're even looking for some other brands to distribute in the state. There's a huge demand, we are at our capacity right now. We've had to cap volume to our South Carolina distributor - they want more beer than we can sell them. Honestly, NC is our core market and has just exploded for us. We even sell beer at the ballparks for the Winston Warthogs minor league team, the Carolina Mudcats in Raliegh and the Durham Bulls in Durham. We also do lots of community events and market ourselves to the community.

OO: How has the beer community in the Carolinas changed in the last dozen years?
JB: Microbrews have become a solid part of the alcohol market now; in the past they were always on the fringe. Current awareness of craft beer is pretty amazing. The true mark of success for breweries will be to keep quality up and make products that differentiate your brewery from everyone else.

OO: What is most enjoyable part of making beer at Foothills?
JB: Complete creative freedom - making what I want. I design our beers and work with our artists to come up with the logos. The ability to put my stamp on the products and convert people to the world of better beer is an enjoyable and rewarding process.

OO: Foothills is a really attractive brewpub. What sold you on the location?
JB: The building dates from around 1928 and was originally a car dealership. When we got the building, it had been a couple of different nightclubs and was basically trashed. We gutted the building and rebuilt it from floor to roof. We liked the building so much, that we decided to buy it instead of renting. It's a good deal of space for the money - which we need for the brewery. When we first opened, we were kind of an outpost in an unpopular area of downtown, but Foothills became a destination for many people, and the popular center of downtown moved toward us. New condos and businesses are popping up all around us now.

OO: What are the plans for the future?
JB: We will fill our current capacity and then maybe look into expanding our facility in a few years. We want to continue to concentrate on our draft beer. The three year plan will be to expand sales within a 300 mile radius of our brewery - including eastern Tennessee, the coast of the Carolinas, southwest Virginia, DC, and then work down to Atlanta. We love making our beers and are really proud that our products have been so well received in the region.